Two-Year Placement
Ontario College Certificate
Overview
This program provides students with learning or developmental disabilities, brain injuries, and other related learning challenges, with opportunities to enhance their academic skills and develop vocational abilities.
Community Integration through Co-operative Education (CICE) is a fully integrated, two-year, College Certification program. This is a modified program. Students develop vocational abilities through career-based field placement and experiential learning opportunities.
Students choose an area of concentration from Lambton College's many program offerings, based on seat availability. Examples include Construction Carpentry Techniques, Culinary Management, Tourism - Operations Management, Office Administration, Early Childhood Education, Sports & Recreation Management, Social Service Worker, Welding Techniques and more. Upon successful completion of the program, the student will receive an Ontario College Certificate in Community Integration through Co-operative Education (CICE) from Lambton College.
The team of CICE Learning Specialists and the Employment Liaison provide students with in-class support, weekly tutoring outside the classroom, and job coaching. Students receive supports in the form of modifications and accommodations. Examples of modifications include: altering the overall curriculum, changing the level of learning by adjusting the course learning outcomes, and tailoring assignments and tests to meet individual learning needs. Accommodations depend on the student's abilities and generally include note-taking, scribing, extended test times and other related supports both inside and outside the classroom setting.
Through the CICE program, students have the exciting opportunity to complete a college program with courses tailored through a modification process to fit their individual academic abilities.
Students benefit from experiential learning in valuable field placements opportunities in three of the four terms.
Admission Requirements
O.S.S.D. or O.S.S.C.

-or-

Be at least 19 years of age
Out of high school for one year
Apply as an adult learner
In addition to the above academic requirements, students must:
have a high level of independence that precludes constant support
demonstrate academic needs requiring curriculum modification
be able to arrange transportation to and from the college and field placements
---
There is a competitive process to gain admission to this limited enrolment program. Applicants must apply to CICE online at ontariocolleges.ca. Applicants will be contacted to arrange for interviews and references. These interviews and references are scored to determine who is offered admission to the program. Applicants are encouraged to apply before the February 1 equal consideration deadline due to limited space availability.
What our Students Say
Sarah Mackey
"The CICE courses have been so good for me, and my learning needs these past two years. I have gotten so much help from having a learning specialist. It is so great and helpful and I'm so very appreciative. I'm so grateful. I never would have been this successful in college if it wasn't for you guys."
Will Laframboise
"I'm normally closed off and don't want to talk to anyone, but the CICE-1033 class has helped me to open up and understand why it matters to open up with people. I've learned to not take people for granted and to communicate to people I care about. This class has helped in so many ways in my relationships."
Noodin Miskokomon
"CICE is not only a program, but a family. A family who sticks together amid the storm. A family who comforts one another amid despair. A family who will stop at nothing until our peers are fully confident. And when we cross that stage, we will not cross for a diploma, but an accomplishment. A triumphant declaration of growth, happiness, and might. So, indeed, CICE is a blessing to us all."
Costs
Year 1

$4,100.94

Year 2

$4,018.94
---
Please Note: These fees apply to the 2023-2024 academic year and are subject to change. Fees do not include books (unless specifically noted), supplies or living costs.
Additional Fees
Police Records Check

$60.00

Health Clearance

$50.00
The College assumes no responsibility for ensuring field placement or program completion for students who are unable to provide a clear police records check. Students are responsible for all expenses involving transportation to and from field placement.
Technology Requirements
In order to keep pace with the requirements of each and every course in your program, Lambton College requires that each student have access to a laptop while studying at our college.
Courses
CICE-1502
Transitions to Fieldwork
This course will prepare students for the three field placement experiences that are required in the CICE program during subsequent semesters. Strategies to enhance job preparedness will include discussions on student rights and responsibilities, punctuality, effective communication, safe work practices and appropriate presentation of self.
CICE-1602
Transitions to College
This course is designed to facilitate the transition of the individual into a post-secondary learning environment. The rights and responsibilities of being a student in the CICE program will be discussed. Topics to assist the student will include study skills, managing time, test-taking strategies, problem solving techniques and familiarizing students with various electronic resources. Students will also be oriented and integrated into Lambton College by exposing them to the variety of services and activities that are available to them.
GED-XXX3
General Education Elective
COURSE 1
Area of Concentration
COURSE 2
Area of Concentration
COURSE 3
Area of Concentration
CICE-1022
Fieldwork A
Fieldwork-A provides the students with their first college experience in a vocational field. It is the venue for observing, identifying and incorporating the skills and theory taught in the classroom. Students will practice good work habits, such as being on time, attendance, following directions, completing work assignments, interpersonal communication and overall skill development. Students will be closely monitored and will receive regular feedback from their Supervisor, Job Coach and the CICE Employment Liaison.
CICE-1033
Self-Awareness & Advocacy
Students will gain an understanding of the necessity of self-awareness in order to successfully advocate for themselves and to seek resources to support them in the workplace and/or community. Reflections on student experiences, conflict resolution strategies, and suggestions for effective participation in the workplace and/or community will be exchanged. Students will develop a wellness plan to promote a healthy, balanced life style.
COURSE 4
Area of Concentration
COURSE 5
Area of Concentration
COURSE 6
Area of Concentration
CICE-2002
Fieldwork B
Fieldwork-B Allows students to further develop sound work habits and interpersonal skills as they progress through training and work towards greater independence in the position. Specific student goals are created at the onset of the field placement and used as the basis of discussion and growth throughout the semester. Students will receive feedback from their Supervisor, Job Coach and the CICE Employment Liaison and work on areas which need improvement.
CICE-2013
Personal & Professional Growth
This course will allow the student to reflect upon the development of the whole person and to promote personal and professional growth. It will assist the student in developing skills necessary to effectively participate in a group environment by accepting and appreciating diversity. Students will continue to expand their skills in advocacy and self-determination.
COURSE 7
Area of Concentration
COURSE 8
Area of Concentration
COURSE 9
Area of Concentration
CICE-2022
Fieldwork C
Fieldwork-C students will continue to enhance interpersonal communication, improve upon their vocational skills and solidify sound work habits. Students will be given the opportunity to develop employment skills in order to prepare them for the working world. Students will continue to seek feedback on a weekly basis from their Supervisor, Job Coach and the CICE Employment Liaison.
CICE-2033
Transitions to Community
This course will assist the student in developing strategies for seeking employment, preparing for interviews, and practice interview techniques. Students will learn how to write a cover letter and resume. Students will also learn about agencies and services available to them to support transition to the community.
COURSE 10
Area of Concentration
COURSE 11
Area of Concentration
COURSE 12
Area of Concentration
Area of Concentration Courses
Each term, three courses will be selected from the students area of concentration. Course selection will take place in consultation with a Learning Specialist. Courses will be selected from within the post-secondary programs. Apprenticeship and part-time studies courses are not options for CICE students.
After Graduation
Employment Opportunities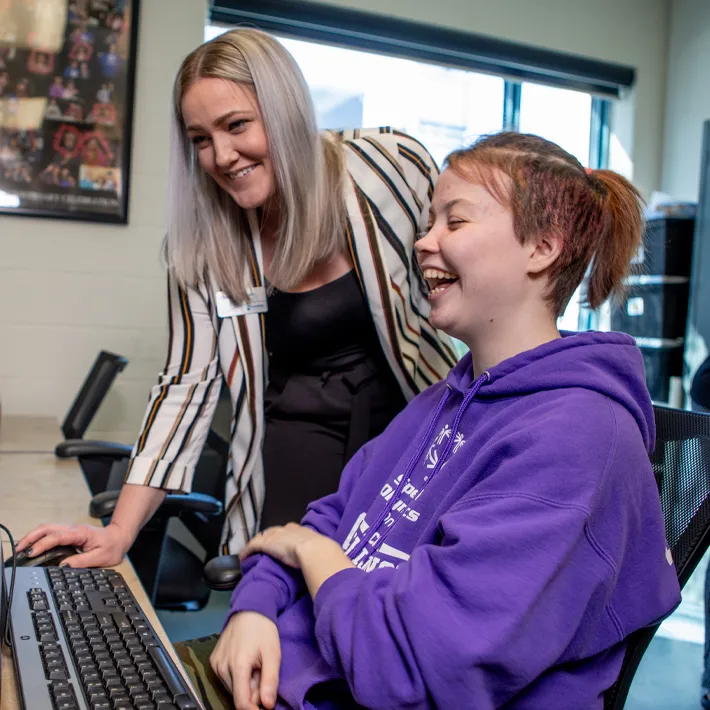 Our graduates are prepared for entry-level positions in a wide range of industries.
Placement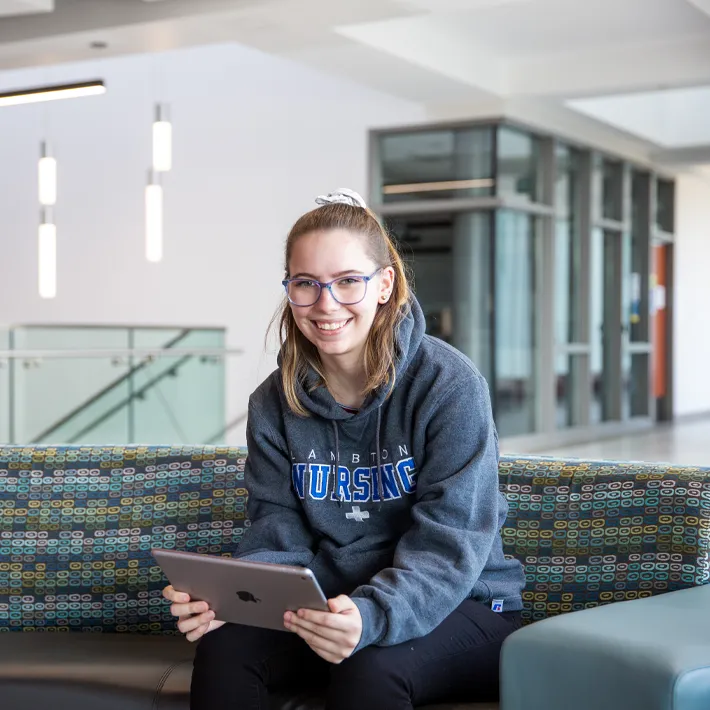 Proof of certain vaccinations and police record checks may be required.
Vaccinations & Police Record Checks

Students considering this program should be aware that there may be field and clinical placement requirements. Many placements require students have proof of certain vaccinations and police record checks.
Once you've applied, you can log in to mylambton.ca and view the program-specific Field & Clinical Placement Requirements. If you need information about these requirement before applying, please contact placementinfo@lambtoncollege.ca.
More Information
Skills for Success
Students applying for the CICE program should have the following skills to ensure they are successful in the program:
Ability to check and respond to emails
Ability to use telephone independently
Ability to follow instructions
Ability to interact well with others while on field placement, in classrooms, or during group work
Accepting of changes to schedules or routines
Ability to take public transit or to arrange transportation independently
Desire to learn and understand the value of regular attendance both in class and on field placements
Ability to follow a schedule and navigate the College and community independently
Ability to sit in a classroom or lab setting for at least 50 minutes (up to 4 hours)

Display some independent learning skills by preparing for tutoring sessions (completing assignments, readings, test reviews, etc.)
Preparing for College
When considering this program, applicant should consider the following capabilities:
Mature and acceptable behaviour (as per the College Code of Conduct)
Practices proper daily personal hygiene
Strong independence skills needed to live in residence and to complete meal preparation, laundry, personal safety, internet safety, good hygiene practices, and basic housecleaning
Ability to communicate thoughts, feelings, and need verbally or through the use of adaptive technology
Utilizes free time appropriately, effectively, and independently
Maintenance of good mental and physical health
Understanding of academic expectations (writing tests, group work, deadlines, attendance)
Academic Support

Staff provide students with in-class support, tutoring outside the classroom, and job coaching. Classes are modified to meet each students' academic needs so that when students graduate, they will receive an Ontario College Certificate from Lambton College.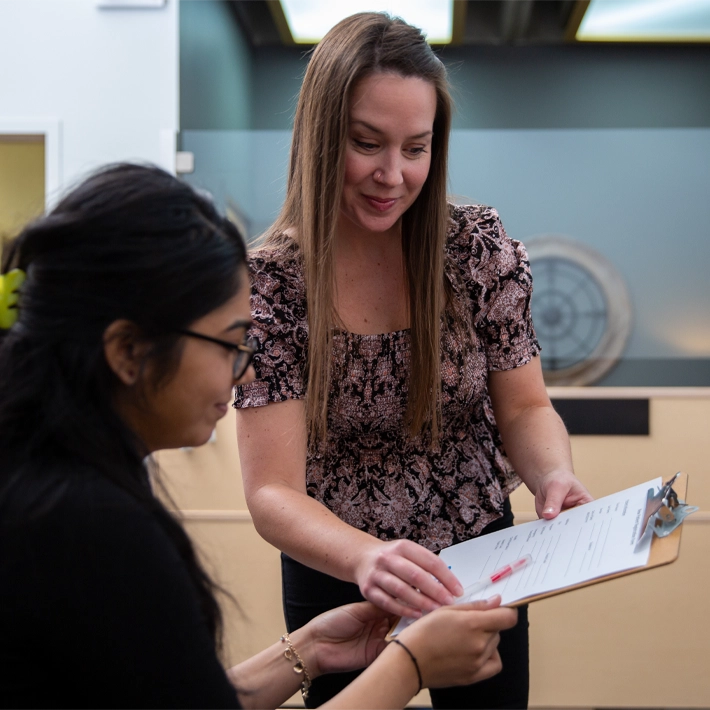 Academic supports to assist students in developing vocational abilities.

Technology Requirements
It is recommended that students purchase a laptop with a Windows operating system.
Internet Speed Requirements
For best performance for students learning remotely, an internet connection with a minimum of 40 Mbps download and 10 Mbps upload speed is recommended in order to effectively use video conferencing and remote lecture delivery software as well as, other online resources remotely. Due to the large area over which students may be dispersed, we are unable to recommend a specific provider, so you will need to inquire around your area to find one that best suits your needs.
Minimum Laptop Requirements
In order to access the internet and virtually-delivered software and courseware, student laptops should include the following at a minimum. By meeting the following specifications, students will be equipped to access software and courseware on their laptop through the internet:
Intel i3 Processor or equivalent
4 GB of RAM or more
100 GB HDD or more
HD Graphics
Webcam with a microphone
Wireless 802.11n/ac 5ghz capable
Windows Operating System (Windows 10)
Software
To ensure students are getting the most our of their classroom experience, some software will be required.
Lambton College has made this software easily accessible online. Students can leverage our Microsoft Office 365 software packages and services. In addition, much of the software you require for your courses will be available on demand for use on any device - on or off campus.