Research at Lambton College
Lambton College provides a collaborative research platform for a range of partners that include: industrial, business, government, not for profit, and academic.
Through access to the expertise of faculty, researchers and students, and research labs and equipment, the College has an overarching goal of driving economic, environmental, and social impacts.
Lambton seeks solutions to real world problems, providing direct impact and benefits to partners through applied research.
Research at its Best
Leading the Way
Lambton College is the #3 Research College in Canada and #2 in Ontario based on the Research Infosource Inc. 2022 ranking.
Colleges are ranked based on the number of research partnerships, completed research projects, and paid student researchers. The amount of industry research income and industry research income as a percentage of total college research income is also considered when ranking colleges.
One of a Kind
Lambton College is the only college to have ranked among the Top 5 research colleges in Canada for the past seven years.
It Takes a Team
Lambton College has a team of dedicated researchers, technicians, faculty, graduates, and student researchers, who bring a wealth of knowledge to every project they work on. In collaboration with industry, Research & Innovation at Lambton leverages the expertise of its team and the state-of-the-art labs within our College to drive innovation and help our partners achieve their goals.

69

Research Graduate Students
211
Research Staff & Faculty
$22,105,602
Research Revenue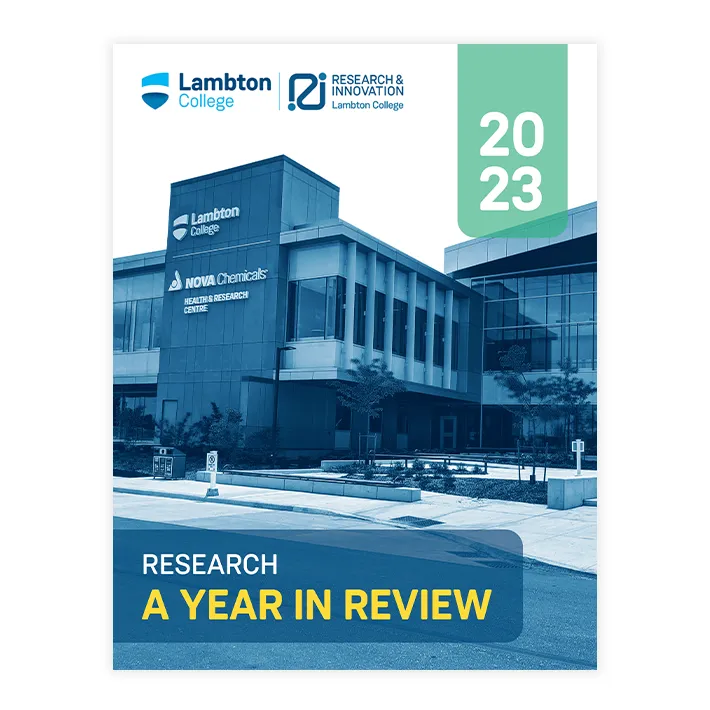 Annual Report

The Research & Innovation Annual Report provides a departmental overview for the past fiscal year. The report features Lambton College's research statistics, project examples, departmental highlights, and more.

Contact Us
1457 London Road
Sarnia, ON N7S 6K4