One-Year Placement
Ontario College Graduate Certificate
Overview
Do you want to go beyond your esthetics diploma and learn new skills? Discover the field of medical esthetics.
The Lambton College Medical Esthetics and Advanced Skin Care Therapies, Ontario College Graduate Certificate program is designed to provide students with essential and advanced theory and practice related to the field of medical esthetics. This comprehensive, well-rounded program provides students with the knowledge and practical skills necessary to administer advanced treatments in the Spa and Beauty industry.
Adhering to professional standards, students learn to create and maintain positive relationships with clients and develop practices that contribute to health and longevity in their careers as estheticians. The curriculum focuses on topics such as laser and light therapies, advanced brow and lash enhancements, and sophisticated facial and body treatments such as micro-needling and dermaplaning. In addition, the importance of business management and self-care for the esthetician, taught by industry professionals and practiced within our on-site lab/clinic, is emphasized.
Admission Requirements
Applicants must have:
Ontario College Diploma or equivalent from a recognized college or private organization with a specialty in esthetics and/or skin care therapy.
It is required that students have Level HCP CPR and Standard First Aid upon registering to the program.
Costs
---
Please Note: These fees apply to the 2023-2024 academic year and are subject to change. Fees do not include books (unless specifically noted), supplies or living costs.
Technology Requirements
In order to keep pace with the requirements of each and every course in your program, Lambton College requires that each student have access to a laptop while studying at our college.
Labs & Facilities

Salon & Spa
Lambton College provides students with the opportunity to learn in one of the most advanced teaching labs in Canada, with the most modern equipment and multimedia capabilities.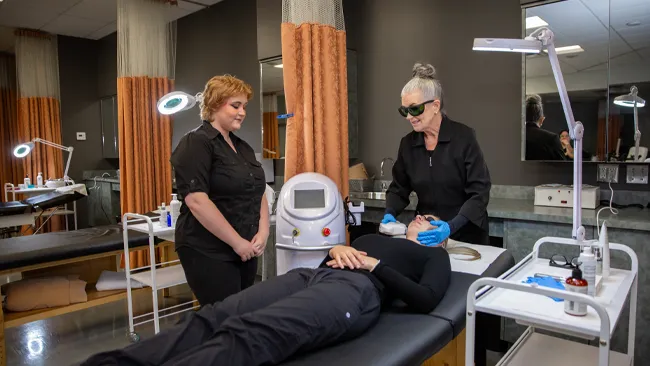 Courses
MEA-1003
Introduction to Laser & Light Therapy I
Laser and Light Therapies teaches the student the history and theory of Nd:Yag and Erbium Yag lasers as well as Intense Pulsed Light devices. Theory and applications of laser hair reduction on the legs, feet, arms, and underarms are taught and practiced. Reduction or removal of pigmented lesions using laser and intense pulsed light on the body are also taught and practiced. The Fitzpatrick Scale and theory of the skin is reviewed. Safety and best practices for decontamination are studied and practiced. Students practice in the on-site lab.
MEA-1004
Microdermabrasion, Dermaplaning & Microneedling
This course teaches the student advanced anti-aging and rejuvenating facial treatments, including microdermabrasion, dermaplaning and microneedling. Theory of producing controlled harm to the skin to gain results in the health and quality of the skin is taught and students practice all aspects of the three treatments in our on-site lab. Proper skin analysis, client consultation, homecare and aftercare are taught.
MEA-1014
Microblading & Advanced Brow Enhancements
Semi-permanent brow enhancement techniques are taught in this course. Students learn microblading, brow lamination, semi-permanent tattooing and henna brows. Proper brow shape for each individual client and face shape is taught. Creating natural looking enhanced brows is emphasized. Consultation techniques are discussed and practiced. The tools and materials for each service are examined and utilized.
MEA-1023
Facial Volumizing & Contouring
A youthful facial contour is affected by the loss of facial volume. The use of tools and machines to lift and tone the face are taught and practiced in this course, including radio frequency, massage and gua-sha tools. Non-invasive facelift techniques are highlighted. Botox and injectable fillers are discussed.
MEA-1032
Introduction to Advanced Esthetics Careers in Canada
In this course, students learn of the various opportunities in Canada for advanced training in esthetics courses offered beyond Esthetician and Medical Esthetician programs. Oncology Esthetics, Registered Massage Therapy, Electrolysis and Spa Management programs are discussed as well as other opportunities for continuing education, career training and development of business ownership. Students examine aspects of each to provide a basic knowledge of what is involved and how they can pursue any of these avenues.
MEA-1002
Self Care & Energy Work for Estheticians
Being a successful esthetician requires a healthy and vibrant individual who cares for themselves as they do for others. Self-care for the esthetician teaches the individual gentle yoga, meditation techniques and nutrition principles that will support a healthy mind and body as they work with clients seeking beauty and care. Principles of energy work and incorporating intentional energy healing into the treatment space is studied and practiced. Diet, nutrition and movement are studied and practiced.
MEA-1046
Practicum I
Practical experience (6 hours per week) in our on-site lab includes all aspects of working professionally with clients and in the operations of a spa or clinic. Students apply their learning in a variety of supervised clinical experiences. Treating clients, booking appointments, selling related products and developing promotions are taught and practiced. An emphasis is placed on professionalism and customer service at the highest level. The experience gained in this course may be used to gain employment in the industry.
MEA-2003
Laser & Light Therapy II
Laser and Light Therapies II continues from Introduction to Laser and Light Therapies with treatments using laser and intense pulsed light, continuing from Laser and Light Therapy I with laser hair reduction on the bikini line and face. Treatments also include anti-aging treatments and reduction or removal of pigmented and vascular lesions on the face. Safety and best practices for decontamination are practiced. Students practice in the on-site lab.
MEA-2013
Lash Enhancements
Eyelash enhancements are one of the fastest growing trends in the esthetics industry so naturally the demand for lash technicians has increased just as quickly. Students will focus on the application techniques of Eye Lash Extensions & Eye Lash Lifts. Students will also practice the proper protocol of these lash services as well as learn overall eye health, anatomy, aftercare, and best decontamination practices.
MEA-2004
Body Contouring
Students learn advanced treatments for the body, including detoxification, inch loss, hot stone massage and cellulite reduction using products and machines. Aromatherapy and essential oils are studied and utilized. The theory of detoxification for overall health and wellness is studied. Body image and societal pressures are discussed. Home care and maintenance for the client is taught.
MEA-2023
Chemical Peels & Serums
Advanced treatments for the face are taught and implemented in this course. Chemical peels using Alpha and Beta Hydroxy Acids are taught and practiced. Students will also learn how to apply oxygen facials and jet peel techniques with the use of serums that target specific skin conditions. Theory of associated machines and ingredients is taught. Client homecare, aftercare and follow up appointments are discussed.
MEA-2002
Client Relationships & Business Management
Building and maintaining client relationships is the foundation of a successful spa or clinic. In this course, students will focus on professional skills such as communication, leadership, and team management. Strategies to increase profitability and customer satisfaction are discussed including rebooking, retail management, and sales techniques. Business management and promotional plans for medical esthetics clinics are explored. Students learn the components of a successful career in the esthetics industry, how to get started and how to maintain prosperity in the fast-paced and continuously growing spa industry.
MEA-2066
Practicum II
Practical experience (6 hours per week) in our on-site lab includes all aspects of working professionally with clients and in the operations of a spa or clinic. Continuing from Practicum I, students bring their learning to the practical experience in treating clients, booking appointments, selling related products and developing promotions in a professional and effective manner. The experience gained in this course may be used to gain employment in the industry.
Contact
School of Fire Science, Health & Community Services
AARON KLOOSTER, DEAN
After Graduation
Employment Opportunities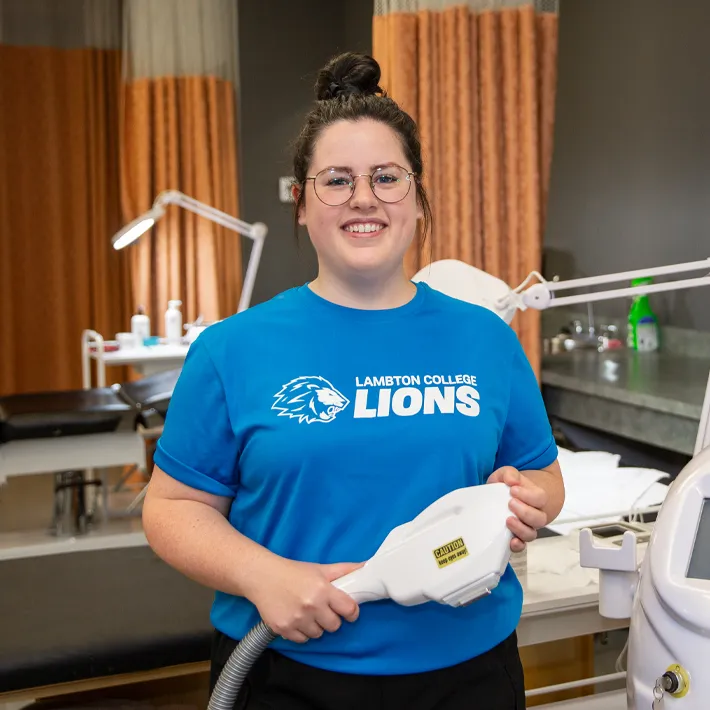 Graduates of the program are job-ready to begin work alongside other medical professionals in a safe and competent manner. These graduates may be employed in a variety of areas including dermatology clinics, medical spas, laser care facilities, wellness centres, plastic surgeons' offices, dental spas, destination and resort spas, day spas, home-based businesses as well as physicians' offices which incorporate cosmetic practices.
Some common position titles may be: cosmetician, medical esthetician, post-surgical care esthetician, spa or clinic manager, laser and light therapy technician, or esthetician.
Further Studies
Graduates from this Medical Esthetics program may choose to further their studies in Oncology Esthetics or other related medical areas. Oncology esthetics are specialized services offered to, and safe for cancer patients and/or their caregivers.

Placement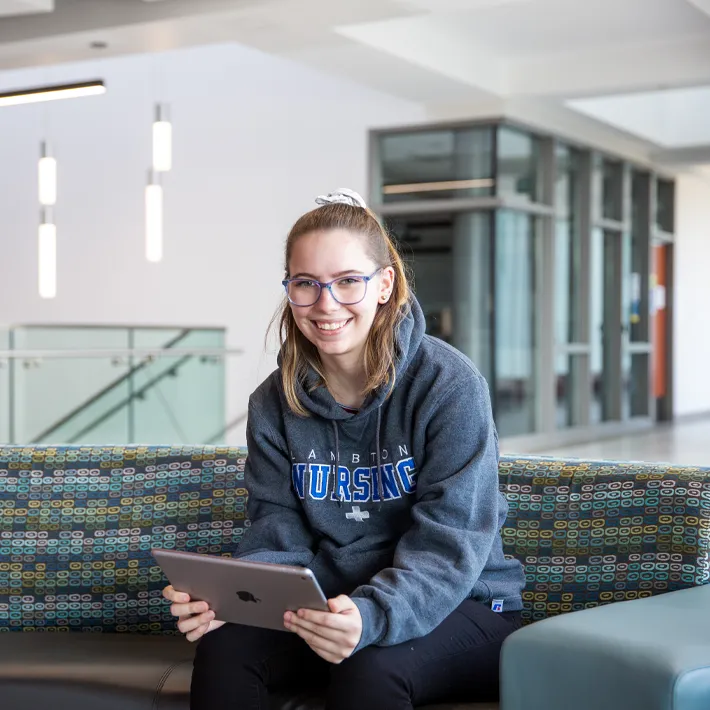 Proof of certain vaccinations and police record checks may be required.

Vaccinations & Police Record Checks

Students considering this program should be aware that there may be field and clinical placement requirements. Many placements require students have proof of certain vaccinations and police record checks.
Once you've applied, you can log in to mylambton.ca and view the program-specific Field & Clinical Placement Requirements. If you need information about these requirement before applying, please contact placementinfo@lambtoncollege.ca.
More Information
Laptop Requirements
It is recommended that students purchase a laptop with a Windows operating system.
Internet Speed Requirements
For best performance for students learning remotely, an internet connection with a minimum of 40 Mbps download and 10 Mbps upload speed is recommended in order to effectively use video conferencing and remote lecture deliver software as well as, other online resources remotely. Due to the large area over which students may be dispersed, we are unable to recommend a specific provider, so you will need to inquire around your area to find one that best suits your needs.
Minimum Laptop Requirements
In order to access the internet and virtually-delivered software and courseware, student laptops should include the following at a minimum. By meeting the following specifications, students will be equipped to access software and courseware on their laptop through the internet:
Intel i3 Processor or equivalent
4 GB of RAM or more
100 GB HDD or more
HD Graphics
Webcam with a microphone
Wireless 802.11n/ac 5ghz capable
Windows Operating System (Windows 10)
Software
To ensure students are getting the most out of their classroom experience, some software will be required.
Lambton College has made this software easily accessible online. Students can leverage our Microsoft Office 365 software packages and services. In addition, much of the software you require for your courses will be available on demand for use on any device – on or off campus.