Lambton College nursing students eligible for free tuition courtesy of new provincial grant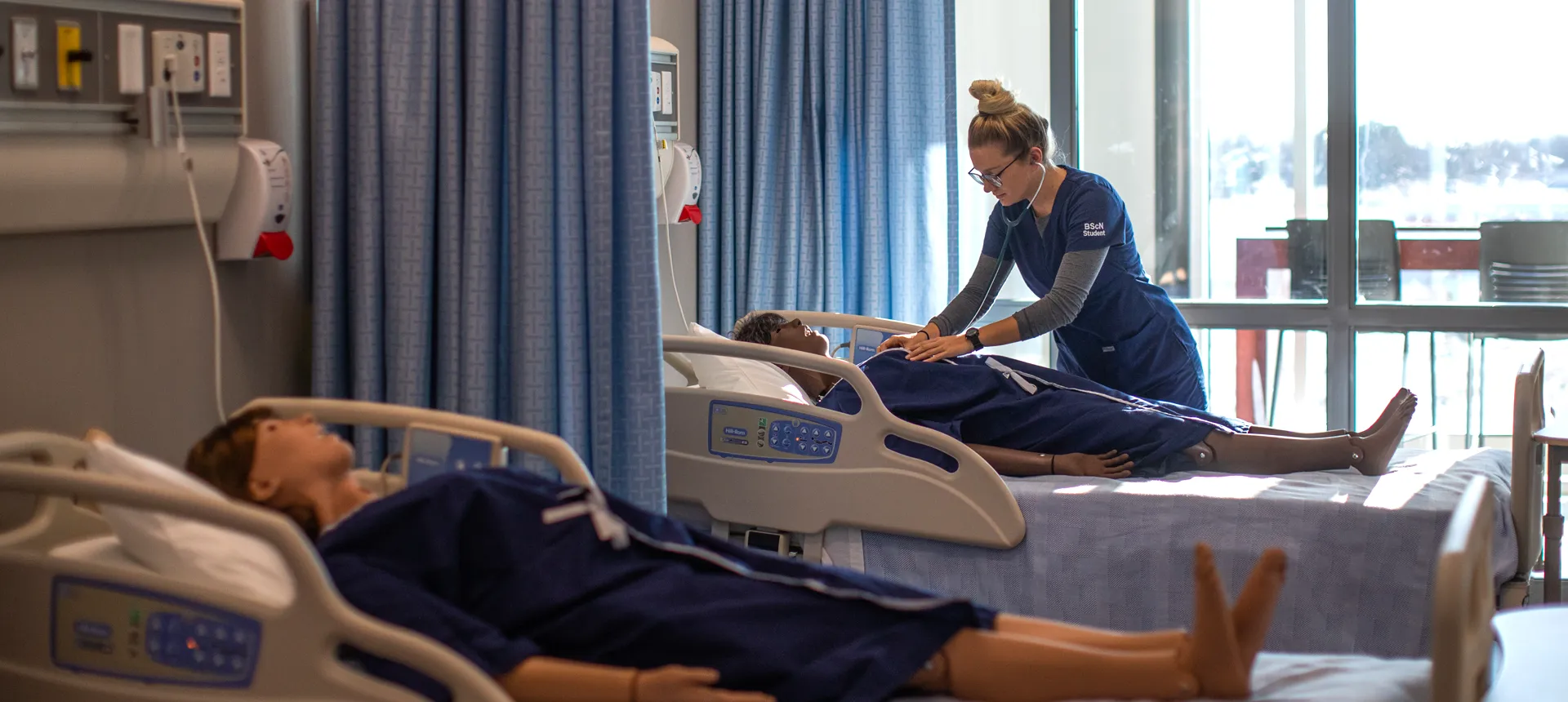 2 / 22 / 2023
SARNIA, February 22, 2023 – New funding from the Ontario Government will provide extra incentive for Lambton College nursing graduates to pursue careers in the Sarnia region.
The newly launched Ontario Learn and Stay Grant is part of the provincial government's effort to recruit more doctors, nurses and personal support workers to the provincial health care system.
As a participating institution, students enrolled in Lambton College's two-year Practical Nursing or four-year Bachelor of Science – Nursing programs could be eligible to have the costs of their tuition, books and other direct educational expenses covered for the duration of their studies.
In return for receiving funding, graduates of Lambton's Nursing programs will need to fulfill a service commitment in Sarnia-Lambton following completion of their studies. Graduates will be required to work in the region for a minimum of six months for every year of study funded by the grant.
For example, if a graduate of Lambton's two-year Practical Nursing program received the Ontario Learn and Stay Grant for each year of study, they will be required to work in the region for 12 months (one year) after graduation.
Ultimately, the goal is to incentivize students to pursue a local career in the nursing profession where their skills are needed most.
"The shortage of health care workers is affecting the whole province, in fact it is a global concern," says Shannon Landry, Vice President of Clinical Support Services & Chief Nursing Executive at Bluewater Health. "The new Ontario Learn and Stay Grant means an enhanced recruitment strategy for hiring nurses who study local. We are thrilled for the opportunity and grateful for our ongoing partnership with Lambton College."
"It's great to see the provincial government recognize the increased demand for nursing professionals in our region, and put both funding and incentives in place to help more students study and pursue healthcare careers in Sarnia-Lambton," says Mary Vaughan, Senior Vice President, Academic and Student Success at Lambton College. "With the addition of our four-year standalone Nursing degree, our College is well-prepared to welcome and train even more nursing professionals to help meet the healthcare needs in our community."
Applications for the new funding will open in Spring 2023 and is open to all Nursing students planning to attend Lambton College in September.
Students enrolled in Lambton's Nursing programs experience hands-on learning in the form of clinical placements, as well as training in the College's Nova Chemicals Health & Research Centre, which features state-of-practice simulation labs. In addition to its highly competitive Practical Nursing Diploma program, the College recently announced a new standalone four-year Bachelor of Science – Nursing program that will be offered in its entirety at Lambton College. Launching for Fall 2023, the program meets all professional standards and recently received full approval from the College of Nurses of Ontario.
For media inquiries or more information:
Jami Kloet
Corporate Communications Coordinator
Lambton College
Phone: 519-479-1057
Mobile: 519-328-2081