Lambton College officially sunsets Envision Tomorrow Capital Campaign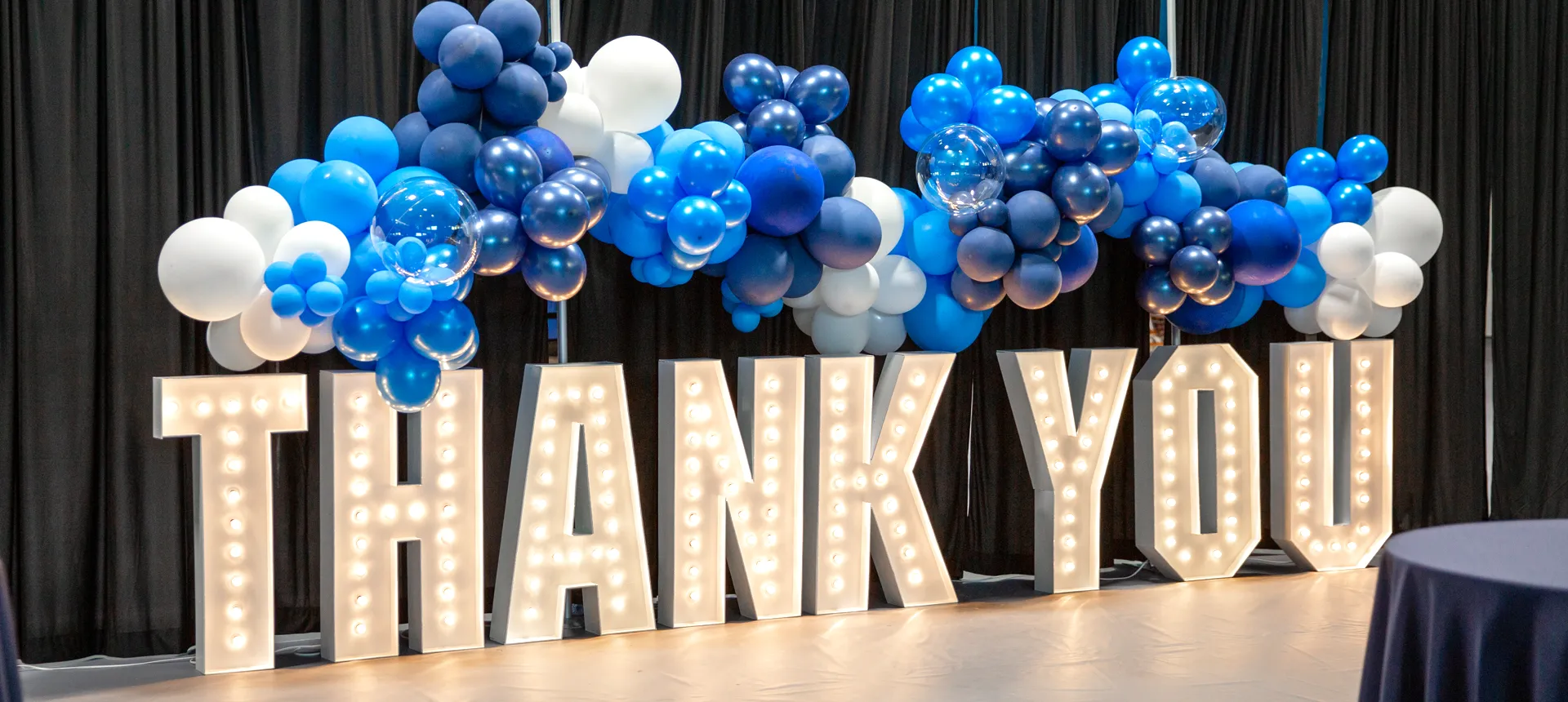 3 / 31 / 2023
SARNIA, March 31, 2023 – It was a celebratory conclusion to an eight-year evolution.
On Thursday, March 30, Lambton College officially brought their Envision Tomorrow Capital Campaign to a close. The multi-year fundraising campaign can be credited with launching a new era for the College and the Sarnia-Lambton community.
The $45 million campaign was established by the Lambton College Foundation in 2015 to specifically enhance academic programming, student athletic needs, and applied research opportunities.
Initiated by the vision of former President & CEO Judith Morris, the goal of the campaign was simple, but ambitious, with funds raised being allocated across three essential pillars: construction of a Health & Research Centre, construction of an Athletics Complex, and an Equipment Renewal program.
Nearly eight years later, Lambton College exceeded the original campaign goal of $45M, a total which includes a combination of fundraising, federal, provincial, and municipal contributions.
As a result, the College now boasts its world-class NOVA Chemicals Health & Research Centre, the 21,000 sq. ft. Cestar Group Athletics & Fitness Complex and the significantly renovated Centre of Excellence in Energy & Bio-Industrial Technologies.
"The physical transformation brought on by the Envision campaign as well as everything that has resulted from these new buildings, facilities and equipment is almost unbelievable," said Rob Kardas, President & CEO of Lambton College during a special Gratitude Event celebrating the campaign's success.
During the event, Kardas thanked the campaign's multiple partners and donors who he said "envisioned tomorrow" and believed in the College's long-term vision for the campus. He also expressed gratitude for the many new donors that came on-board throughout the campaign because "they could see what the College was doing for our community, region and well beyond."
In addition to recognizing individual and family donors, employees and their families, industry partners, community organizations, and all levels of government, the College specifically recognized the significant funding they received from the County of Lambton and the City of Sarnia.
"I think what makes me proudest about the Envision campaign and everything it accomplished is that no matter how much this campus has changed, or how we've grown, we are still this community's college. That is our purpose, and it is what drives us in everything we do," said Kardas.
In its early days, the campaign also received assistance from Members of Parliament, Members of Provincial Parliament and other elected officials who Kardas said understood the need for new and revitalized buildings and helped push the projects forward.
Envision Tomorrow also secured record-breaking donations to the College including $8.6M from the Student Administrative Council (SAC), $2M from NOVA Chemicals, and $2M from Cestar Group.
Beyond buildings, facilities and equipment, Kardas said the campaign enabled Lambton College to claim its place on the national and international stages and set new standards for quality in education and research. He also credited the campaign with helping to bring the standalone Honours Bachelor of Science – Nursing degree program to Sarnia, thanks to new levels of experiential learning opportunities available for students.
Increased donor generosity also saw scholarship programs grow from $100,000 per year to more than $440,000, eliminating barriers for a huge range of learners.
"The Envision Tomorrow Capital Campaign allowed our College to lead in a way we always knew we could: with our values at the forefront, and our students, employees, clients and community at our heart," said Kardas. "Many years ago, we asked our partners to envision the Lambton College of the future and with their incredible support, the Lambton College of the future is here.
For media inquiries or more information:
Jami Kloet
Corporate Communications Coordinator
Lambton College
Phone: 519-479-1057
Mobile: 519-328-2081