Lambton College in Mississauga unveils major campus updates and renovations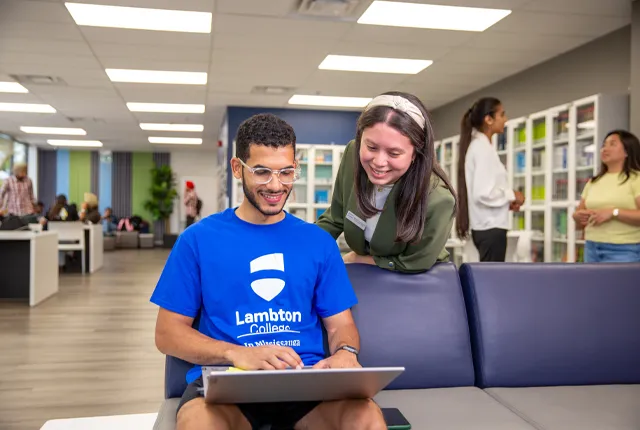 4 / 06 / 2023
SARNIA, April 6, 2023 – A major campus renovation will greatly enhance student life at Lambton College in Mississauga at the Queen's College campus.
International students enrolled in Lambton's Mississauga-based programs, licensed through Queen's College of Business, Technology and Public Safety, now have access to an expanded library, a social lounge and new study spaces.
A long-time educational partner of Lambton, Queen's College delivers licensed Lambton curriculum, which allows international students to pursue Lambton College programs in Mississauga.
With increased demand for high-quality post-secondary education, College officials planned the campus expansion to provide student life opportunities that would properly align with the world-class education and services Lambton College is known for.
The renovated facilities, located at 111 Brunel Rd. in Mississauga, have added 14,000 sq. ft. to the campus, with a special focus on student mental health and well-being. The open-concept study spaces feature an expanded library, a new canteen and cafeteria, spaces for students to socialize, and rooms dedicated to one-on-one student support.
A new Exercise Centre and Wellness Rooms are also being completed.
"We wanted to create a learning space that would make students feel welcomed and inspired, and we are confident these recent upgrades will greatly enhance the college experience on our campus," said Jennifer Zhang, President and CEO of Queen's College.
Lambton College President & CEO Rob Kardas said the new enhancements make Lambton in Mississauga an outstanding study location for international students in the city.
"We always strive to improve the student experience both inside and outside the classroom, and we are grateful for the investment and vision of Queen's College to bring these new spaces to life," said Kardas. "They have truly created a welcoming, supportive, and world-class learning environment for Lambton College students."
The Mississauga renovations followed previous facility upgrades at Cestar College in Toronto, and served as a pre-emptive celebration to the near-complete construction updates taking place at the College's Sarnia Campus as well. With expected completion in the next few weeks, Lambton has made a significant and large investment to expand its physical space for international student services.
Scheduled to officially open in May, the Centre for Global Engagement (formerly the Department of International Education) will continue to service and support international students at all Lambton College study locations.
The Centre will operate as a centralized hub responsible for International marketing, recruitment and admissions, while also working to service and support International students in every aspect of their educational journey.
Additionally, the Centre will further expand opportunities for students and faculty to interact with the global community, providing increased activities and engagement for all learners and employees on campus. Ultimately, Lambton aims to foster Global Citizenship amongst students, staff and faculty on campus and across the region by creating an environment of that embraces, supports, and celebrates learners from around the world.
For media inquiries or more information:
Jami Kloet
Corporate Communications Coordinator
Lambton College
Phone: 519-479-1057
Mobile: 519-328-2081