Lambton College opens Centre for Graduate Studies in Ottawa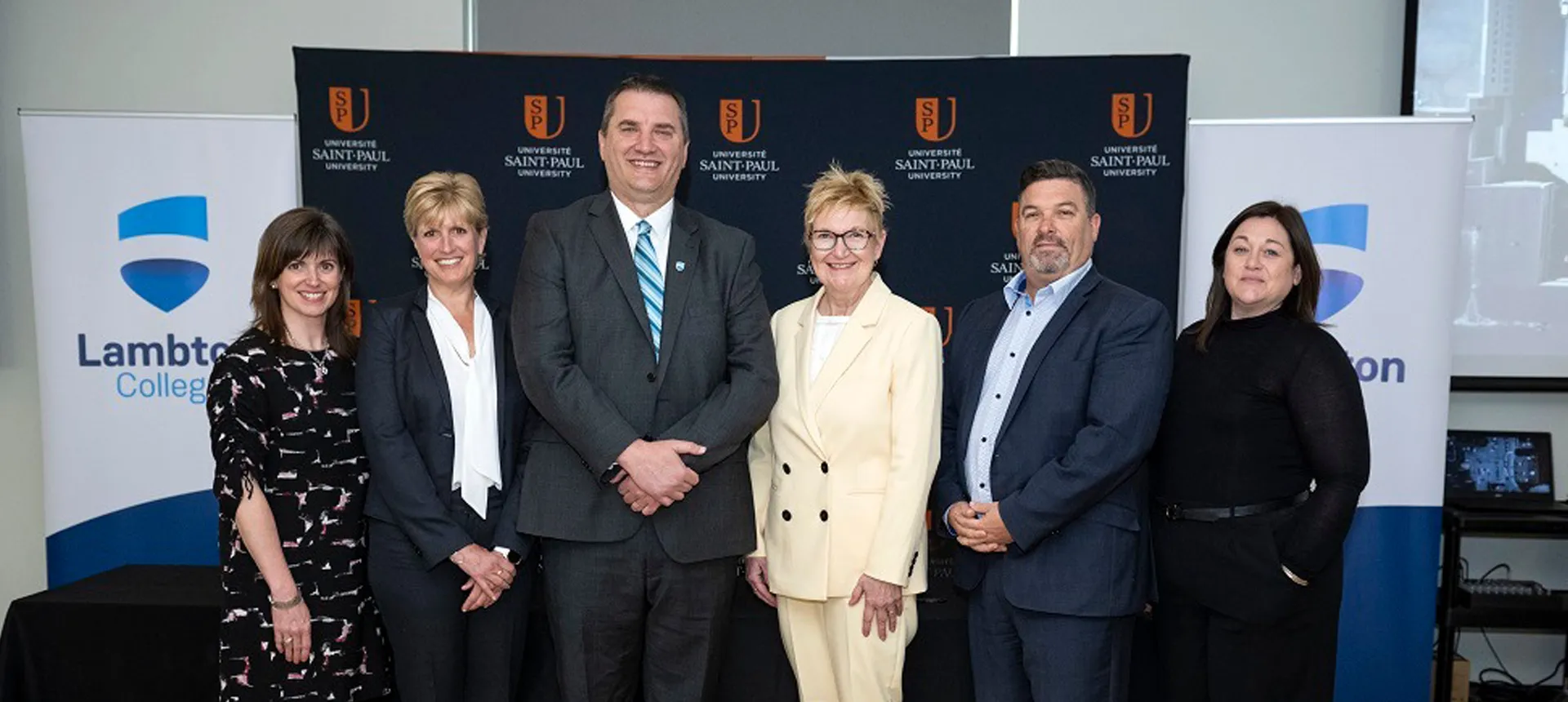 5 / 24 / 2023
OTTAWA, May 24, 2023 – Lambton College is putting down roots in the country's capital.
Following recent approval from the Ministry of Colleges & Universities, and laying the groundwork for what College officials are calling "an innovative opportunity," Lambton College has established a public-to-public collaboration with Ottawa-based Saint Paul University (SPU).
The unique collaboration will see the College leasing space on SPU's campus to deliver international graduate certificate programs through the Lambton College Centre for Graduate Studies.
Lambton College and SPU have established a unique public-to-public collaborative model that will see students studying Lambton programs in a growing city with a strong labour market. All Lambton students will have access to SPU's amenities including the library, cafeteria, student residence and common spaces.
The new development will build on Lambton College's post-graduate portfolio, which has a strong brand representation internationally and delivers on the need to diversify and expand program offerings outside of the Sarnia catchment area.
"This is an opportunity for Lambton College to provide a robust, supportive, academically strong student experience in a vibrant international education market, while contributing to the long-term financial stability of our College," said Rob Kardas, President & CEO, Lambton College. "This is Lambton College's first public-public collaboration, and we are enthused about how this collaboration supports the public system overall and optimizes existing space at Saint Paul University."
Intakes for the new Lambton campus will begin in January 2024, with a focus on admitting mature, professional post-graduate students and providing them with strong supports for their academic success and overall wellness. All of Lambton's programs will be delivered in English.
Unlike the College's existing private-public partnerships in Mississauga and Toronto, the latest collaboration will be fully managed and operated by Lambton. The Centre for Graduate Studies, or "Lambton Ottawa," will act as a third Lambton College campus (in addition to Sarnia main campus and the Fire School).
Kardas said the College has been exploring expansion opportunities for the past 12 months, and after assessing multiple sites and locations, SPU proved to be an ideal collaborator. The public university features a vibrant downtown Ottawa campus in a very strong international market boasting an abundance of employment opportunities for students and graduates.
"Ottawa is a large, multicultural community that will appreciate the types of programs we will offer, and the talented post-graduate students we bring in," said Kardas. "We look forward to supporting our students' success and welcoming Lambton College students to our country's capital."
SPU expressed similar sentiment towards the process and sees the collaboration as mutually beneficial to both institutions.
"I would like to thank everyone involved in this initiative for the vision, innovation and dedication they have shown throughout this process and Lambton's commitment to improving access to leading international post-graduate certificate programs in our city. This new collaboration is great news for both our institutions, our city, our province and the many students we look forward to welcoming to our campus," said Chantal Beauvais, Rector & CEO, Saint Paul University.
For media inquiries or more information:
Jami Kloet
Corporate Communications Coordinator
Lambton College
Phone: 519-479-1057
Mobile: 519-328-2081