Lambton celebrates largest graduating class in college history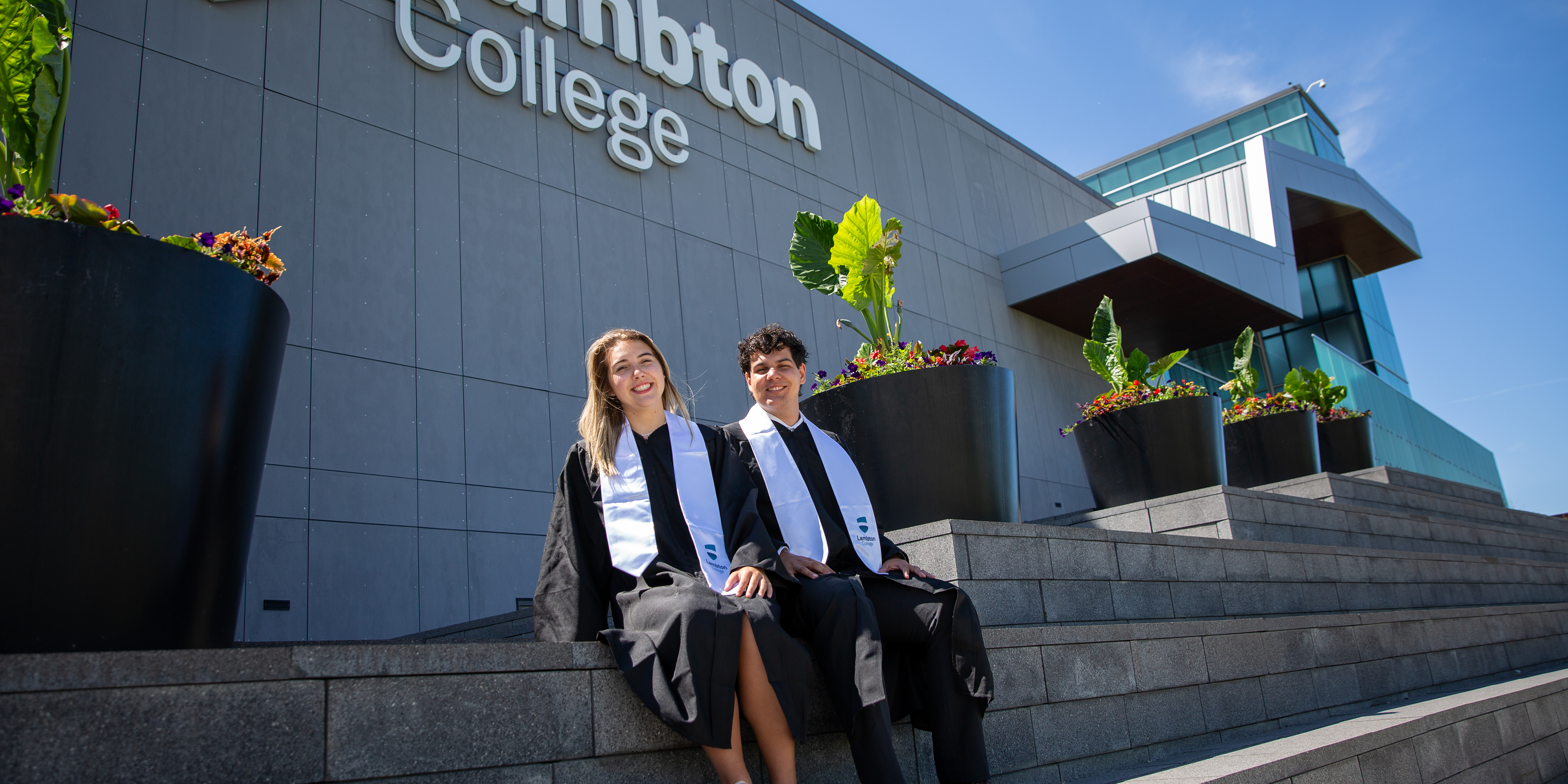 6 / 07 / 2023
SARNIA, June 7, 2023 – It was a historical day for Lambton College.
On Wednesday, June 7, Lambton College celebrated its 56th Annual Convocation with not one, but two ceremonies honouring the achievements of the Class of 2023 – a historical cohort of more than 2,700 graduates!
The energy was palpable as nearly 1,800 Lambton College graduates crossed the stage between the day's two ceremonies to accept their hard-earned diplomas.
Dr. Bill Boyes, Brampton Fire and Emergency Services Fire Chief and Commissioner of Community Services for the City of Brampton delivered the day's dual keynotes.
Boyes, a passionate advocate for progressive public safety services and a graduate of Lambton College's Pre-Service Firefighting Education & Training program talked about the importance of hard work, and recognizing the great responsibility that comes with one's chosen profession, especially when approached from a position of privilege.
"When you're someone who gets to go in through the door, I believe you have a responsibility to help remove barriers for people of every ethnicity, culture, gender, sexuality, and different abilities and exceptionalities," he said.
While lauding the importance of the role firefighters play in public safety, he was quick to note those notions apply well beyond firefighting, and that all professions have a commitment to champion equity, diversity and inclusion in their communities.
"It's relevant to all of your chosen occupations," he told the crowd. "What you do can be bigger than your job title. Your workplace, industry and community need people who are willing to try to do more and do better, and why shouldn't that be you?"
President & CEO, Rob Kardas thanked Boyes for sharing his words on the impact of a college education and delivered his own remarks on how Lambton College offers a practical education to its learners but is nonetheless a College for dreamers.
"Lambton College is for the people who have the kind of dreams that shape the way we live in our community and beyond," he said. "Most importantly, Lambton College is for the people who know that the only way to make these dreams come true is to get the education and training you need to do it yourself.
"It is my deepest hope that on this momentous day in the history of your life, and the history of our community, that you truly celebrate everything you have accomplished. Because tomorrow, it's time for you to start dreaming again."
Students Honoured with Awards
Governor General's Academic Medal Award

Danielle Duncan, Esthetician graduate
This award honours the student who graduates with the highest standing in her or his institution

Alumni Association Leadership Award

Prabhjot Kaur, Elearning Design & Training Development graduate

This award honours students who exhibit leadership abilities, commitment, are involved in extra-curricular activities and contributes to the College and the community.

Board of Governors Award

Kumar Gaurav, Applied Manufacturing Management – Advanced Materials Processing graduate

This award honours a student who demonstrates academic achievement, is involved in extra-curricular and leadership activities, and contributes to the College and the community.
The College also offered a live stream of the entire ceremony.
Immediately following the second ceremony, The Lambton College Alumni Association hosted an Alumni Welcome Party for graduates and their families that featured local food trucks, special graduation gifts, a pop-up Campus Shop, unique photo opportunities, music, and other festive celebratory activities.
For media inquiries or more information:
Jami Kloet
Corporate Communications Coordinator
Lambton College
Phone: 519-479-1057
Mobile: 519-328-2081