Lambton College launches Funding Futures Capital Campaign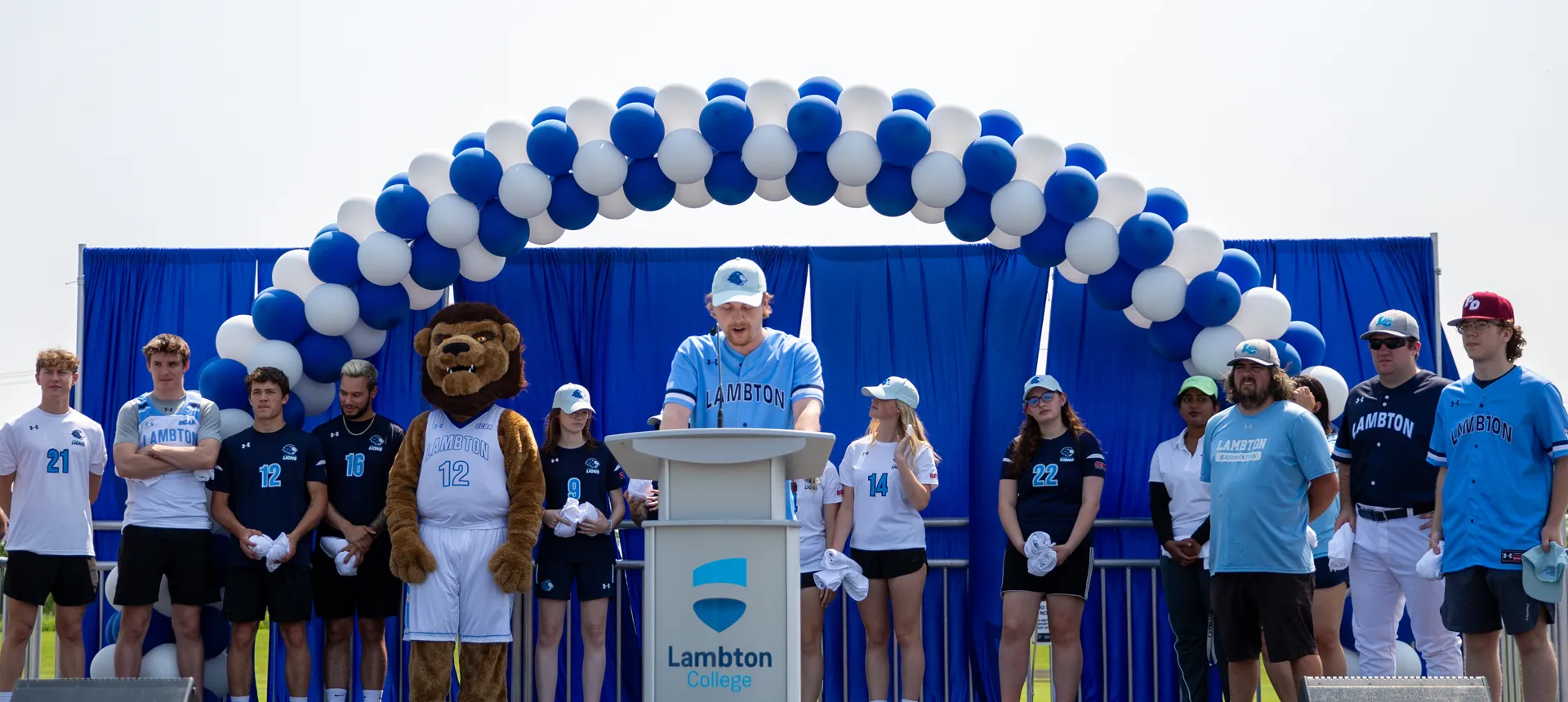 6 / 20 / 2023
SARNIA, June 20, 2023 – Lambton College has announced a new $45 million capital campaign that aims to enhance the student experience, academic spaces, outdoor recreation, and overall wellbeing.
The five-year campaign, established by The Lambton College Foundation, will encompass various initiatives, including the development of an Indigenous Outdoor Gathering Space, and several outdoor recreation commons projects.
Additionally, the campaign will support the improvement of classrooms, labs, and student spaces, while also funding scholarships, bursaries, and resources for mental health.
Details of the new campaign were revealed Tuesday, June 20, during an outdoor celebration at the College, where guests enjoyed a variety of games and a barbecue.
While expressing gratitude towards long-time partners and donors, Lambton College President & CEO Rob Kardas announced that the campaign has already achieved a significant milestone – with $10 million in contributions made on behalf of three major donors: the Student Administrative Council (SAC), the Lambton College Alumni Association, and Cestar Group.
SAC has committed an impressive $3 million towards the construction of the new Student Recreation Commons, demonstrating their dedication to providing exceptional recreational facilities for students.
The Lambton College Alumni Association also announced a total pledge of $2 million, which includes $1 million towards the Indigenous Outdoor Gathering Space and an additional $1 million for the construction of an Alumni Terrace.
Cestar Group, a long-time partner of Lambton College, has donated a remarkable $5 million towards the campaign. This includes $1 million allocated to support the Indigenous Outdoor Gathering Space, $3 million for the development of a new Cestar Field soccer field and fire tower, and an additional $1 million earmarked for continuing education and professional development opportunities for Lambton College employees.
Overall, the campaign is poised to support Lambton College in broadening its approach to education and the student experience.
"Our graduates bring so much value to the community as people, and to reach their full potential, they need holistic education that educates the whole person, and a student experience that prioritizes their overall success and wellness," said Rob Kardas, President & CEO, Lambton College. "That is the responsibility that will define us as we move forward with the Funding Futures Capital Campaign."
For more information about the Funding Futures Capital Campaign and how to contribute, please visit lambtoncollege.ca/foundation.
For media inquiries or more information:
Jami Kloet
Corporate Communications Coordinator
Lambton College
Phone: 519-479-1057
Mobile: 519-328-2081