Lambton College to host national and World FireFit Championships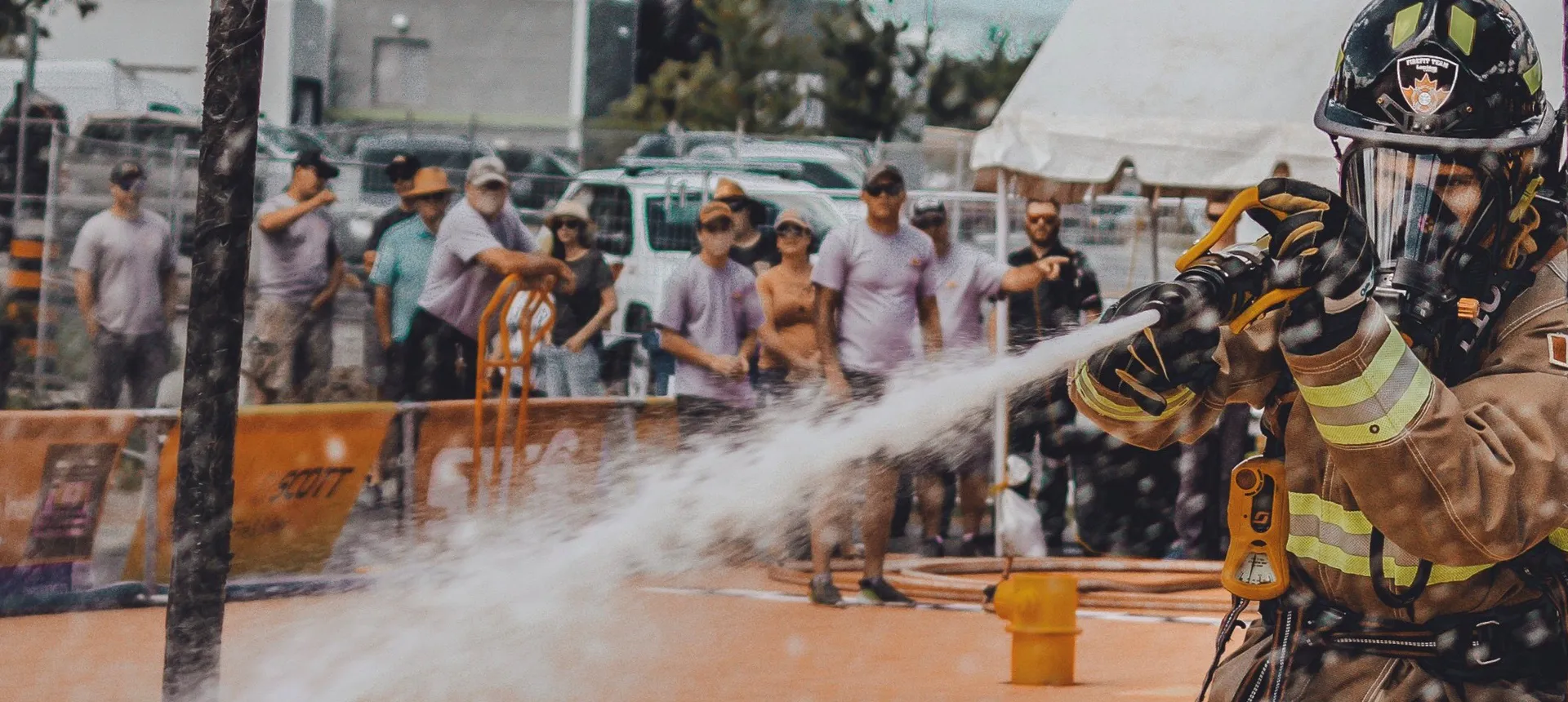 9 / 01 / 2023
SARNIA, August 31, 2023 – After a successful season on the competitive circuit, Lambton College's FireFit team is bringing their namesake challenge to Sarnia.
After years of travelling across the country to compete in what has been deemed the "toughest two minutes in sports," Lambton College is pleased to be hosting the 2023 Canadian FireFit National & World Championships at the College's Sarnia campus.
The five-day event will run from Wednesday, September 13 to Sunday, September 17, with finals taking place Saturday and Sunday from 11 a.m. – 4 p.m.
Returning to the lineup this year is the popular Corporate Relay Challenge. Starting at 6 p.m. on Wednesday, registered teams consisting of three to five individuals will compete in Lambton's official FireFit challenge, which FireFit of Canada Ltd. President Hilary McRoberts previously claimed was one of the "best in the circuit." The evening competition will see members of Lambton's Leadership team face-off against teams from organizations such as the Sarnia Sting and Sarnia Fire Rescue Services while simulating tasks such as stair climbs, hose hoists from the top of the tower, forcible entries, and victim rescues. The cost is $750 per team, and proceeds will go towards The Lambton College Foundation.
In addition to hosting the best FireFit competitors from across North America, the free event will feature lots of hands-on activities for kids and adults alike, including food trucks, fire-related vendors, and a mini replica course for kids sponsored by The Lambton College Alumni Association. A special appearance by Paw Patrol's fire dog Marshall will take place on Saturday and Sunday from 12 p.m. – 2 p.m.
Local breweries Refined Fool and Imperial City have teamed up to host the beer garden, available throughout the event, and featuring a limited-edition Lambton College FireFit beer can design courtesy of Refined Fool.
Coming off one of their most successful seasons to date, the Lambton College FireFit team will be heading into the National Championship with their largest roster in College history. With a single regional competition remaining before the qualifying rounds take place at Lambton, the team of 21 athletes – eight women and 13 men - has already claimed 21 medals this season competing in individual, relay and two-person races and have high hopes of claiming some more hardware while competing on the world stage in front of their hometown fans.
To get involved, or to register for the Corporate Relay Challenge, please contact
shane.bettridge@lambtoncollege.ca
.
For media inquiries or more information:
Jami Kloet
Corporate Communications Coordinator
Lambton College
Phone: 519-479-1057
Mobile: 519-328-2081