Lambton College launches the Canadian Extrusion Research Laboratory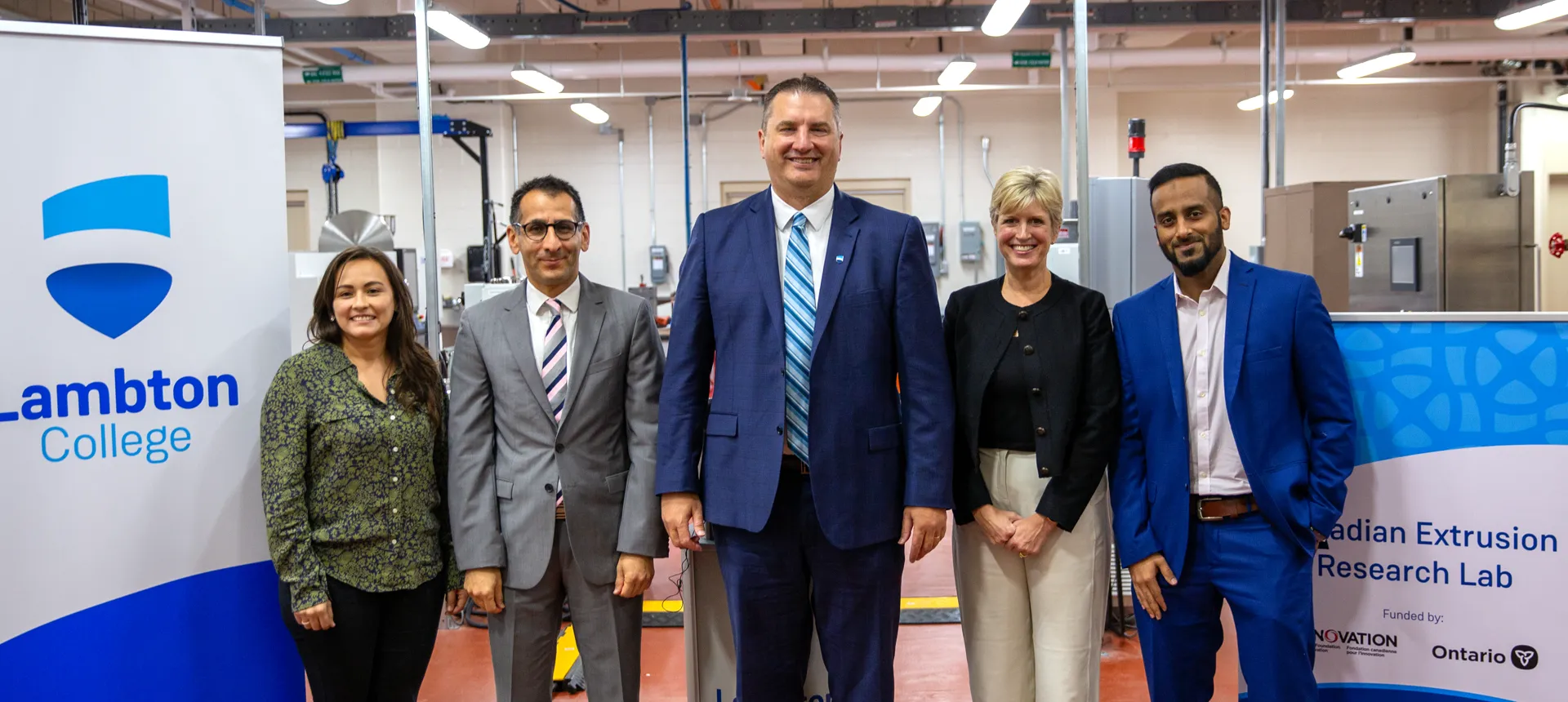 10 / 12 / 2023
SARNIA, October 12, 2023 - Lambton College is proud to announce the establishment of the Canadian Extrusion Research Laboratory (CERL), a cutting-edge facility dedicated to sustainable and Circular Economy-focused material development. Made possible through a two-phase investment exceeding $3.4M from the Canada Foundation for Innovation (CFI) and the Ontario Research Fund (ORF), the new lab aims to foster partnerships between academia and industry, supporting up to 40 companies annually.
With a strong emphasis on innovative materials derived from renewable and recycled sources, the CERL represents a significant step towards sustainable material evolution. The College's Centre for Industrial Material Development will oversee the operations of this premier hub, with a focus on utilizing the lab for collaborative industry-academic research and innovation.
As of the official launch, the new lab features two pilot-scale extrusions and various utilities such as feeders, granulators, pelletizers, injection molders, and weatherometers. In the coming months, the College has plans to integrate 10 additional pieces of equipment, including a Microcompounder, High Temperature Gel Permeability Chromatography, rheometer, XRF, benchtop NMR, a Blow Moulding System, and a dedicated grinding facility.
"This is not just an extension of our R&D capabilities, it's a crucible for nurturing hands-on learning experiences for our students through research roles and co-op positions," said Mehdi Sheikhzadeh, Senior Vice President, Research & Innovation at Lambton College.
Sheikhzadeh said that the new lab has the capacity to provide up to 50 students per year with access to research opportunities and real-world learning, leveraging the state-of-the-art equipment available via the CERL.
In a written statement acknowledging the official opening of the lab, Roseann O'Reilly Runte, President and CEO of the Canada Foundation for Innovation, highlighted the significance of the CERL's focus on recycling materials and enhancing their efficiency.
"This will certainly contribute significantly to the success of businesses as they will be able to improve their current materials and develop new green and smart materials and components," she stated.
Lambton College remains committed to supporting the growth of clean technology and sustainable industries. The investment in the CERL will undoubtedly drive research and development efforts across various industry sectors, addressing environmental challenges and fostering material development innovation.
To learn more about Research & Innovation at Lambton College, including past and current projects, or to explore partnership opportunities, please visit lambtoncollege.ca/research.
About the Canadian Foundation for Innovation (CFI):
The Canadian Foundation for Innovation (CFI) invests in state-of-the-art facilities and equipment in Canada's universities, colleges, research hospitals, and nonprofit research institutions. This investment strengthens the capacity of these institutions to carry out world-class research and technology development that benefits Canadians.
About the Ontario Research Fund (ORF):
The Ontario Research Fund (ORF) provides support to researchers in Ontario to undertake innovative research projects in collaboration with industry and other partners, ultimately contributing to the economic growth and well-being of the province.

For media inquiries or more information:
Jami Kloet
Corporate Communications Coordinator
Lambton College
Phone: 519-479-1057
Mobile: 519-328-2081