Lambton College celebrates opening of new Welcome Centre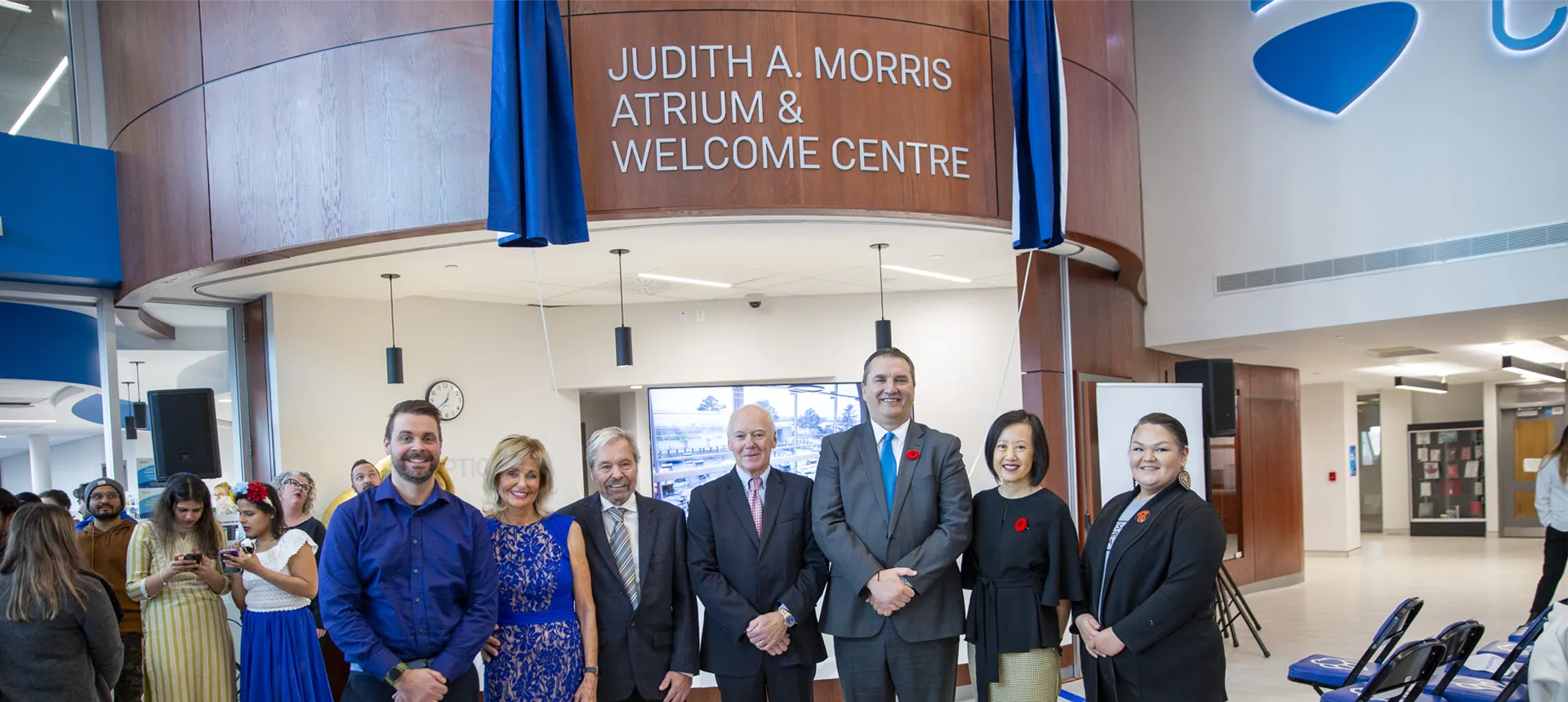 11 / 03 / 2023
SARNIA, November 3, 2023 - Lambton College marked a significant – and much welcomed – milestone by celebrating the completion of its latest capital project.
On Thursday, November 2, students, employees, and members of the community gathered inside the doors of the West Entrance on the main campus to celebrate the completion of the latest project, which features a newly constructed Bridge Entrance, new Campus Shop, new classroom space, student life space, and an Atrium & Welcome Centre honouring former President Judith Morris.
The extensive renovations were undertaken to create a modern, inclusive, and welcoming environment for all learners, regardless of their age, nationality, ethnicity, or background, explained Rob Kardas, President & CEO, Lambton College.
Detailing some of the unique highlights of the upgrades, Kardas said the new Bridge Entrance now features words of "welcome" in 26 languages (and counting) to ensure that students from diverse backgrounds feel valued and embraced from the moment they step on campus.
"We needed to ensure that learners of all types felt welcomed upon arrival," he said.
The entrance can also now be accessed by two new barrier-free ramps on either side.
Once inside, College guests can expect a bright and safe space that has been carefully designed to reflect the values and identity of Lambton College.
The new Campus Shop, now prominently located inside the main entrance, has nearly doubled in size to 2,873 sq. ft., providing students with a spacious and convenient retail experience.
The highlight of the event was the official unveiling of the Judith A. Morris Atrium & Welcome Centre, named in honour of retired President & CEO, Judith Morris.
Tania Lee, Chair of the Lambton College Board of Governors, described the new Welcome Centre, which spans an impressive 2,271 sq. ft., as a fitting tribute to Morris' legacy.
"The Board of Governors knew we needed to find a unique and fitting retirement gift for someone who has had such a staggering impact on Lambton College and the surrounding community of Sarnia-Lambton," she explained. "To do so, we distilled Judy's marvelous career down to what we felt was its most basic but impactful essence, and we came up with one word: welcome. Whatever language you want to say it in, Judy has made countless individuals from all backgrounds and all walks of life feel welcome in these hallways and this community."
Lee was joined by Kardas and President Emeritus Tony Hanlon to officially unveil the signage for the Judith A. Morris Atrium & Welcome Centre.
Morris, who retired in June 2021 following a 20-year career at Lambton, 10 of which she served as President & CEO, was in attendance for the opening of her namesake welcome space. She expressed gratitude and humility at having her name associated with the stunning new entrance.
"To have my name on such a spectacularly beautiful entrance, which so tastefully represents who and what Lambton College is now, and will be long into the future – you have honored me beyond my wildest dreams," she said.
The project also includes the addition of the Alumni Terrace, a three-season outdoor lounge area, located adjacent from the Bridge Entrance that was built thanks to a $1 Million donation courtesy of The Lambton College Alumni Association, as part of the newly launched Funding Futures campaign.
Other features rounding out the renovation include an additional 1,963 sq. ft. of learning space overlooking the Atrium, two new barrier-free washrooms, common student areas on both the first and second floors, as well as three study rooms.
To cap off the celebration, members of the Lambton College International Women's Club organized a student showcase featuring branded attire from the Campus Shop, Lambton Lions Athletics uniforms, and a sample of culturally diverse fashions representing a handful of the College's global student body – who now hail from 43 countries around the world – all of whom have chosen to call Lambton College home.
For media inquiries or more information:
Jami Kloet
Corporate Communications Coordinator
Lambton College
Phone: 519-479-1057
Mobile: 519-328-2081