Lambton College receives $1 Million donation from Queen's Global to launch new experiential learning space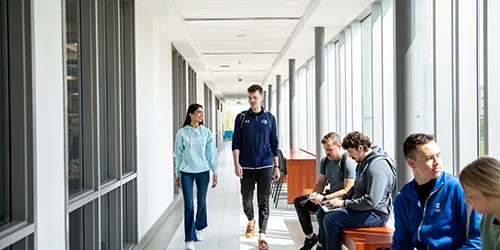 11 / 16 / 2023
SARNIA, November 16, 2023 – A large financial donation to Lambton College on behalf of Queen's Global will help launch a new experiential learning space for students.
The $1 million donation will be used to establish the Queen's Global Impact Lab, a cutting-edge facility dedicated to providing hands-on, work-integrated learning opportunities for students and the community.
The new lab will occupy 8,000 sq. ft. of space on the northeast corner of the campus along London Rd. and will boast a modern, multi-purpose design that was carefully created to foster entrepreneurship, community integration, and experiential learning.
Mary Vaughan, Senior Vice President of Academic & Student Success at Lambton College says the innovative learning space will provide students with real-world problems to solve, preparing them for successful careers and the future of work.
"We want it to be a creative, open concept, multi-purpose, flexible, and collaborative," explains Vaughan. "Envision administrative professional students working alongside accounting students to support local not-for-profit organizations during tax season, while applied research students take on global sustainability matters, all within the walls of this space."
In addition to being utilized as a makerspace for students, the new Impact Lab will provide resources and support for entrepreneurs, business workshops, and learning modules, as well as opportunities for the community to tap into student resources such as website creation, promotional videos, and social campaigns.
Vaughan says the generous donation from Queen's Global, which is one of the Lambton's licensed educational partners in the Greater Toronto Area (GTA), demonstrates a mutual commitment to the well-being of the Sarnia-Lambton community on behalf of both organizations.
The new sponsorship is part of The Lambton College Foundation's Funding Futures Capital Campaign, which launched in June 2023. The five-year, $45 million campaign aims to enhance the student experience, academic spaces, outdoor recreation, and overall wellbeing.
"Our contribution to Lambton College was inspired by the impact this new lab will have on both students and the local community," says Jennifer Zhang, President & CEO of Queen's Global. "This new space really does represent our continued collaboration with Lambton and the many ways we've worked together throughout the years to support experiential learning opportunities for students from around the world."
The College is currently finalizing details of the new space, which is expected to open in Spring 2024.
Members of the community can learn more about the Queen's Global Impact Lab and other new initiatives, including the development of the Indigenous Outdoor Gathering Space, and several outdoor recreation commons projects during the upcoming Fall Open House, taking place Saturday, November 18 from 10 a.m. – 2 p.m.
For media inquiries or more information:
Jami Kloet
Corporate Communications Coordinator
Lambton College
Phone: 519-479-1057
Mobile: 519-328-2081