One-Year Placement
Ontario College Diploma
Overview
Turn your passion into an exciting career with the Culinary Management, one-year, fast-track program. Learn from journeyperson chefs with years of experience in a variety of food service operations.
This 12-month fast track program prepares students for the dynamic and growing food industry as a chef or culinary manager. Students will experience all facets of the food industry where food trends and dining culture are constantly evolving. Program curriculum reflects the demanding knowledge and skills required of a successful chef who must constantly adapt to all industry standards regardless of the enterprise.
Faculty are committed to sharing with students the importance of sustainable practices as it applies to purchasing and preparing local foods. New courses on applied nutrition, geographical gastronomy, and the science of food and beverage reflect changing consumer tastes.
The program prioritizes experiential learning in all terms. Student enhance their skills and abilities in restaurant operations for Cafe, Bistro, and Fine Dining in Lambton College's student-run enterprise, Capstones. Related curriculum provided in the program emphasizes the importance of operating a fiscally responsible food business through the application of business principles and costing and control practices. Technology and mobile applications are integrated into business operations with emphasis on the development of marketing and promotional strategies.
Practical application classes are held in small lab sections that allow students to challenge themselves. The supportive learning environment provides more one-on-one discussion and allows flexibility adapting curriculum to the needs of the student. Students develop essential strategies for continuous personal and professional learning and are held to standards that are among the highest in culinary education while developing industry-related skills. Field placements provide opportunities to network with community partners in varying food services outlets that provide students a real-life working experience.

Admission Requirements
O.S.S.D. or equivalent with:
---
Mature Student Assessment for this program is available in the subject of English for the purpose of demonstrating proficiency in this required admission subject. For all other admission requirements, applicants must complete the required course(s) as listed above. For more information, please contact
counselling@lambtoncollege.ca
. Review the
Mature Student Admission process
.
Academic admission requirements can be obtained through
Academic Upgrading
and the Pre-Programs at Lambton College.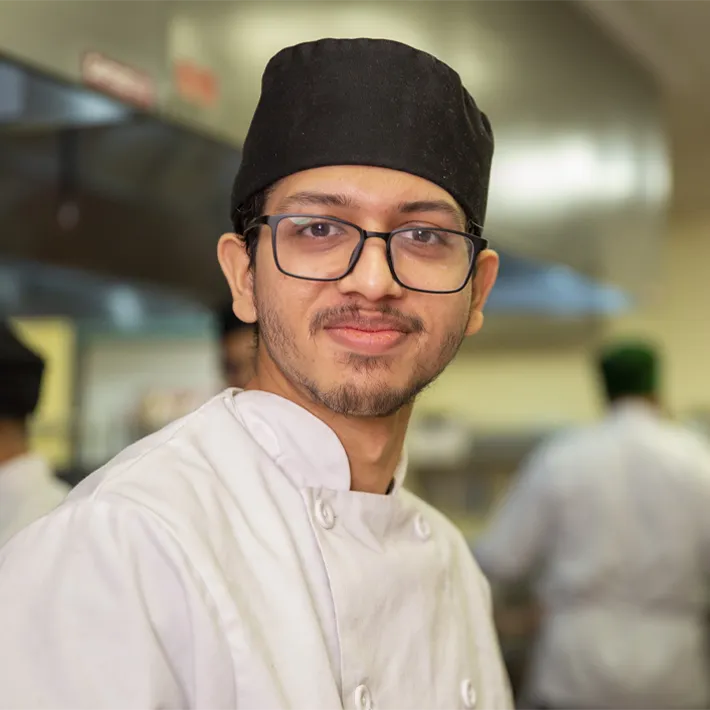 Pave the Way to Certification
This program prepares students to challenge the in-class portions of the Assistant Cook and Cook Apprentice designations - both are important steps toward your pursuit of the Provincial Trade of Cook Certificate of Qualification (Red Seal).
Costs
---
Please Note: These fees apply to the 2023-2024 academic year and are subject to change. Fees do not include books (unless specifically noted), supplies or living costs.
Additional Fees
Back of House Uniform

$70.00

Front of House Uniform

$135.00

Cooking Tools

$20.00

Baking Tools

$50.00

Knife Kit

$315.00

Textbooks

$600.00

Term 1 Voucher

$25.00

Smart Serve Training

$45.00

Train Can Booklet/Food Handlers

$55.00
Technology Requirements
In order to keep pace with the requirements of each and every course in your program, Lambton College requires that each student have access to a laptop while studying at our college.
Labs & Equipment
Capstones Bistro
This student-run restaurant provides a connection to the customer for the student. Students practice proper management techniques for training staff, working on customer relations, and providing food services in varying forms of industry. Information of cost control, inventory, and monitoring point of sale are common themes throughout the program.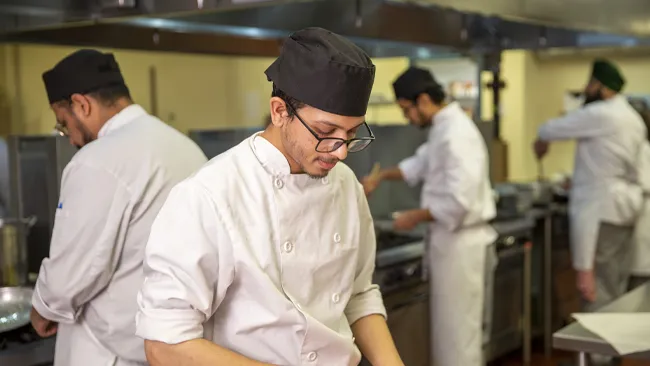 Capstones Chef's Table
Chef's Table showcases the student's managing ability in either an à la carte or a table d'hôte setting. Students are responsible for creating and marketing a complete menu with food requisitions, costings, food preparation and food service plans.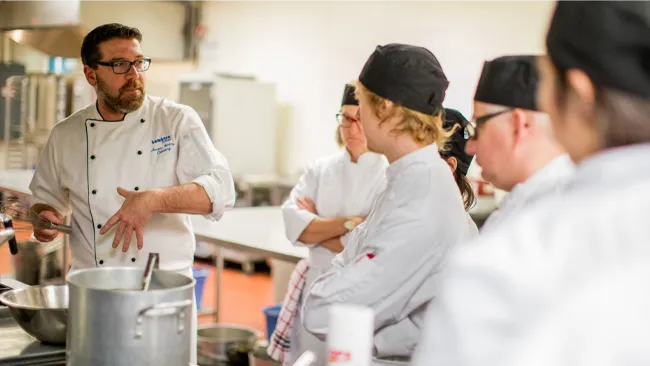 Culinary Lab
Right beside the training kitchen is the culinary labs. Students learn hands-on application of basic and advanced food prep focusing on baking techniques, methods of cookery, international cuisines, modified nutrition, butchery, and molecular gastronomy.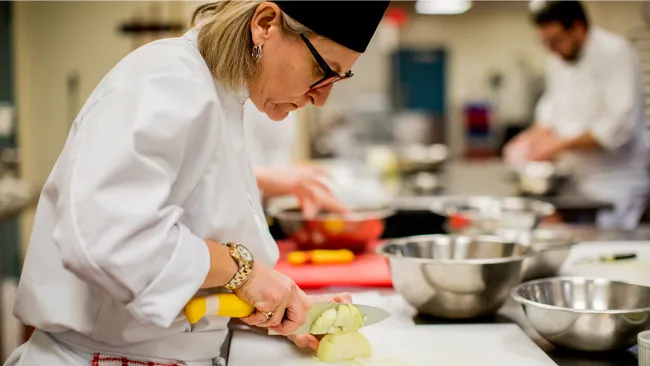 Courses
CLN-1181
Safety & Sanitation
This course provides the learner with the ability to identify and explain principles of sanitation, hygiene, safety and the safe use of all equipment. The student will recognize the importance of working in a well maintained kitchen environment that is free from harmful bacteria. The knowledge of food borne pathogens, food contaminants and their modes of transmission are common themes. Personal hygiene and preventive measures to control food borne illness are explained. The varying roles of government with a focus on the Municipal level will be covered. Theories taught will provide the learner with the ability to identify sanitation "best practices" to assist all practical lab assessments. Course offerings will include WHMIS, HACCP, and the completion of National Food Handlers Certification Exam. Successful completion of this course is required for students to participate in all practical labs.
CLN-1194
Applied Culinary Techniques
This course will prepare the culinary student with a basic knowledge of practical applications of food preparation for a number of different settings. A focus on cooking fundamentals, food science, and utilization of cooking techniques, product identification and safety of all food production will be a focus of this course. Upon completion of this course, students will have the ability to demonstrate basic culinary techniques for a la carte, table d'hote and banquet settings, including classical and contemporary presentations.
CLN-1091
Basic Baking Concepts
This course, through the introduction of emerging culinary techniques and mobile applications, provides the student with the basic theoretical skills required to assist in the production of a variety of baked goods and pastries. Course offerings will include the essential ingredients of the bake shop, the chemical reactions that occur and the importance of following recipes. Additional focus of the course will allow the student to analyze the use of various ingredients and the chemical process that occurs when making quick breads, yeast dough, cakes, pies and custard fillings.
CLN-1143
Bakeshop Applications
This course allows the student to apply basic baking theories and demonstrate the skills required in a bakeshop. The course will focus on predicting the process and chemical reactions of the ingredients. Through the use of emerging culinary technologies students will demonstrate the ability to prepare quick breads, yeast dough's, pies, cakes and a variety of custard fillings. This is a practical application lab that is hands on, thus allowing the student to feel not only duplicate the proper method.
CLN-1603
Food Fundamentals & Principles
This course introduces the student to basic knowledge of the theoretical skills required in the preparation, cooking and overall assembly of food. Learners focus on principles of stock, soup and sauce production, vegetable cuts, carcass identification and the variety, in cooking methods to achieve desired results. A comprehension of simple costing and pricing techniques for menu engineering will be a constant theme. Upon completion, students will be able to explain the chemical process, as food transforms from raw to cooked.
CLN-1304
Cafe Creations
This hands on practical lab will demonstrate the skills and techniques the culinary student will require in a basic food service Café setting. Recognizing menu needs, industry trends, and an introduction to international ingredients and their cuisines will be common themes of this course. Additional food production will include short order varieties with a focus on key areas such as knife skills, cooking methods and portion control. Students will gain experience working as part of a food service team in all aspects of the kitchen through our food outlet center, where packaging and product placement will be key marketing items that will be discussed.
CLN-1283
Restaurant Career Management
As the first installment of Kitchen Management related courses, this hybrid delivered course introduces the student to the dynamics of responsible management services required for the Food and Beverage Industry. A focus on culinary planning will provide the student the essential tools to build an effective, professional resume, based on their knowledge and skills. Hybrid delivered courses provide flexibility for the students to work independently or in groups utilizing various platforms of learning in face to face and on-line environments. Additional common themes will include, basic human resource concepts, introduction to fundamental menu planning, supplier selection, marketing and cost control techniques relevant to the food service industry to provide accurate and maintained records. Hybrid developed courses provide the learners with opportunities in self-discovery and self-assessment. Assessments provide deep curriculum in both face to face and digital (on-line) environments. The course is designed as a weekly 2 hour face to face, and 1 hour of altered curriculum through varying on-line components. It is expected that students must engage in weekly applications of hybrid activity in order to successfully navigate this course
CLN-2402
Successful Food Service Operation
In this combined theory and applied skill course, students will recognize the requirements to operate a successful food and beverage facility. By developing the skills, knowledge and abilities, students will demonstrate industry trends, control techniques, and provide standards for a variety of Food and Beverage service environments. Their exploration of theory and practical application will assist collaboration, selection of appropriate technology and identify job tasks required in their participation on Food & Beverage service teams. In order to properly execute varying food service environments, the completion of a Smart Serve certification program will be necessary.
GED-XXX3
General Education Elective
CLN-2613
Elements of Nutrition
This course will provide the learner with the ability to identify the fundamentals of nutrition. An emphasis on classifying the life cycle and explanation of dietary needs for each state of the life cycle will be a focus of this course. Current trends in the food service industry and healthy dietary options will be common themes in assisting the student in developing strategies to produce alternative food choices in menus. Additional focus of the course will provide the learner with the capacity to address modifications for special diets, food allergies and intolerances as required to support healthy living at any stage of the life cycle.
CLN-2374
Nutritional Menu Modifications
This course provides the student with the ability to apply and demonstrate varying cooking techniques to facilitate nutritional requirements for institutional cooking or long-term care facilities. Identification of menu modifications required for varying stages of life, adaptations for food sensitivities, intolerances and allergies, and adhering to proper health and safety standards required in the kitchen will be fundamentals of the course. Students will be required to provide recipe alterations to prepare healthy and nutritious foods and participate in menu planning for a variety of food service systems.
CLN-2194
Bistro 2.0
This hands-on course provides the culinary student with a greater understanding on Bistro-style dining. French home-style cooking, classical items with modern twists, and slow-cooked foods are paired together in the execution of our weekly core menu. Students discover the benefits to food production with the utilization of lesser-used, fabricated cuts of meat and poultry. Students will be able to comprehend the daily routines required for the Food and Beverage industry as it pertains to cost and labour controls. Contribution to team performance, leadership and management skills are weekly themes throughout this course. Aside from weekly labs, students are scheduled as front of house and back of house staff to operate our student-run restaurant, Capstones. Completion of the Smart Serve certificate is required to work in the restaurant.
CLN-2343
Management by Menu
In this second installment of the Hybrid developed kitchen management courses, the student will analyze basic concepts and relationships between menu development and a successful operations. A focus on an individual's contribution to profitability will provide the student with strategies to control inventory, yield, waste and profit directly related to menu management. The course supports financial objectives in menu planning, the student's ability to interpret costs and perform break even analysis. Students will be able to identify strategies of cost management through a managerial approach to problem solving. Hybrid developed courses provide the learners with opportunities in self-discovery and self-assessment. Assessments provide deep curriculum in both face to face and digital (on-line) environments. The course is designed as a weekly 2 hour face to face, and 1 hour of altered curriculum through varying on-line components. It is expected that students must engage in weekly applications of hybrid activity in order to successfully navigate this course.
CLN-2504
Field Placement
Students will be exposed to a variety of food service establishments in and around the Sarnia area. They will have an opportunity to see the diversity that each business can provide as it applies to menu, profitability, management techniques, marketing strategies and client demographics. Students will have the ability to demonstrate professionalism, effectively deal with difficult situations and develop strategies for personal growth. A reflection on each student's journey through the term will provide a greater understanding of the dynamics of the food service industry.
CLN-3304
Geographical Gastronomy
This course provides the culinary student with the ability to apply and demonstrate advanced applications of domestic and international cuisines by identifying global ingredients and interpreting recipes for all types of foodservice operations. A large focus of the course has students recognize the relevancy of global Indigenous cuisines, including Canada and provide the learner with a broader understanding of truth, reconciliation, and the harmony required between the land and its' inhabitants. Students are expected to work independently, plan, design and prepare foods using time management skills and adhering to all food safety concerns.
GED-XXX3
General Education Elective
CLN-2214
Garde Manger & Charcuterie Practical
This course provides the culinary student with a modern approach to classical techniques of food preparation in the larder kitchen. Learners apply and demonstrate advanced culinary techniques in food science in preparation of pates, terrines, and a variety of charcuterie-based items. Enhanced techniques including sausage fabrication, hot and cold smoked foods as well some basic molecular gastronomy specific to spherification and sous vide cooking techniques will also be demonstrated. Students are expected to work independently, plan, design and prepare a variety of buffet-style items using time management skills and adhering to all food safety concerns.
CLN-3203
Sustainable Agriculture
This course provides extensive hands-on experience in the theory and practicum of sustainable practices of planting, growing, and harvesting vegetables, herbs, and flowers. Nutritional components and insecurities are examined as well as techniques for seasonal gardening including greenhouse operations with a focus on optimizing growing areas in urban communities. Students are expected to embrace leadership skills of resourcefulness in sustainable and /or green practices while developing initiatives to enhance production and yield of products.
CLN-3124
Chef's Table
This hands on Capstone Course showcases the students managing ability in either a à la carte or a table d'hôte setting. The student will be responsible for creating and marketing a complete menu with food requisition, costing, food preparation and food service plans. The student will be able to perform all aspects of culinary training, demonstrate the ability to identify and recognize foods, and the methods of preparation used to enhance contemporary presentations for all styles of cuisine. The completion an E-portfolio to showcase their Chef's Table experience will be required.
MKT-1103
Social Media Marketing
This course explores online marketing tools and tactics, such as social media, email, digital advertising and content marketing, that businesses can use to build a profitable relationship with their customers. Students engage in simulated social media, email and digital advertising campaigns to gain a better understanding of how to use these tools in their marketing efforts. Along with learning about digital and social media marketing, students learn general principles of marketing that are key for every business, regardless of industry or size: identifying who your customers are; understanding what needs they have that you are uniquely able to serve; creating a brand voice that speaks to them; identifying who your competitors are; deciding how to differentiate your offering from theirs; and creating a plan for engaging customers across social media and digital advertising platforms.
CLN-3402
Science of Food & Beverage
This course provides the learner with a strong foundation in the preparation of molecular gastronomy. A focus on the science of food in recognition of the modern kitchen will be a theme. Students are introduced to the tools required and the ingredients needed in this modern cooking evolution, recognizing its' Pioneers and its' Practitioners. Enhanced theories on cheese and winemaking, ethnic ingredients, international cuisines, and their cooking methods, including sous vide methods will also be developed. Students classify the use of all beverages with a concentration on spirit, beer, and wine production. The student also expand strategies to incorporate these concepts into menu development.
CLN-3504
Advanced Baking & Cake Design
This course builds on the student's ability to independently identify appropriate bakeshop ingredients and demonstrate advanced applications of professional baking and pastry techniques. Through the use of emerging culinary technology and mobile applications the student will be able to successfully select the appropriate materials to effectively prepare cakes, pastries and icings for a la carte, banquet and contemporary presentations. Advanced baking techniques for tortes, frozen desserts, custards and special occasion cake presentations will be a focus throughout this course.
GED-XXX3
General Education Elective
After Graduation
Employment Opportunities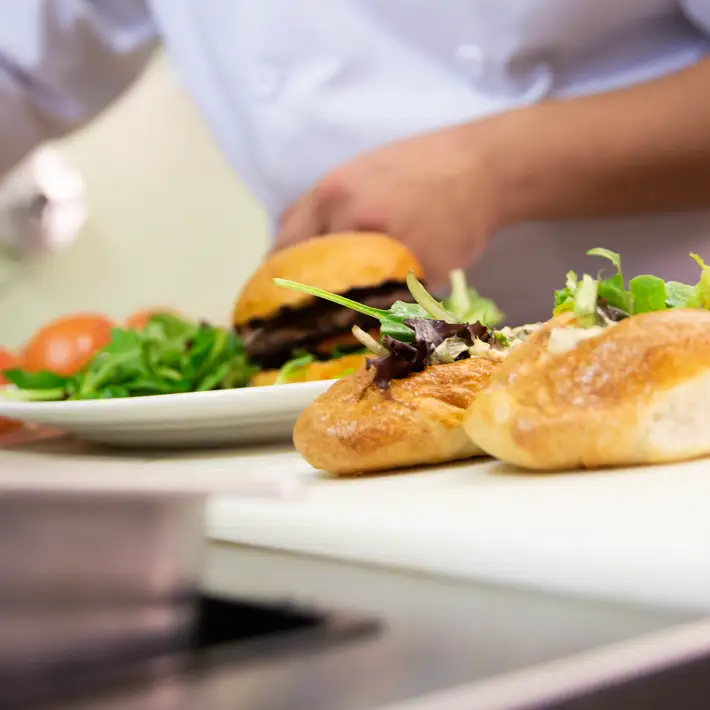 The professional focus and high standards of the Culinary Management program have served graduates well when it comes time to begin their careers. Program graduates may perform effectively as members of food and beverage service teams. They are prepared for employment opportunities in a range of settings including: restaurants, bakeries, hotels, spas, motels, resorts, cruise ships, hospitals, industrial kitchens, long-term care institutions, and catering companies. Some graduates will find fulfillment in entrepreneurial opportunities.
Accreditations & Certifications
Cook Apprenticeship
Students complete course work in this program that enables them to challenge Levels 1 and 2 of the in-school portion of the Cook Apprenticeship. Once they have secured an apprenticeship, completed the practical hours, and passed the Certificate of Qualification exam, they qualify as a Journey Person Cook in the Province of Ontario.
Pathways
Transfer to Programs outside of Ontario
Placement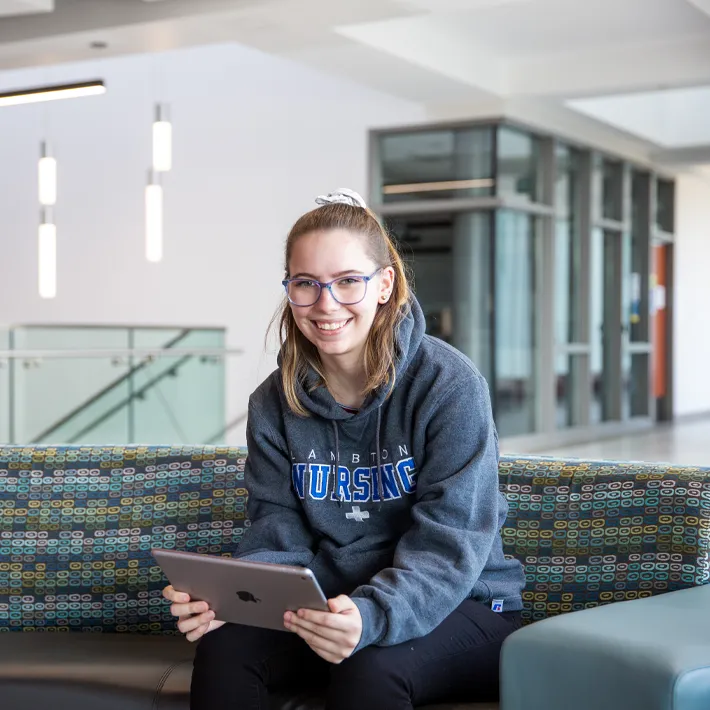 Proof of certain vaccinations and police record checks may be required.

Vaccinations & Police Record Checks

Students considering this program should be aware that there may be field and clinical placement requirements. Many placements require students have proof of certain vaccinations and police record checks.
Once you've applied, you can log in to mylambton.ca and view the program-specific Field & Clinical Placement Requirements. If you need information about these requirement before applying, please contact placementinfo@lambtoncollege.ca.
Earn While you Learn
Opportunities exist for students to take on paid placements where they can be exposed to authentic culinary experiences which enhance the student's understanding of the culinary industry.
Make a Reservation

Our student-run restaurant, Capstones, is a great place for students to connect with customers while they practice their profession. As part of this experience they develop skills in managing staff, customer relations, and service arrangements for varying forms of industry.
Throughout the program they have a chance to offer a variety of food services from Café to Bistro to Fine Dining.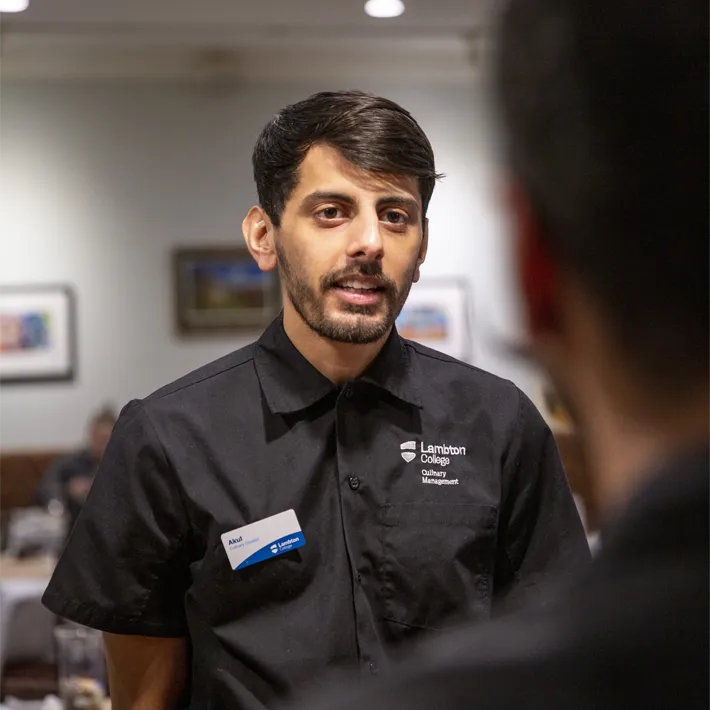 More Information
Technology Requirements
It is recommended that students purchase a laptop with a Windows operating system.
Internet Speed Requirements
For best performance for students learning remotely, an internet connection with a minimum of 40 Mbps download and 10 Mbps upload speed is recommended in order to effectively use video conferencing and remote lecture delivery software as well as, other online resources remotely. Due to the large area over which students may be dispersed, we are unable to recommend a specific provider, so you will need to inquire around your area to find one that best suits your needs.
Minimum Laptop Requirements
In order to access the internet and virtually-delivered software and courseware, student laptops should include the following at a minimum. By meeting the following specifications, students will be equipped to access software and courseware on their laptop through the internet:
Intel i3 Processor or equivalent
4 GB of RAM or more
100 GB HDD or more
HD Graphics
Webcam with a microphone
Wireless 802.11n/ac 5ghz capable
Windows Operating System (Windows 10)
Software
To ensure students are getting the most our of their classroom experience, some software will be required.
Lambton College has made this software easily accessible online. Students can leverage our Microsoft Office 365 software packages and services. In addition, much of the software you require for your courses will be available on demand for use on any device - on or off campus.