Two-Year
Ontario College Diploma
Overview
The esports and broader gaming industies are growing exponentially every year, attracting new audiences and developing innovative new business models. Students are introduced to these dynamic global industries where business meets passion.
Through a combination of in-class lectures and experiential learning activities, students gain foundational business knowledge and learn how it is applied to the esports industry. This includes marketing, analytics, tournament and league management, special events management, accounting, and communications.
In the first year of the program, students become immersed in the industry through organizing and hosting small-scale esports events such as the Border City Battle and Lambton Esports Open. Students also engage with various esports industry leaders throughout the program's curriculum. As students engage with their curriculum, they create a portfolio of work that highlights their knowledge and skills including audio and video production skills relevant to the esports industry.
In the second year, students undertake a capstone project working alongside an esports industry partner. Students integrate knowledge obtained throughout the program, culminating in the execution of a real-world esports project.
Vanessa's Experience - Outside the Classroom
Admission Requirements
O.S.S.D. or equivalent with:
---
Mature Student Assessment for this program is available in the subject of English for the purpose of demonstrating proficiency in this required admission subject. For all other admission requirements, applicants must complete the required course(s) as listed above. For more information, please contact
counselling@lambtoncollege.ca
. Review the
Mature Student Admission process
.
Academic admission requirements can be obtained through
Academic Upgrading
and the Pre-Programs at Lambton College.
Research Opportunities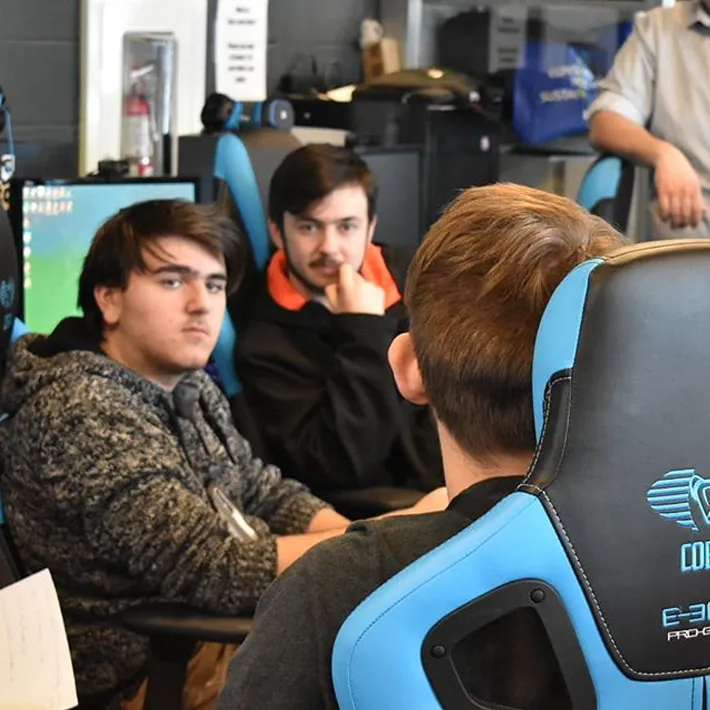 This program has led various in-class research activities and applied research projects. Working with Lambton College's nationally recognized Research & Innovation department, students have conducted research initiatives with industry research partners ProGuides and Adamas Esports.
ProGuides is an esports training platform where millions of committed gamers can improve their game play for some of the most renowned gaming titles.
Adamas Esports is an industry leader in measuring and training esports performance.
Costs
Year 1

$4,100.94

Year 2

$4,018.94
---
Please Note: These fees apply to the 2023-2024 academic year and are subject to change. Fees do not include books (unless specifically noted), supplies or living costs.
Additional Fees
Field Trip Costs (transporation)

$150.00
Technology Requirements
In order to keep pace with the requirements of each and every course in your program, Lambton College requires that each student have access to a laptop while studying at our college.
Labs & Equipment
Esports Arena
The Esports Arena is a multi-purpose learning and entertainment venue that is accessible to both the college and Sarnia-Lambton communities. It features 21 high-performance gaming PCs that are used by the students of the Esports Entrepreneurship & Administration and Esports Management programs, the Lambton Lions Varsity Esports team, and all students of Lambton College. This arena is also open for the community to enjoy on weekdays during drop-in hours and can be reserved for special events such as birthday parties, fundraisers, social and corporate gatherings.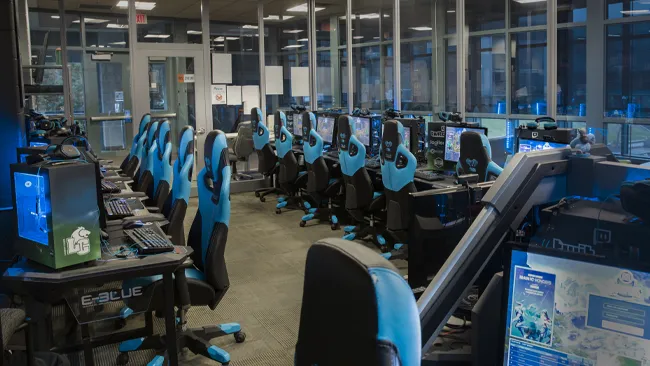 Courses
SRA-1013
Sports Marketing
This course introduces the student to diverse career opportunities available to graduates of a Sports and Recreation Administration program. The emphasis is for students to recognize professional competencies sought by employers and begin to develop and / or further expand on them. Developing a professional perspective, communication and career planning and management are also covered.
BUS-1003
Introduction to Business
This course introduces the student to the modern world of business. It examines the significance and composition of Canadian business, discusses current factors and trends in the business environment, explores how businesses are organized and managed, and provides a brief discussion on the topics of entrepreneurship and business etiquette.
MKT-1103
Social Media Marketing
This course explores online marketing tools and tactics, such as social media, email, digital advertising and content marketing, that businesses can use to build a profitable relationship with their customers. Students engage in simulated social media, email and digital advertising campaigns to gain a better understanding of how to use these tools in their marketing efforts. Along with learning about digital and social media marketing, students learn general principles of marketing that are key for every business, regardless of industry or size: identifying who your customers are; understanding what needs they have that you are uniquely able to serve; creating a brand voice that speaks to them; identifying who your competitors are; deciding how to differentiate your offering from theirs; and creating a plan for engaging customers across social media and digital advertising platforms.
COM-1013
Critical Thinking & Writing
In this writing course, students respond to current issues and news articles via various styles of paragraphs and essays. Students practice thinking critically and organize and hone their writing to ensure clarity and correctness in their messages. Students explore different perspectives, and through synthesis, analysis, and response, strive for clarity of message and diplomatic expression of opinion based on fact. One of the pillars of Lambton College is a commitment to sustainability and equity, diversity, and inclusion, including Indigenization of the curriculum; where appropriate, readings in this course will reflect this commitment. Critical Thinking and Writing lays the foundation for a subsequent research-writing course.
ESA-1013
Esports Gaming Foundation I
This course provides students with an introduction to various topics relating to the gaming industry. In addition, students become familiar with the esports ecosystem and the history of electronic sports or "esports" with a focus on the implications of critical events. Students gain hands-on experience hosting esports events and develop knowledge and skills required by the sport and esport industries to prepare them for the various career opportunities available to them upon graduation. Students learn how to work in effective teams emphasizing the importance of equity, diversity, and inclusion in fostering an inclusive learning environment that celebrates and values the diverse backgrounds and perspectives of all students. Furthermore, students develop a personal plan that they can update as they pursue industry-related employment opportunities.
PED-1073
Personal Wellness
This course introduces students to health promotion strategies needed to make healthy lifestyle choices and to maintain or improve health and how to approach personal change. Students will take part in activities throughout the course to encourage wellness, promote activity, energy, life, sleep and nutrition. By utilizing LinkedIn Learning, students will receive certificates of completion for various courses dealing with their own Personal Wellness.
ESA-1043
Live Stream Marketing & Production
Live streaming is the process of the delivery of content in real time as it happens over the internet. The world of live streaming utilizes broadcasting software, in conjunction with social media and applicable streaming platforms to provide various multimedia online content which includes but is not limited to, esports event and tournament content. Students learn how to develop live streaming content as it pertains to the esports industry, as well as manage the behind-the-scenes elements to ensure consistent, quality user experiences.
ESA-2014
Esports Gaming Foundation II
In this course, students explore the various aspects associated with esports leagues. Esports leagues are a burgeoning sector in the esports industry. However, there is still much opportunity in this esports industry sector. Through completion of this course, students gain an understanding of how to construct a grassroots league and how to manage various event and project management components. Students learn how to apply their knowledge to marketing and promotion, customer service, league management, team, and player management, and ensure the successful operation of a grassroots league. Students further explore team dynamics emphasizing the importance of equity, diversity, and inclusion in fostering an inclusive learning environment. Completion of this course provides a foundation of the fundamental tools needed to manage an esports league, with the freedom to create content that appeals to an individual, a team, or a league rather than predefined content.
SRM-2603
Fundraising & Sport Sponsorship
Sponsorship and fundraising play an important role in the success of sport in today's society. Students gain an appreciation for the unique challenges generating revenue through fundraising and sponsorship for sport. Students explore how marketing concepts are integrated to meet the specific needs of sponsors and fundraising campaigns and the importance of building and maintaining relationships.
JSS-1001
Job Search & Success
This course provides student with skills and knowledge to help support their career search and succeed in the workplace. Students align their personal skill set and goals to guide them on their career paths. They will learn how to effectively conduct a job search, build a professional and well-tailored resume and cover letter, and develop and practice interview techniques. Students will also develop their personal brand to help support effective career networking and aid in their job search. Teamwork and collaboration in the workplace are also discussed. Self-reflection is used to inspire insight and support their professional career journey.
MAN-2103
Project Management
This course will provide the student with an overview of the structured processes and knowledge areas of project management within the context of organizations. It will contrast the differences between operational management and project management. It will provide the student with numerous tools and techniques used to initiate, plan, execute, monitor and control, and close a project. Students learn the vocabulary, definitions, principles and concepts of project management and working in a project team.
GED-XXX3
General Education Elective
SRM-5703
Sport Research & Analytics
This course introduces to the field of sport analytics and the decision-making process teams and leagues face on a day-to-day basis. Students engage in teamwork to explore and complete sport research while examining topics including player performance measurement, in-game decision-making, and player selection/roster construction. Students explore tactics for building effective teams while emphasizing the importance of equity, diversity, and inclusion.
ESA-3004
Video & Audio Production
Video and audio production have become highly desirable skills in our modern, media driven world and especially so for aspiring professionals in the Esports industry. In this course, students explore the impact of media in our modern world, gain an appreciation for and develop production skills that demonstrate the use of flow in different mediums, and explore factors that can be manipulated to alter audio and video productions. Students are introduced to post-production techniques and will have the opportunity to develop and demonstrate their skills through the completion of a term project.
ESA-3201
Technology in Esports
This course investigates the wide array of technologies that exist in the esports industry and the greater gaming industry. Students learn how technology supports the different sectors of the esports industry, the impact that these technologies have, the systems that support these technologies, and the jobs that are necessary to utilize these technologies. At the completion of this course, students have a greater understanding of the esports ecosystem and employment opportunities that exist in the industry.
ESA-3013
Esports Gaming Foundation IIII
This course is designed to foster creativity, critical thinking, and utilize problem-solving skills as the planning and development course for the esports capstone project. By using the entrepreneurial and project management processes learned over the first year of the program, students are further exposed to a variety of team building, meeting, and project-planning activities that improve leadership and further emphasize the importance of equity, diversity, and inclusion in fostering an inclusive learning environment. Students conduct a research analysis study and deliver a project proposal based on a respective new venture or corporate project relevant to the esports' industry. Upon course completion, students have developed a portfolio of work highlighting their business knowledge, skills, and talents applicable to the esports' industry.
ACC-3083
Introduction to Managerial Accounting
The managerial accounting course provides students with skills to become highly effective in environments where quick decisions are required. Students learn to use financial information to make quick strategic decisions including how to use data to evaluate the effectiveness of current operations. Learning to maximize the profitability of operations, students interpret financial statements and supporting financial data that drive decision making. Topics covered in this course include cost management, analysis of financial performance, application of pricing strategies, and budgetary planning and control for a business enterprise.
COM-2013
Communications for Business
This course provides students with the skills required for professional, written, and oral communications essential to business success and subsequent courses. Students will develop database and internet research skills; prepare professional written business communication; and create, practice and deliver professional oral presentations. Students will research and document borrowed information in a business report and will demonstrate critical reading and thinking skills.
GED-XXX3
General Education Elective
PHL-1253
Ethical Leadership & Critical Decision Making
This interdisciplinary course combines insights from the field of business with social psychology and applied ethics to challenge students with an introspective look at some of today's most important ethical dilemmas. Students in PHL-1253 learn that the ethical standards employed by businesses and corporations ultimately concern the quality of human behaviours in those organizations. Human behaviour evolves from many influences: our past relationships, the ways we think and feel, how we respond to pressures in various social contexts, and how we deliberate in our daily thoughts and actions. Each of these influences is intimately involved with the quality of our ethical decision making.
MKT-3403
Selling
This course is designed to provide students with an introduction to professional selling and the skills required to find success in relationship building and sales. Students are introduced to the many career alternatives available as well as the day-to-day expectations of a successful salesperson. The focus is to assist students develop their personal brand and strengthen their presentation, communication, and negotiation skills through role-playing, simulations, and applied learning exercises. Both traditional and digital prospecting methods are explored, along with the application of effective discovery, proposal creation, and problem resolution strategies, all in support of creating a customer relationship built on trust. Topics include goal setting, planning, time management, sales analytics, key performance indicator analysis, and customer relationship building. Students apply their learning in a simulated, professional business-to-business sales environment.
ESA-4001
Esports Law
This fully-online course is designed to provide students with an introduction to Canadian law and the way it interacts with the esports industry. This course is intended to help students develop their ability to spot potential legal issues, understand legal processes, and introduce students to the world of intellectual property. Topics presented include the following: the law of contract, business law, alternative dispute resolution (ADR), and the importance of intellectual property in esports.
ESA-4015
Esports Gaming Project
This course is designed for students to execute a capstone project based on the planning and development from the ESA-3013 course. A marketing plan and a project operation plan support the capstone project. Upon course completion, students have developed a portfolio of work highlighting their business knowledge, skills and talents applicable to the esports' industry.
SCU-1603
Fundamentals of Entrepreneurship
FUNdamentals of Entrepreneurship is a gamified business simulation where students assume the role of an entrepreneur pursuing their passion of selling clothing online and in their retail store. The player subcribes to the guidance of a business coach and will build a successful venture in a virtual neighbourhood. The player can upgrade their store and operations by completed learning modules and testing. Through self-paced gameplay, students learn important concepts from Finance, Human Resources, Marketing, Health and Safety, Risk Management and more. In the process, they acquire the skills to effectively run a company as they upgrade their operation by completing learning modules and quizzes. Each student has a unique playing experience via ingame customizations, such as avatar creation, and store design. All content is contained within the game - no textbook is required. Students who have successfully completed MAN-1183 are not eligible to take this course.
GED-XXX3
General Education Elective
After Graduation
Employment Opportunities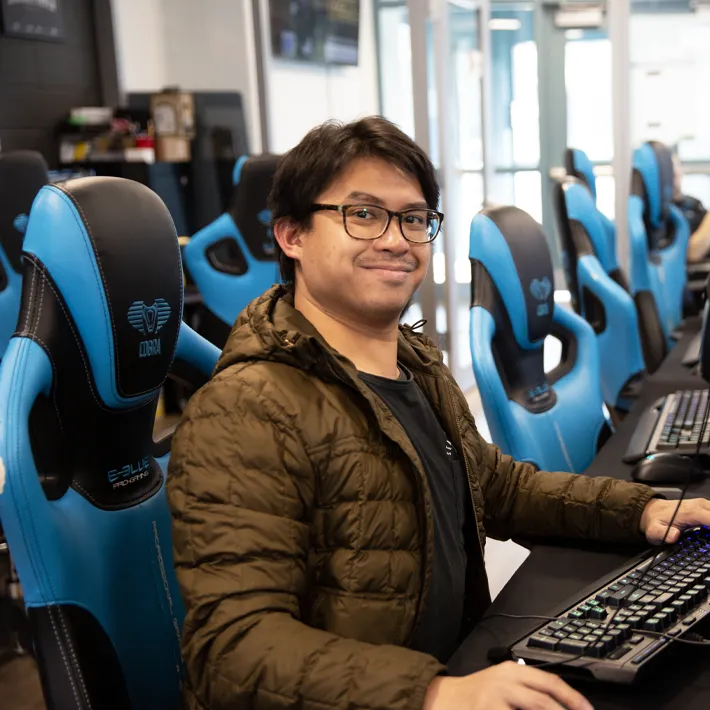 Esports businesses need entrepreneurial-minded young people with business development, marketing, production and management skills in order to grow their businesses.
Graduates of the program are prepared to pursue a variety of esports career opportunities including esports manager, coach, event organizer, and tournament manager. Graduates may use the transferable skills learned in the program to pursue careers as an esports journalist/analyst, social media coordinator, or marketing content specialist. Some graduates may also pursue an entrepreneurial career in esports as a pro player, coach, or streamer.
New opportunities continue to be developed everyday in this burgeoning industry and graduates will be in a position to trail blaze new opportunities of their own.
Pathways
Transfer to Programs within Ontario
We've worked with Ontario colleges to provide the following transfer opportunities:
Nipissing University
Bachelor of Commerce - Three-Year - can be completed at Lambton College
Bachelor of Commerce - Four-Year - can be completed at Lambton College
Want to see more Ontario transfers? Visit ONTransfer.ca.
Transfer to Programs outside of Ontario
Robert Morris University - Pittsburg, PA
Bachelor of Professional Studies in Health & Wellness - you must meet specific entry grades
Bridging to Sports & Recreation Management Program
Graduates of Esports Entrepreneurship & Administration may obtain the Sports & Recreation Management Ontario College Advanced Diploma by completing an eight-month bridging program at Lambton College.
More Information
Program Partners
Students in the Esports program are given the opportunity to work with a number of companies through collaborative projects, simulations, and initiatives:
eFuse
A web and mobile application that serves as the professional hub for esports and video games. As a program partner, eFuse provides a platform for students to network in the esports industry.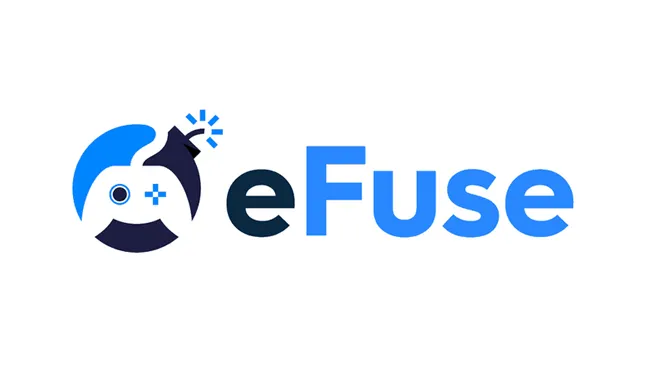 Adamas
Adamas are leaders in measuring and training esports performance. As a program partner, Adamas supports research initiatives that employ student researchers in esports specific research initiatives.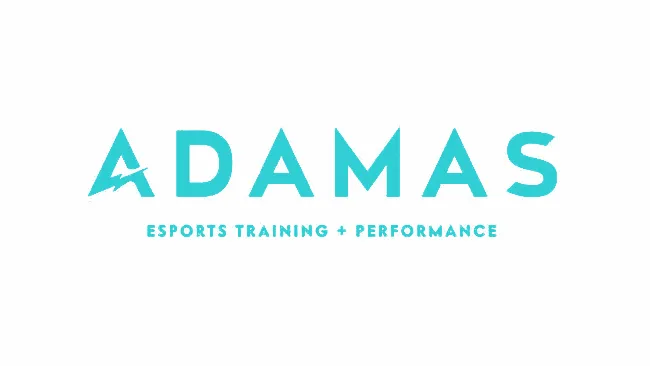 Waveform
Waveform is a full service agency established with the core focus of providing clients with guidance and access to the gaming industry and virtual event space. As a program partner, Waveform provides students with access to esports events and experiential learning opportunities.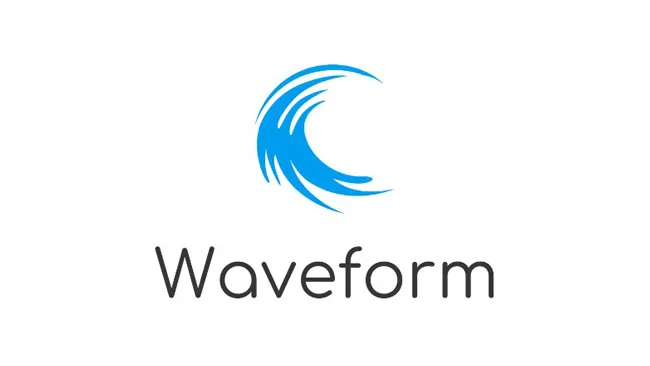 Lazarus
Founded in 2010, Lazarus Esports is Canada's first established esports team. Owned by Tiidal Gaming Group Inc., Tiidal and Lazarus are a professional esports organization dedicated to industry growth, developing the global gaming market, and supporting professional gamers at the highest level for greater success. As a program partner, Tiidal Gaming Group Inc. provides students with internships and other experiential learning opportunities.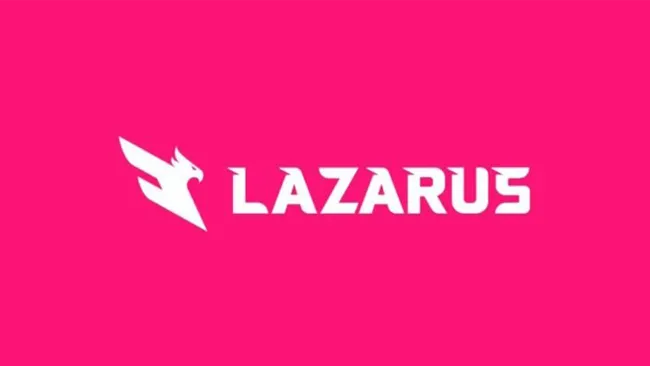 District Beta
Located in Sarnia, Ontario, District Beta features a variety of different video game related entertainment starting with Virtual Reality Chambers, to rent with friends and family to take on 70+ games and experiences.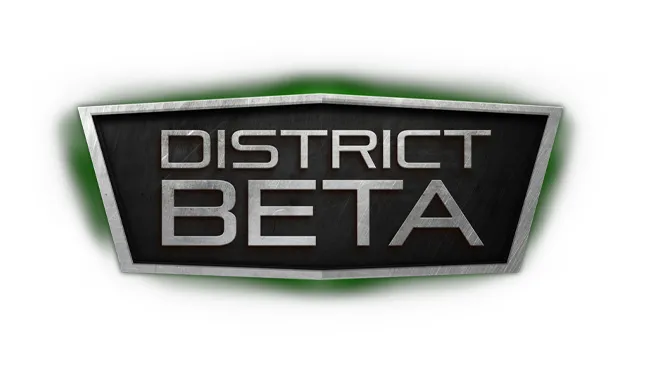 Raptors Uprising GC
This is an NBA2K team located in Toronto, Canada. The team is sponsored under their NBA team - The Raptors.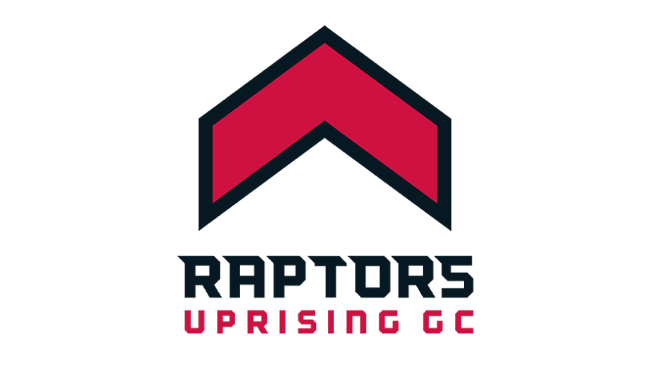 OverActive Media
Canada's largest esports ownership group. OAM is building a media, sports, and entertainment company for the next generation of fans.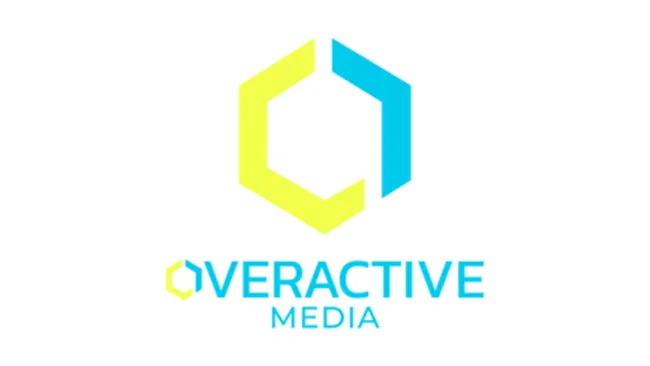 Laptop Requirements
It is recommended that students purchase a laptop with a Windows operating system.
Internet Speed Requirements
For best performance for students learning remotely, an internet connection with a minimum of 40 Mbps download and 10 Mbps upload speed is recommended in order to effectively use video conferencing and remote lecture deliver software as well as, other online resources remotely. Due to the large area over which students may be dispersed, we are unable to recommend a specific provider, so you will need to inquire around your area to find one that best suits your needs.
Minimum Laptop Requirements
In order to access the internet and virtually-delivered software and courseware, student laptops should include the following at a minimum. By meeting the following specifications, students will be equipped to access software and courseware on their laptop through the internet:
Intel i3 Processor or equivalent
4 GB of RAM or more
100 GB HDD or more
HD Graphics
Webcam with a microphone
Wireless 802.11n/ac 5ghz capable
Windows Operating System (Windows 10)
Software
To ensure students are getting the most out of their classroom experience, some software will be required.
Lambton College has made this software easily accessible online. Students can leverage our Microsoft Office 365 software packages and services. In addition, much of the software you require for your courses will be available on demand for use on any device – on or off campus.