Two-Year Co-op
Ontario College Diploma
Overview
Develop the technical skills and knowledge required to work in the growing HVAC field. Study electricity, refrigeration, and HVAC system design and prepare for success.
An HVAC technician, also known as a heating, ventilation, and air conditioning technician, is a skilled professional responsible for installing, repairing, and maintaining HVAC systems. They work in a variety of settings, including residential homes, commercial buildings, and industrial facilities.
HVAC technicians use their knowledge of mechanical, electrical, and plumbing systems to diagnose and solve problems related to heating, cooling, and ventilation. They must also stay up to date on the latest industry standards and regulations to ensure that they are compliant with ever changing technology and regulations.
Additionally, in a world where energy efficiency is paramount, HVAC Technicians need to be taught, and continue educating themselves on new and sustainable technologies into their careers.
Hands-on Learning Opportunities
Capstone Project
In the second year of this program, students replace a gas fired furnace. As part of the project, they plan, fabricate, install and wire the furnace.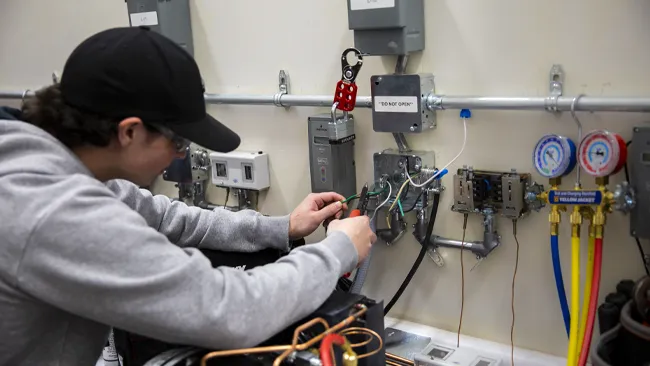 Other highlight?
Are there other highlights of hands-on learning?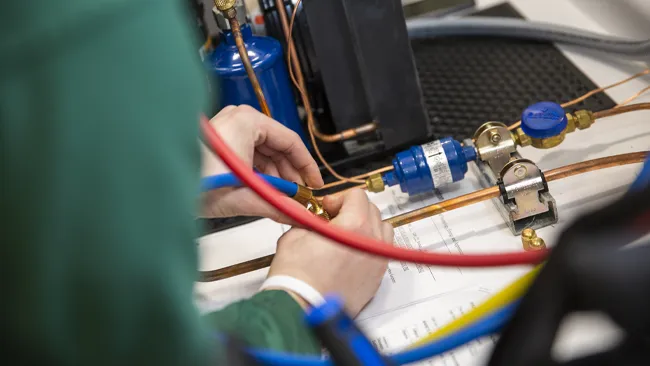 Admission Requirements
O.S.S.D. or equivalent with:
Grade 12 English C or U
Grade 11 or 12 Mathematics C or U
Grade 12 Mathematics Requirement

Grade 12 Mathematics for College Technology or any grade 12U mathematics is recommended; Grade 12 Foundations for College Mathematics (MAP4C) minimum final grade is 60%. If the program is highly competitive, students with Grade 12 Mathematics for College Technology or any Grade 12U mathematics will be given preference.
---
Mature Student Assessment for this program is available in the subject of English for the purpose of demonstrating proficiency in this required admission subject. For all other admission requirements, applicants must complete the required course(s) as listed above. For more information, please contact
counselling@lambtoncollege.ca
. Review the
Mature Student Admission process
.
Academic admission requirements can be obtained through
Academic Upgrading
and the Pre-Programs at Lambton College.
Testing & Certifications
Before working as a Gas Technician in Ontario, there are certain requirements that must be met. Lambton College's HVAC program follows the curriculum for students to attempt the Gas Technician 3 and Gas Technician 2 certifications.
Other certification students will be able to obtain include:
Ozone Depletion Prevention Certification
Gastite Gas Tubing Certification
Warflex Gas Tubing Certification
IPEX System S636 Venting Certification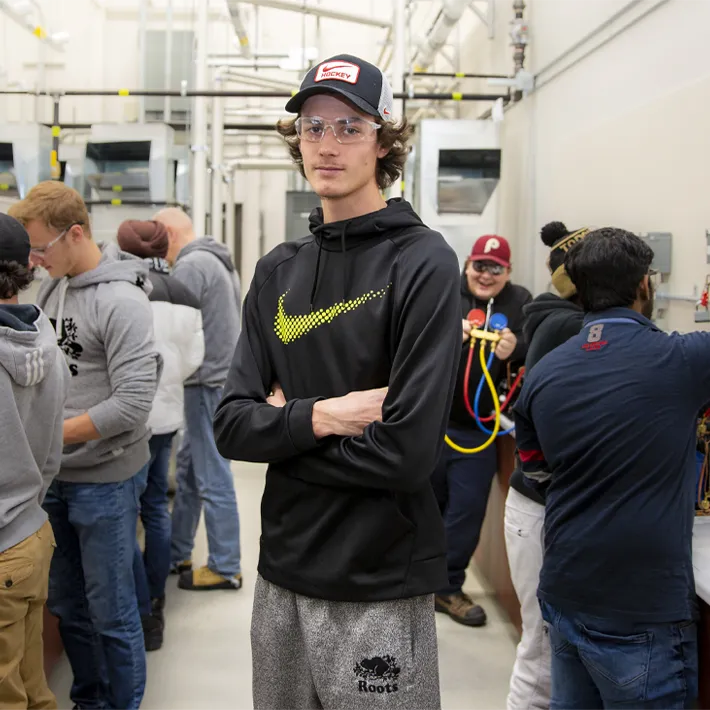 Graduate with certifications to get you on the way to a successful career.

Costs
Year 1

$4,600.94

Year 2

$4,518.94
---
Please Note: These fees apply to the 2023-2024 academic year and are subject to change. Fees do not include books (unless specifically noted), supplies or living costs.
Technology Requirements
In order to keep pace with the requirements of each and every course in your program, Lambton College requires that each student have access to a laptop while studying at our college.
Labs & Equipment
Lab Name
[Does this program have labs?]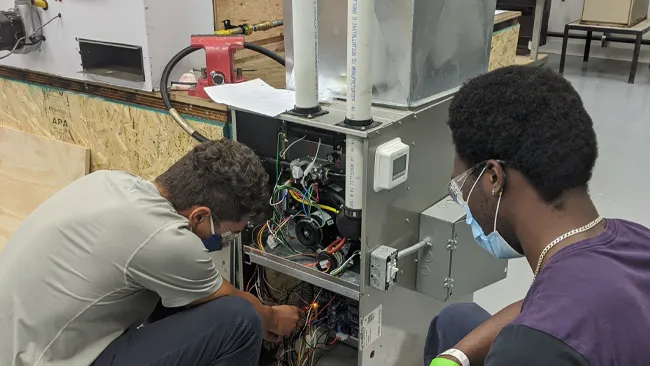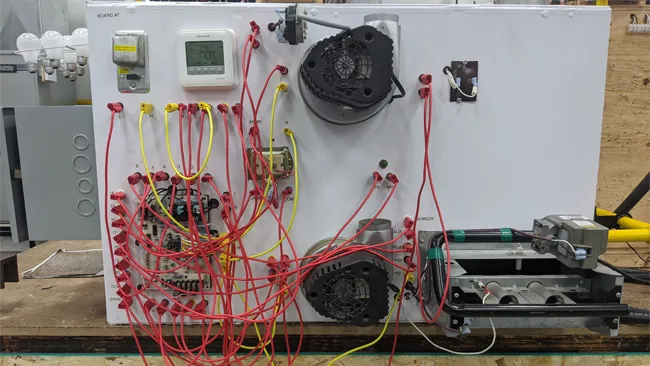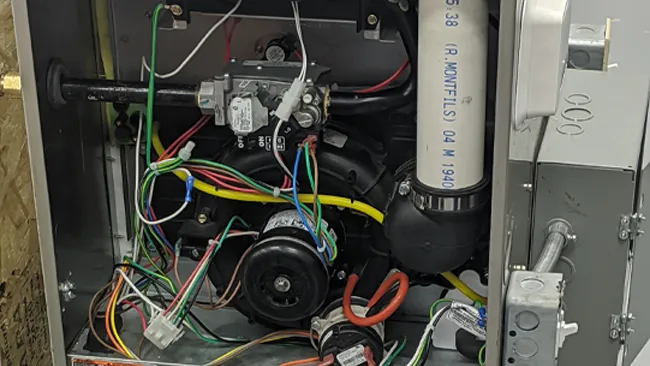 Courses
HVA-1504
Fundamentals of Refrigeration
A theoretical and practical introduction to the fundamental principles of Refrigeration, Heating and Air Conditioning systems is provided. Students are introduced to government codes and regulations regarding the industry and to the principles of various systems operation's and installation. Safety requirements, use and selection of various tools, instruments and fasteners are also studied in both theory and lab environments. The fundamental principles required to plan and install different types of piping for a variety of refrigeration, air conditioning and heating systems are also covered.
HVA-1716
Gas Technician 3 - Codes & Work Practices
Students will learn hazards and safety procedures that relate to working conditions, and the safe handling and procedures for materials they will be using. Students will be introduced to common fasteners, hand and power tools used in the HRAC field. Students will study the origin and properties of natural gas and propane, identify the characteristics of complete and incomplete combustion, upper and lower explosive limits, potential sources of ignition, carbon monoxide and other by-products of incomplete combustion. In addition, students will examine the natural gas and propane installation codes and code adoption documents, Ontario regulations, and standards associated with the manufacturing, testing, installation, and servicing of natural gas and propane appliances, components, and equipment.
HVA-2157
Gas Technician 3 - Electrical, Piping & Venting Systems
This course introduces the student basic electrical properties, safely operating, and interpreting electrical meter readings to diagnose equipment operation. Students will learn to read blueprints and obtain information from job documents and equipment manufacturer's installation instructions. Students will discover industry accepted customer service expectations and communication. Gas piping and tubing installation, codes and calculating capacity of fuel are instructed. Introduction to common appliances and their systems (venting, burners, safety and operating controls) will also be taught. More than half of this courses content include practical lab assignments which solidify the theoretical concepts taught.
OHS-2012
Health & Safety
The graduate of this course will have a good understanding of safety aspects of the law, the legal responsibilities of the workplace, and his/her own legal rights and responsibilities, as well as work processes and procedures being used in present-day industry. This course will give them a basic understanding of the Occupational Health & Safety Act and its associated Regulations, and an understanding of health and safety issues in an industrial setting.
MTH-1503
Applied Mathematics
This course gives the learner the basic mathematical concepts and applications needed for subsequent technical courses. The learner uses arithmetic, algebra, geometry and trigonometry to solve technical problems.
HVA-2504
Fundamental of Refrigeration II
Students will apply the fundamentals of refrigeration to practical applications and design and build refrigeration systems. Students learn proper refrigerant recovery, industry accepted evacuation standards, proper selection of refrigerant, and charging of refrigerant. Students expand their understanding of environmental and regulatory rules related to the safe handling of refrigeration equipment and materials.
HVA-3031
Safety & Material Handling
Students will be introduced to various safety work related topics in the HVAC field such as: WHIMIS, Transportation of Dangerous Goods, Ozone Depletion Awareness, Vehicle safety, working at heights, ladder and scaffold safety.
HVA-3214
Gas Technician 2 - Advanced Piping, Building Systems & Appliances
This course examines gas piping requirements for industrial and commercial propane and natural high-pressure gas systems. Piping layout, drawings, symbols, joining methods, identification of underground piping and pressure testing are studied. Domestic gas appliance service and installation are also instructed. Common types of construction methods used in the building industry today help the student understand the concept of a building as a series of interdependent parts. Students will learn about air distribution systems, and air system balancing. Principles of heat loss and gain are also studied. Many practical lab exercises reinforce theoretical concepts taught in this course.
HVA-3229
Gas Technician 2 - Electricity & Controls
Technicians must understand how electrical power operates in systems, and how to properly and safely diagnose electricity and electrical components within various appliance systems. This course examines amperage service, ground fault circuit interrupters (GFCI), electrical bonding to gas piping, single-phase and three-phase power supply, electrical hardware, types and ratings of fuses and breakers as well as types and gauges of wire, thermocouple and power pile DC millivolt systems. In addition, it focuses on appliance wiring, schematic diagram design and interpretation. Using furnace simulation boards and gas-fired furnaces, students will design and draw schematic and wiring diagrams for natural draft, fan-assisted and high-efficiency furnaces. Students will then learn to wire and troubleshoot operational faults. This course also covers control concepts and components associated with gas fired appliances including: the basic control system, operating controllers, limit and safety controllers, combustion and safety controls, ignition control modules, valves, regulators and motors. Numerous practical lab projects assist in reinforcing the theoretical concepts.
JSS-1001
Job Search & Success
This course provides student with skills and knowledge to help support their career search and succeed in the workplace. Students align their personal skill set and goals to guide them on their career paths. They will learn how to effectively conduct a job search, build a professional and well-tailored resume and cover letter, and develop and practice interview techniques. Students will also develop their personal brand to help support effective career networking and aid in their job search. Teamwork and collaboration in the workplace are also discussed. Self-reflection is used to inspire insight and support their professional career journey.
GED-XXX3
General Education Elective
CPL-1049
Co-op Work Term (optional)
Co-operative education provides students with the opportunity to apply classroom learning to the workplace, undertake career sampling and gain valuable work experience that may assist students in leveraging employment after graduation. For further information regarding co-op, please refer to: https://www.lambtoncollege.ca/co-op_and_career/
HVA-3504
Fundamentals of Refrigeration III
This hands-on course provides introductory training to install, service, maintain and update refrigeration systems, select appropriate types of condensers, evaporators, compressors, refrigerants and flow controls. Students also learn joining and connection operations that conform to industry code, proper use of recovery equipment, troubleshooting refrigerant problems, and the use of electronic scales for charging.
HVA-3233
Gas Technician 2 - Gas Pressure Controls & Gas-Fired Refrigeration
A thorough understanding of the principle elements of gas pressure regulators and their operation is necessary in order to properly install and service gas equipment. This course explores the need for pressure regulators, examines the code and regulation requirements, explains the basic operation of a regulator, compares different types of regulators, regulator selection requirements, and troubleshooting common regulator problems. Introduction to gas fired refrigerators is also covered in this program. Many practical lab exercises reinforce theoretical concepts taught in this course.
HVA-4243
Gas Technician 2 - Conversion Burners, Water Heaters & Combination Systems
Students will learn about conversion from one type of fuel source to another on different appliances encountered in the industry. Combustion characteristics and adjustments of gas burner systems is covered in depth in this program. Installation of new and replacement gas water heaters are normal duties of a gas technician. The student will learn types of heater controls, components, and piping systems and how these systems are successfully planned and installed. Tankless water heater installation and service will also be covered in this course. Many practical lab exercises reinforce theoretical concepts taught in this course.
HVA-4254
Gas Technician 2 - Forced Air Systems
Gas technicians need to understand the operational aspects of forced warm-air furnaces in order to provide effective, efficient, and safe service to their customers. Students will learn how to install, maintain, service, and troubleshoot forced warm air systems. Areas of study include venting systems of furnaces, drain systems, sheet metal design, layout, fabrication and installation, 120- and 24-volt furnace electrical systems and gas piping and tubing supply systems. Many practical lab exercises reinforce theoretical concepts taught in this course.
COM-1113
Workplace Communications
This course focuses on skills required in any organization or position: writing business documents, responding to realistic scenarios, and speaking in an organized and vibrant manner. Students will practice professional and inclusive communications skills by producing, revising, and editing short business documents and engaging in verbal interactions and presentations.
GED-XXX3
General Education Elective
HVA-4162
HVAC Building Automation
Technicians frequently encounter problems with building automation systems and are required to diagnose, repair and maintain simple and complex automation systems. Students will gain a greater understanding of building mechanical systems, automated systems, and controls and be able to describe and diagnose faults. Smart thermostat programming and diagnosing is also taught in this course. Practical lab exercises reinforce theoretical concepts taught in this course.
HVA-4266
Gas Technician 2 - Hydronic Systems & Venting II
Students will learn the concepts of water used as a heating medium, the differences between hydronic and forced air heating systems. Pump selection and troubleshooting, boiler controls and boiler troubleshooting, boiler service and maintenance are also covered in this course. Venting systems, the material, application and proper sizing of venting systems used on appliances is also covered. Practical lab exercises reinforce theoretical concepts taught in this course.
HVA-4276
Gas Technician 2 - Air Handling, Space Heaters & Appliances
Students will learn concepts of air movements in ductwork and different areas of buildings. Adjusting airflow through appliances and utilizing filtration systems to achieve proper air exchange and maintain air quality. Air movement device selection and maintenance are also covered in this course. Options for building heating can utilize different types of space heating appliances for smaller areas or smaller rooms of the home or garage. Add-on devices such as filters, air cleaners, humidifiers, and cooling coils improve the air quality in a building heated by a forced-air furnace. Students will learn how to select, install and maintain filters, humidifiers, air cleaners, and add-on heating and cooling coils. Practical lab exercises reinforce theoretical concepts taught in this course.
GED-XXX3
General Education Elective
After Graduation
Employment Opportunities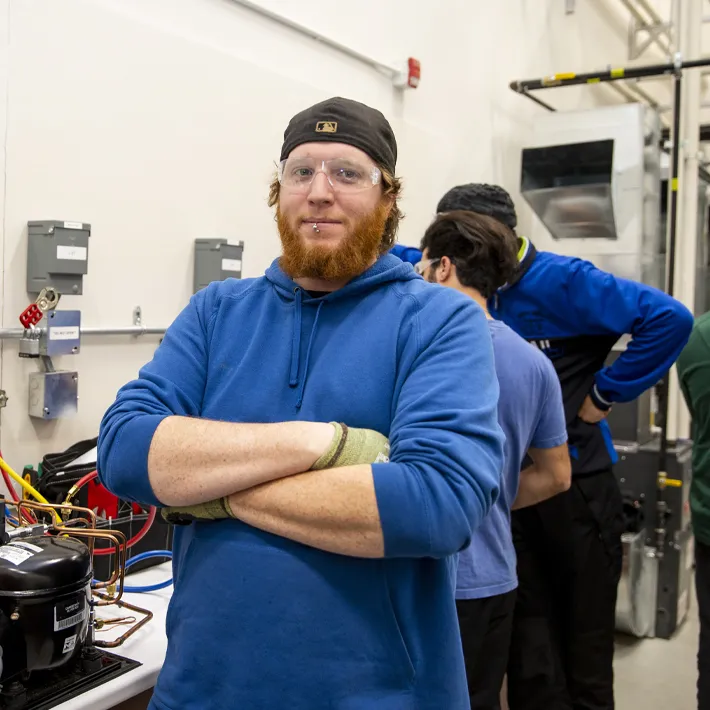 Apprenticeship possibilities and job prospects are excellent, with above average wages and steady employment. Graduates find work in heating, air conditioning, sheet metal, electrical and refrigeration contracting firms. Other opportunities include petrochemical, building and facilities services, wholesale, distribution, parts and equipment manufacturing companies.
Career positions may include, but are not limited to: central air conditioning mechanic, commercial air conditioning mechanic, heating and cooling mechanic, commercial air conditioning mechanic, heating and cooling mechanic, heating, ventilation and air conditioning (HVAC) mechanic, refrigeration and air conditioning mechanic apprentice.
Co-op
About Co-op
Students in this program have the opportunity to gain valuable work experience by applying classroom learning during co-op experiences.
Learn more about co-op terms and the roles and responsibilities of students and co-op advisors.
More Information
Laptop Requirements
It is recommended that students purchase a laptop with a Windows operating system.
Internet Speed Requirements
For best performance for students learning remotely, an internet connection with a minimum of 40 Mbps download and 10 Mbps upload speed is recommended in order to effectively use video conferencing and remote lecture deliver software as well as, other online resources remotely. Due to the large area over which students may be dispersed, we are unable to recommend a specific provider, so you will need to inquire around your area to find one that best suits your needs.
Minimum Laptop Requirements
In order to access the internet and virtually-delivered software and courseware, student laptops should include the following at a minimum. By meeting the following specifications, students will be equipped to access software and courseware on their laptop through the internet:
Intel i3 Processor or equivalent
4 GB of RAM or more
100 GB HDD or more
HD Graphics
Webcam with a microphone
Wireless 802.11n/ac 5ghz capable
Windows Operating System (Windows 10)
Software
To ensure students are getting the most out of their classroom experience, some software will be required.
Lambton College has made this software easily accessible online. Students can leverage our Microsoft Office 365 software packages and services. In addition, much of the software you require for your courses will be available on demand for use on any device – on or off campus.