One-Year
Ontario College Certificate
Overview
Prepare for success in future technology programs by taking the Pre-Technology Certificate. Explore career options in trades and technology fields while strengthening and upgrading academic skills.
The Pre-Trades & Technology Ontario College Certificate program is designed to assist those who are interested in a career in trades or technology but have yet to decide which one, or lack the necessary prerequisites for the career path they've chosen. This preparatory program is ideal for building student confidence and academic preparedness for entering post-secondary education.
In just two terms, students are introduced to careers and programs in the skilled trades, as well as the two and three-year technician and technology program offerings at Lambton college. In addition, students will obtain guidance toward reaching their own personal goals, develop life skills and deepen their knowledge and skills in subjects such as chemistry and math. Overall, completion of this program gives students a competitive edge in academic and personal preparedness for future programs, particularly those programs in which there is competition for co-op opportunities.
One course, in each of the two terms, can be chosen from a list of options. Students, therefore have the opportunity to take diploma level courses during the PTEC certificate program, earning advanced credits towards a diploma program. 
In addition to this eight-month program, there is a one-term program option during the winter term which leads to a Board of Governor certificate. This one-term certificate program offers a full slate of courses in communications, science, math, student success and life skills, and a choice of several options for advanced credit toward future diploma programs.
Admission Requirements
O.S.S.D. or equivalent with:
Grade 12 English C or U
Grade 11 Mathematics C or U
---
Mature Student Assessment for this program is available in the subject of English for the purpose of demonstrating proficiency in this required admission subject. For all other admission requirements, applicants must complete the required course(s) as listed above. For more information, please contact
counselling@lambtoncollege.ca
. Review the
Mature Student Admission process
.
Academic admission requirements can be obtained through
Academic Upgrading
and the Pre-Programs at Lambton College.
Benefits of this Certificate Program
It's important to note that the Pre-Trades & Technology program does not guarantee entrance into any Lambton College programs.
However, applicants who have successfully completed the Pre-Trades & Technology Certificate program at Lambton College will receive 10 bonus marks toward their admission ranking.
If you intend on applying to technology programs at another college, please seek advice from those colleges about acceptance of credits from Lambton College.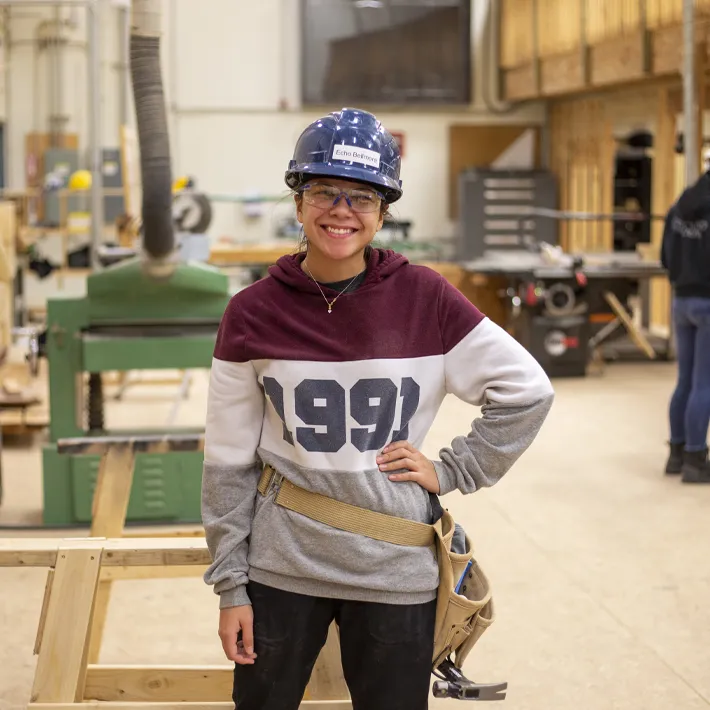 Improve your chances of gaining admission to technology programs at Lambton.

Costs
---
Please Note: These fees apply to the 2023-2024 academic year and are subject to change. Fees do not include books (unless specifically noted), supplies or living costs.
Technology Requirements
In order to keep pace with the requirements of each and every course in your program, Lambton College requires that each student have access to a laptop while studying at our college.
Labs & Equipment
Chemistry Lab
Laboratory exercises complement theoretical concepts and develop good, safe, laboratory practices through hands-on activities and chemical experimentation. Several courses have laboratory components that develop safety awareness and provide practical, hands-on experience and experimentation.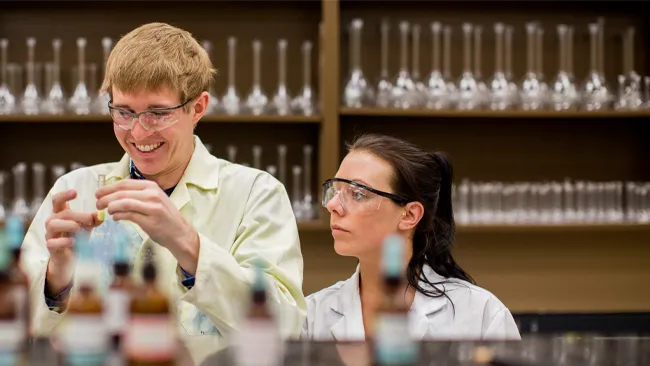 Courses
MTH-1063
Introduction to Mathematics (Part I)
This is the first of two courses designed to provide the student with a fundamental understanding of mathematical concepts. This course reviews and enhances topics in numeracy, measurement, graphs, algebra, solving equations, and statistics. Competent use of a scientific calculator is also emphasized.
CCT-1066
Safety, Tools & Materials
The student will be presented with information for the care and safe use of hand, portable and stationary power tools including saws, jointers, planners, routers, biscuit joiners and drills. Students will study the production and physical characteristics of materials used in construction including solid wood and manufactured construction products, fasteners and adhesives. Students will utilize the information given and apply it to practical wood working projects with a keen emphasis on technique, while demonstrating tasks safely.
JSS-1102
Career Exploration
In this course, students will get exposure to a variety of apprenticeship, trades and technology programs offered at Lambton College through a series of guest lecturers, and field excursions. Students will create a portfolio about several selected programs of the student's choosing, and will present one portfolio to the class. The course will provide the student deeper insight into future career paths in trades and technology.
GED-XXX3
General Education Elective
OHS-1023
Occupational Health & Safety
This course introduces participants to the broad and ever-changing field of occupational health and safety, an inherently technical subject area. The multiple dimensions of the various issues--technical, legislative, political, and personal--are a required part of the training for a professional in this field or for someone who is involved with this kind of operation. Major topic areas include the Occupational Health and Safety Act, WCB, WHMIS, transportation of dangerous goods, accident prevention and investigation, physical and biological agents, and the management of Occupational Health and Safety programs
--- OR ---
WEL-1123
Safety & Welding Basics
This course is designed to develop knowledge of general safety practices and operating principles of OFC/OFW (oxy-fuel cutting/welding), brazing, PAC (Plasma Arc Cutting), and semi-automatic welding equipment (Gas Metal Arc Welding-GMAW, Flux Cored Arc Welding-FCAW, Metal Cored Arc Welding-MCAW). Emphasis will be given to cutting and welding in the flat and horizontal positions. All industrial operations entail potential risks to health and safety, especially when welding. The intent of this course is to minimize these hazards by providing the student with the skills to comply with all safety rules and procedures involved in the industry.
--- OR ---
ICS-1302
Fundamentals of Instrumentation
This is an introductory course in process instrumentation and safety. Topics will include WHIMS and an introduction to industrial hazards, Job Safety Analysis, and Work Permits. Basic instrumentation and control loop concepts, instrument signalling, wiring, and calibration techniques will be studied. Pressure measurement will be covered in greater detail. The reading and interpretation of Process and Instrumentation Diagrams will be addressed. The laboratory component will expose the student to the correct use and operation of calibration devices, pressure sensors and measuring instruments.
--- OR ---
WML-1204
Water Monitoring & Sampling
This is a course designed to introduce basic sampling and analytical techniques to water and wastewater plant operators. The course concentrates on sampling techniques and necessary lab skills. Students learn how to develop sampling plans and take representative process samples that are free of contamination due to handling. They also learn the proper techniques and instrumentation for performing comprehensive laboratory analyses on water and wastewater samples.
--- OR ---
OES-1013
Operating Engineering Studies I
This is an introductory course in Operating Engineering, which will give a general overview of process equipment, systems, and techniques. The codes and regulations that apply to Operating Engineering will be discussed. Emphasis will be placed on safety concerns such as WHMIS, plant safety, protective equipment, fire protection and extinguishing equipment, and environmental impacts. Process drawing fundamentals, basic process equipment such as steam traps, relief valves, piping systems, and lubrication systems will be studied.
COM-1113
Workplace Communications
This course focuses on skills required in any organization or position: writing business documents, responding to realistic scenarios, and speaking in an organized and vibrant manner. Students will practice professional and inclusive communications skills by producing, revising, and editing short business documents and engaging in verbal interactions and presentations.
MTH-1055
Introduction to Mathematics
This course provides the learner with a fundamental understanding of mathematical concepts. This course reviews and enhances topics in arithmetic, algebra, logarithms, graphs, measurement, and trigonometry. It also teaches the student optimal use of a scientific calculator.
PHY-1024
Physics
Physics is the description of physical phenomena in orderly mathematical terms. This introductory course assumes no prior knowledge of physics. The topics covered are those of classical physics which include mechanics: motion and forces; fluids; thermodynamics; waves; electricity; and magnetism.
SDV-1022
Student Success & Life Skills
This course prepares students for both college academic life and future career success. The main focus of this course includes accepting personal responsibility, discovering self-motivation, mastering self-management, employing interdependence, gaining self-awareness, adopting lifelong learning and developing emotional intelligence. Students identify personal learning styles, communication styles, and personality styles to better achieve success in learning about, understanding, and choosing the courses and careers that will lead to personal and professional satisfaction.
ELE-1065
Electriv Circuits I
It is an introductory course in electricity consisting of fundamental electric principles together with an analysis of simple electric circuits. Emphasis throughout the course is on problem solving. Laboratory exercises complement the material covered in class.
--- OR ---
IMT-1233
Introduction to Pumps, Machines & Piping
This course is a survey of the aspects of pumps, piping and conveyor systems applicable to Mechanical Technicians in the Industrial Maintenance program. Millwrights working in the trade will be involved with many different types of equipment including pumps, piping systems and conveyors. The millwright must be familiar with the different types of pumps, their unique features and how they are maintained. Piping systems are associated all other plant equipment. This piping must be selected, installed and maintained. The student will develop knowledge regarding types, selection and the principles of operation of various materials handling systems. The knowledge obtained is considered as background for other technical courses including Preventive and Predictive Maintenance.
--- OR ---
BIO-1055
Introduction to Biology
This course is designed to introduce the student to basic human anatomy and physiology through the study of organ systems including the following: nervous, circulatory, respiratory, digestive and urinary. General organization of the body, cells, tissues, and organs will also be considered.
--- OR ---
CHM-1005
Basic Chemistry
This course is intended to provide the student with an introduction to basic chemical principles and skills. Topics include classification of matter, physical and chemical changes, chemical nomenclature, writing balanced chemical equations, and gas laws. Students perform calculations of quantities of substances consumed and produced in chemical reactions in terms of mass, moles, and gas volumes. Laboratory exercises complement theoretical concepts and develop good, safe laboratory practices through hands on activities and chemical experimentation. This course prepares students for CHM 2004, Basic Chemistry II, in which concepts relating to organic chemistry and aqueous solutions are developed.
Optional Courses
In both terms, students choose from a list of four or five optional courses, all of which also provide opportunities to obtain advanced credit toward future diploma programs.
After Graduation
Employment Opportunities
Recently, employers have been interested in hiring Pre-Trades & Technology graduates right after they graduate.
Our graduates are also able to transfer into trades, technician, and technology diploma programs at Lambton College and other Ontario colleges.
The certificate programs students may apply to after completing this program include:.
Construction Carpentry Techniques
Electrical Techniques
Welding Techniques
The diploma programs student may apply to after completing this program include:
Chemical Lab Technology
Chemical Production & Power Engineering Technology
Electrical Power Distribution & Control Technician
Environmental Technician - Water & Wastewater Systems Operations
Power Engineering Technology
Instrumentation & Control Engineering Technology
Millwright Mechanical Technician
Renovation Construction Technician
Workplace Safety & Prevention
More Information
Technology Requirements
It is recommended that students purchase a laptop with a Windows operating system.
Internet Speed Requirements
For best performance for students learning remotely, an internet connection with a minimum of 40 Mbps download and 10 Mbps upload speed is recommended in order to effectively use video conferencing and remote lecture delivery software as well as, other online resources remotely. Due to the large area over which students may be dispersed, we are unable to recommend a specific provider, so you will need to inquire around your area to find one that best suits your needs.
Minimum Laptop Requirements
In order to access the internet and virtually-delivered software and courseware, student laptops should include the following at a minimum. By meeting the following specifications, students will be equipped to access software and courseware on their laptop through the internet:
Intel i3 Processor or equivalent
4 GB of RAM or more
100 GB HDD or more
HD Graphics
Webcam with a microphone
Wireless 802.11n/ac 5ghz capable
Windows Operating System (Windows 10)
Software
To ensure students are getting the most our of their classroom experience, some software will be required.
Lambton College has made this software easily accessible online. Students can leverage our Microsoft Office 365 software packages and services. In addition, much of the software you require for your courses will be available on demand for use on any device - on or off campus.