Three-Year Internship
Ontario College Advanced Diploma
Overview
Develop strong leadership, team building, project management, marketing, and communication skills and be part of a group of graduates who are industry ready and highly sought after by employers.
Do you dream of a career working with your favourite team or sport? Do you have a passion to change the lives of others through building confidence and skills? Are you a team player? These are but a few reasons you should consider the Sports & Recreation Management program at Lambton College.
The program offers graduates a robust, multi-disciplinary approach to the diverse industry that is sports and recreation management. Graduates gain business acumen through a sports and recreation lens. Graduates are prepared to identify, plan, and implement successful recreational activity programs for all ages and abilities. Graduates are able to provide leadership to health and fitness initiatives and wellness programs. This three-pronged approach to the curriculum ensures graduates are prepared for careers in the business of sport and recreation as well as the health and fitness industry.
Opportunities to Learn Outside the Classroom
Hands-On Learning Experiences
Using core course content, with emphasis on experiential learning, students organize and deliver events throughout the year. Past events have included recreational drop-in sessions, tournament and leagues, and various special events.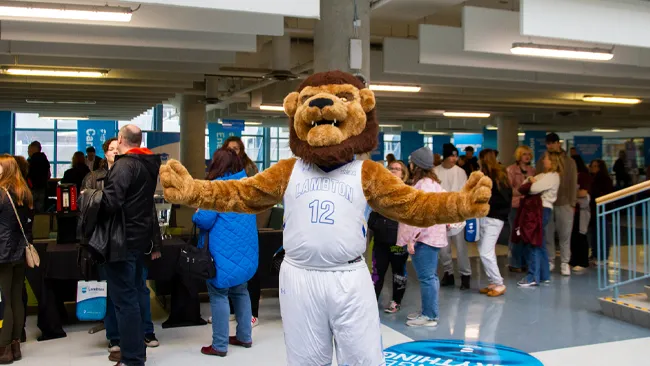 Sarnia Sting Partnership
Students have the opportunity to gain invaluable hands-on experience assisting the Sarnia Sting in game-day operations, community outreach, and OHL events throughout the program.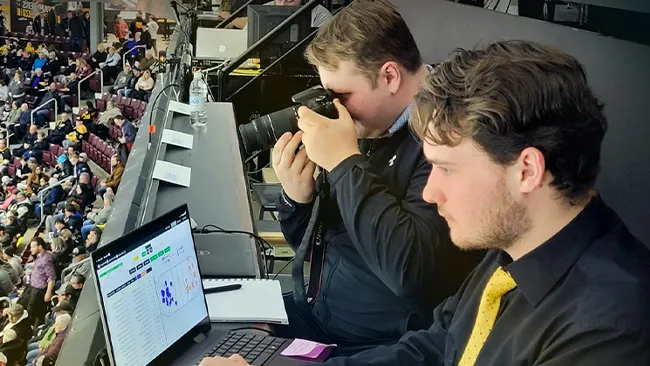 Community Partnerships
Students work with Tourism Sarnia-Lambton by volunteering for events, producing social media posts, and working on preparing event bids.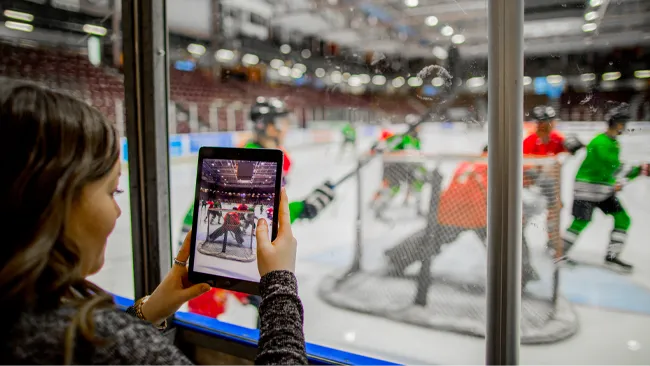 Networking with Industry Professionals
Receive one-to-one career mentorship with over 140 industry professionals from the NHL, NBA, MLB, NFL and more throughout the program.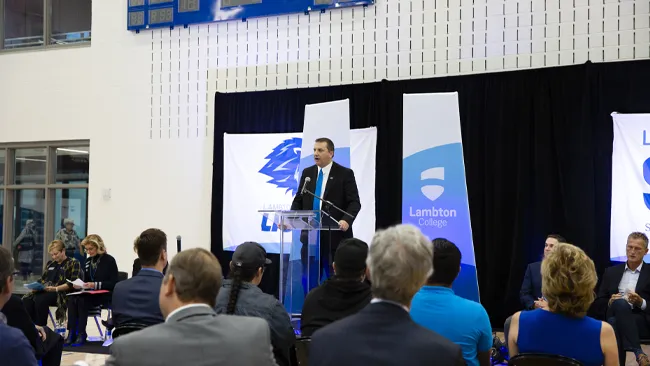 Capstone Course
Students work with a community partner to deliver a large community wide event.
Admission Requirements
O.S.S.D. or equivalent with:
---
Mature Student Assessment for this program is available in the subject of English for the purpose of demonstrating proficiency in this required admission subject. For all other admission requirements, applicants must complete the required course(s) as listed above. For more information, please contact
counselling@lambtoncollege.ca
. Review the
Mature Student Admission process
.
Academic admission requirements can be obtained through
Academic Upgrading
and the Pre-Programs at Lambton College.
Recess - Focus on Mental Health
The Recess program is designed to create intentional opportunities for students and faculty from the Sports & Recreation Management program to participate in a variety of activities designed to promote laughter, comradery, and physical activity .
This optional activity happens one hour each week and is meant to promote good mental health. We often hear from past students about how large a role Recess played in their success in this program.
Program Partners
Students in the Sports & Recreation Management program are given the opportunity to work with a number of companies through various co-op, internship and work placements.
Sarnia Sting
Lambton College and the Sarnia Sting have formed a partnership to enhance experiential learning opportunities for students.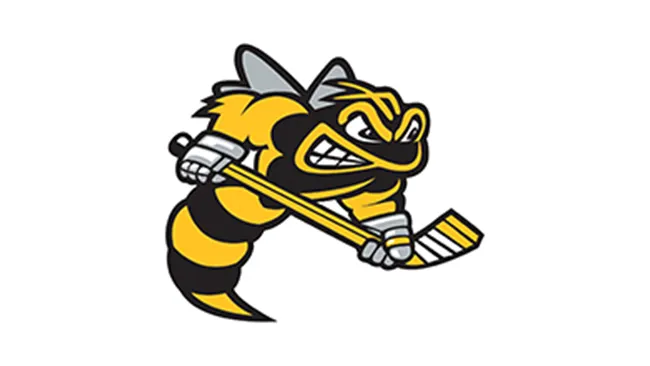 Detroit Tigers
Students will complete the Detroit Tigers Fundamental Sales Training program right from the Major League Baseball organization.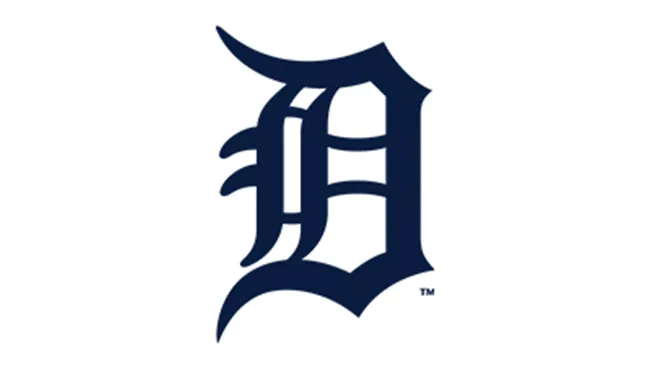 Toronto Blue Jays
Students have the opportunity to learn about the Toronto Blue Jays Sales & Service Development Program and engage with employees of the Toronto Blue Jays.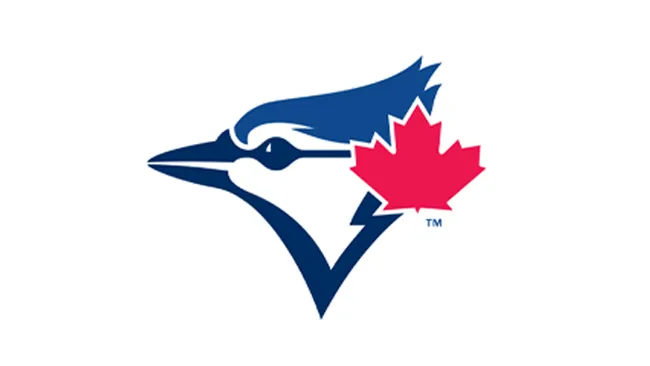 MLSE
Engage with members of the MLSE Sales Development Academy and learn what it takes to work with one of the world's premier sports and entertainment companies. MLSE owns the Toronto Maple Leafs (NHL), Toronto Raptors (NBA), Toronto FC (MLS), Toronto Argonauts (CFL), Toronto Marlies (AHL), Raptors 905 (NBA G League), TFC II (MLS Next Pro) and Raptors Uprising Gaming Club, the Toronto Raptors esports franchise in the NBA 2K League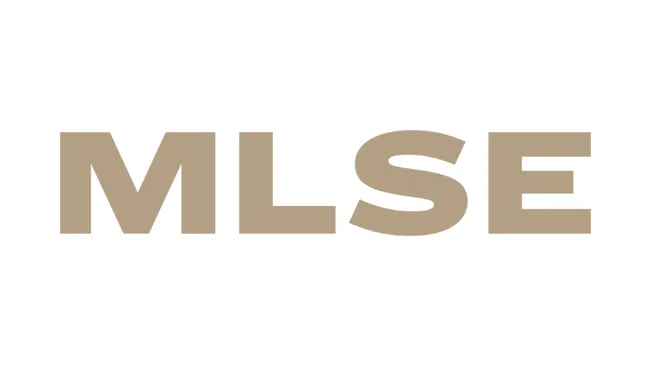 Burton Hockey Academy
Students have the opportunity to be involved with a premier hockey academy.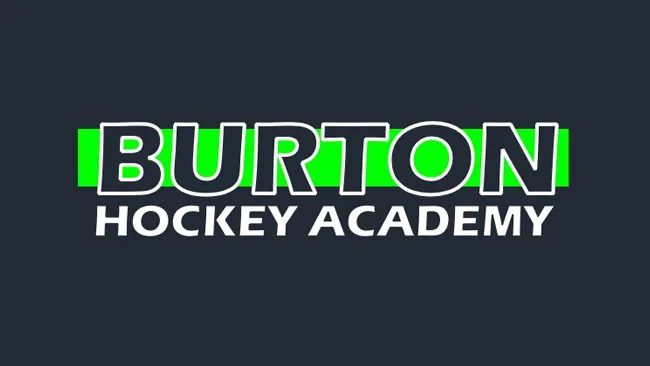 General Sports Worldwide
Our students have the ability to build their network with a team that has unmatched experience having worked in the top executive positions across a broad spectrum of premier sports organizations.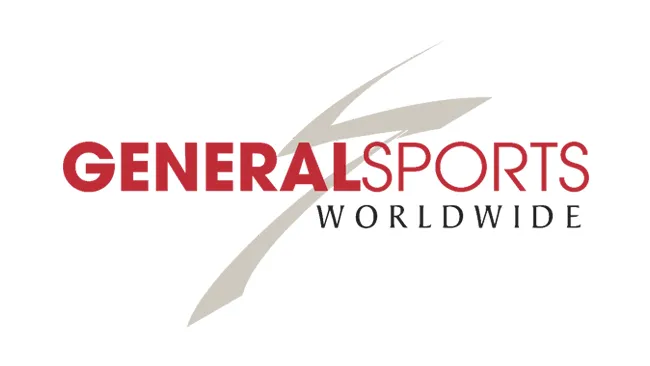 PEMAA
Students have the opportunity to learn from an industry leader in Point Edward when it comes to minor sports organizations. Students can examine and engage in the planning process for various leagues from start to finish.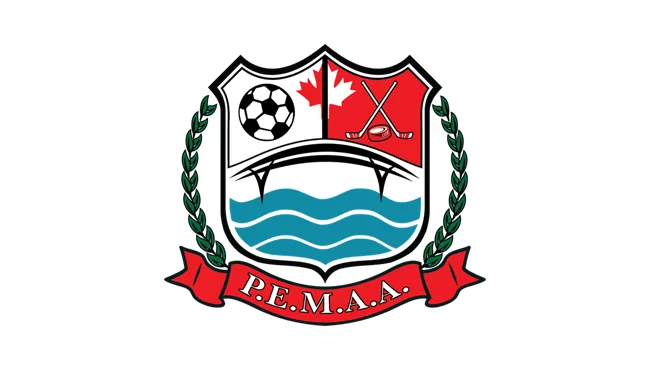 Point Edward Black Hawks
Students have the opportunity to gain experience with a local Community Partner. In 2023, students successfully created "The Best Jamboree Ever" in partnership with Point Edward Minor Hockey. The Battle Under the Bridge was a SOLD OUT Tournament for U7 Hockey.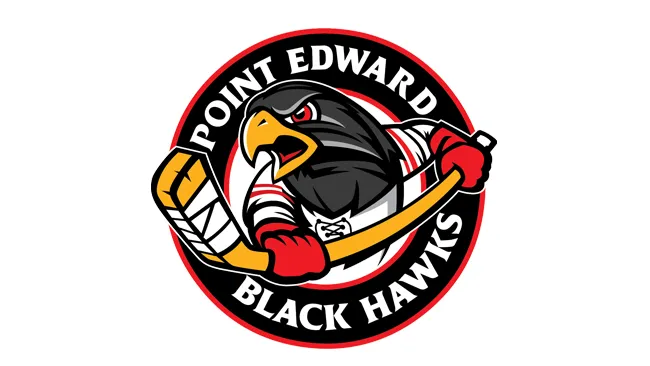 theClubhouse
Students will interact with 120+ Mentors within the Sports Industry who hold high-level positions within the NHL, NBA, NFL, MLB and many more. Each student will meet virtually with the members of theClubhouse. Utilizing this platform, students will also view Webinars and Blogs to gain insight into what it is like to work in our industry.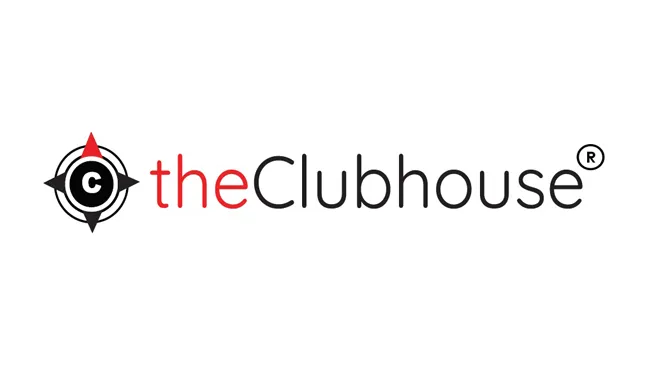 Tourism Sarnia-Lambton
Opportunities exist for students in the Sports & Recreation Management program to engage in the planning and execution of events with members of Tourism Sarnia-Lambton.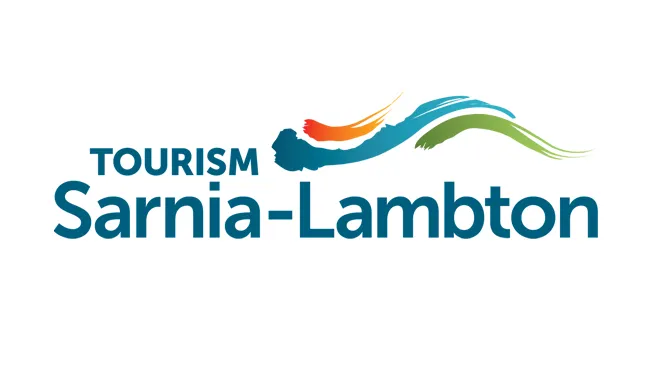 Special Olympics
Students have the opportunity to volunteer in a variety of roles.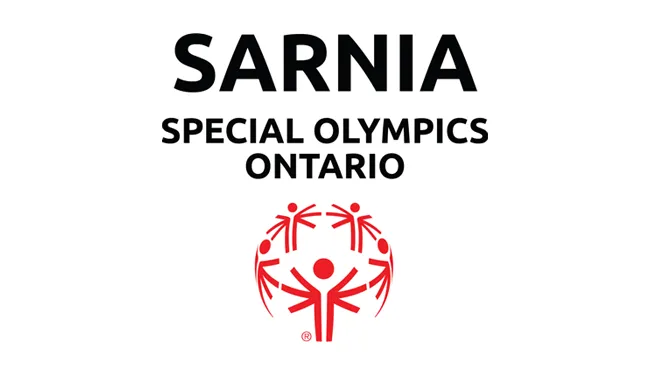 Welland
Students can gain industry experience in the Niagara Region with the 2023 Jack and Lynne Dominico Cup Champions. The President and Director of Fun is an alumni of our program.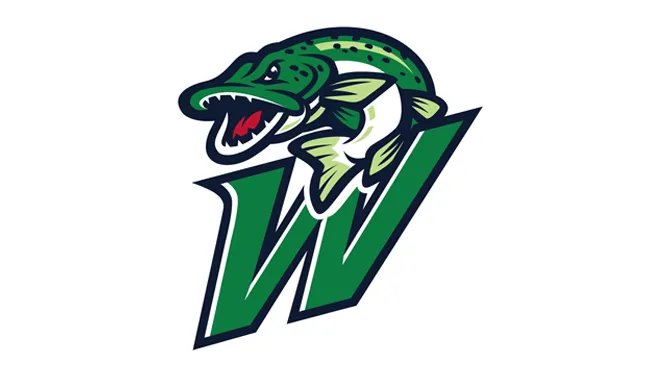 Costs
Year 1

$4,600.94

Year 2

$4,518.94

Year 3

$4,245.82
---
Please Note: These fees apply to the 2023-2024 academic year and are subject to change. Fees do not include books (unless specifically noted), supplies or living costs.
Additional Fees
SRM-5003 Lab Fee

$200.00

SRM-3113 Course Fee

$100.00

SRM-5503 Course Fee

$450.00

SRM-5403 Course Fee

$450.00
Technology Requirements
In order to keep pace with the requirements of each and every course in your program, Lambton College requires that each student have access to a laptop while studying at our college.
Experiential Learning
See some of the opportunities students have for hands-on learning opportunities throughout this program.
Courses
SRM-1003
Introduction to Sport & Recreation Management
Students are introduced to various topics essential to becoming professionals in the Sports and Recreation Management industry and the career opportunities available. The importance of leadership, critical thinking, professionalism, recognition of personal strengths, public speaking and the structure of sport organizations are explored. Throughout the course, students engage with industry professionals using the Clubhouse platform and also volunteer with local industry partners to assist in building their personal portfolio.
SRM-1013
Sports Marketing
This course provides students with an understanding of the fundamental concepts of marketing and how they pertain to sport including strategic marketing management, marketing mix, assessing the marketing environment, the role of research, segmentation, sponsorship, and consumer behaviour. Utilizing this knowledge, students create marketing materials for campus and community events that are specific to target audience.
SRM-2113
Current Concepts in Health & Wellness
In this course students investigate, review and utilize health promotion strategies for making healthy, rational, lifestyle choices in order to maintain or improve personal health. Students explore the bio - psycho - social processes to keep well and gain knowledge of interventions that encourage wellness, promote activity, energy and life, and empowerment.
BUS-1203
Workplace Communication Applications & Analysis
In today's management and administration workplace, having strong computer skills is essential. This course provides students with resources and guidance to develop skills in Microsoft Office applications, focusing on three key areas: Word, Excel, and PowerPoint. While learning about these programs, students develop skills in time management, accountability, and their ability to follow direction.
COM-1013
Critical Thinking & Writing
In this writing course, students respond to current issues and news articles via various styles of paragraphs and essays. Students practice thinking critically and organize and hone their writing to ensure clarity and correctness in their messages. Students explore different perspectives, and through synthesis, analysis, and response, strive for clarity of message and diplomatic expression of opinion based on fact. One of the pillars of Lambton College is a commitment to sustainability and equity, diversity, and inclusion, including Indigenization of the curriculum; where appropriate, readings in this course will reflect this commitment. Critical Thinking and Writing lays the foundation for a subsequent research-writing course.
SRM-2303
Recreation Programming
In this course students review the process of recreation programming and gain an appreciation for the importance of aligning programming with organizational mission, vision, and values. Through practical application, students explore each step of the process including an organizational program audit, program prioritization and planning, budgeting, scheduling, promotion and evaluation. Students organize and oversee drop-in sessions throughout the semester.
MKT-1103
Social Media Marketing
This course explores online marketing tools and tactics, such as social media, email, digital advertising and content marketing, that businesses can use to build a profitable relationship with their customers. Students engage in simulated social media, email and digital advertising campaigns to gain a better understanding of how to use these tools in their marketing efforts. Along with learning about digital and social media marketing, students learn general principles of marketing that are key for every business, regardless of industry or size: identifying who your customers are; understanding what needs they have that you are uniquely able to serve; creating a brand voice that speaks to them; identifying who your competitors are; deciding how to differentiate your offering from theirs; and creating a plan for engaging customers across social media and digital advertising platforms.
COM-2013
Communications for Business
This course provides students with the skills required for professional, written, and oral communications essential to business success and subsequent courses. Students will develop database and internet research skills; prepare professional written business communication; and create, practice and deliver professional oral presentations. Students will research and document borrowed information in a business report and will demonstrate critical reading and thinking skills.
SRM-2603
Fundraising & Sport Sponsorship
Sponsorship and fundraising play an important role in the success of sport in today's society. Students gain an appreciation for the unique challenges generating revenue through fundraising and sponsorship for sport. Students explore how marketing concepts are integrated to meet the specific needs of sponsors and fundraising campaigns and the importance of building and maintaining relationships.
SRM-5103
Training Principles
This course will develop the student's knowledge of exercise prescription and provide the student with the opportunity to develop practical skills through the design and delivery of training sessions for the class, existing physical and health education classes, and members of the college community.
JSS-1001
Job Search & Success
This course provides student with skills and knowledge to help support their career search and succeed in the workplace. Students align their personal skill set and goals to guide them on their career paths. They will learn how to effectively conduct a job search, build a professional and well-tailored resume and cover letter, and develop and practice interview techniques. Students will also develop their personal brand to help support effective career networking and aid in their job search. Teamwork and collaboration in the workplace are also discussed. Self-reflection is used to inspire insight and support their professional career journey.
GED-XXX3
General Education Electives
SRM-5003
Facilities Management
This course introduces students to the macro and micro aspects of managing sport and recreation facilities. Beginning with a focus on the evolution of sport and recreation facilities students will explore the impact such facilities have on society. Integrating theory with practical opportunities and facility tours, students explore facility design concepts, day-to-day operations, physical and human resource management, and activity and event programming.
SRM-3203
Tournaments & League Management
Through this course, students integrate the theoretical knowledge of tournament and league formatting and scheduling with practical experience by organizing, operating and evaluating their own tournaments and leagues. The reasons for matching the level of participation with individual characteristics including ability, age and level of competitiveness are discussed. The importance of policies, regulations, tiebreakers and rules are explored.
SRM-3113
Seasonal Recreation
Now more than ever people of all ages are seeking out recreational activities to help them regulate their physical and mental well-being. This course is designed to equip students with the tools required to design, deliver, and/or manage recreational activities. A specific focus on equity, diversity, and inclusion will have students modify activities to better appeal to diverse populations who normally do not partake in the recreational activities seen in this course. Students are exposed to all aspects of recreational programming including customer service, knowledge of basic rules, etiquette, and activity skills as well as an overview of equipment selection and surface maintenance required to run recreational activities. Ultimately, with the expertise of leaders in the community, as well as other industry-recognized resources, student groups deliver recreational activities that meets all the guidelines and best practices set out by the recreation and leisure industry.
ACC-3083
Introduction to Managerial Accounting
The managerial accounting course provides students with skills to become highly effective in environments where quick decisions are required. Students learn to use financial information to make quick strategic decisions including how to use data to evaluate the effectiveness of current operations. Learning to maximize the profitability of operations, students interpret financial statements and supporting financial data that drive decision making. Topics covered in this course include cost management, analysis of financial performance, application of pricing strategies, and budgetary planning and control for a business enterprise.
MKT-3213
Secondary Market Research
This course introduces students to the constantly expanding world of secondary data research. This is the first of two research courses designed to develop research techniques and skills that meet the needs of today's business. Students develop their research technology skills by learning how to locate, evaluate, and qualify high-quality data. Students strengthen their ability critically interpret and evaluate the data collected and suggest potential trends and implications. An important focus of the course is learning to create appropriate tables, graphs, and infographics that aid in understanding and visualizing the data. Through a series of research assignments, students learn to craft high-quality written reports, presentations and infographics with accurate references and citations. Throughout the course, students are exposed to a wide variety of government, business, and economic information expanding their knowledge of the dynamic business environment.
GED-XXX3
General Education Elective
SRM-5013
Special Events Management
Students examine various special events and the methods for achieving event goals. Utilizing principles of event management, students gain experience through engagement in the planning, organizing and delivery of events for various community partners. In groups, students plan, organize and deliver their own Special Event. Throughout the course, students volunteer at two Special Events. Students are introduced to Sport Tourism Canada and its current policies and practices for bidding and hosting events in Canada.
SRM-6203
Coaching Theories & Principles
The Coaching Course will provide theory and practical experiences in coaching enabling the student to teach others physical skills and activities that can be used throughout a person's life. This course will cover the essential principles of coaching including planning, sport safety, skills analysis, communication, and ethics. Using a combination of coaching assignments, lectures, readings, and live assessments of skills, students will be prepared to pursue coaching opportunities in various community and recreation sport settings.
FHP-2003
Risk Management
In this course, students explore the legal concepts of negligence and liability and relative legislation, regulations, standards, and policies affecting the provision, safety, cleanliness, and maintenance of facilities. Students are introduced to methods of identifying risk, assist in designing strategies to prevent or minimize risk, and apply risk management strategies.
GED-XXX3
General Education Elective
MKT-3403
Selling
This course is designed to provide students with an introduction to professional selling and the skills required to find success in relationship building and sales. Students are introduced to the many career alternatives available as well as the day-to-day expectations of a successful salesperson. The focus is to assist students develop their personal brand and strengthen their presentation, communication, and negotiation skills through role-playing, simulations, and applied learning exercises. Both traditional and digital prospecting methods are explored, along with the application of effective discovery, proposal creation, and problem resolution strategies, all in support of creating a customer relationship built on trust. Topics include goal setting, planning, time management, sales analytics, key performance indicator analysis, and customer relationship building. Students apply their learning in a simulated, professional business-to-business sales environment.
--- OR ---
FHP-3103
Health Promotion
Using a best practices approach, students are introduced to and actively involved in planning, organizing, delivering and evaluating health promotion programs, campaigns and events.
--- OR ---
CPL-1003
Work Term (Part-Time - 12 hrs/wk)
Co-operative education provides students with the opportunity to apply classroom learning to the workplace, undertake career sampling and gain valuable work experience that may assist students in leveraging employment after graduation. For further information regarding co-op, please refer to: https://www.lambtoncollege.ca/student-supports/co- ops-placements
SRM-5703
Sport Research & Analytics
This course introduces to the field of sport analytics and the decision-making process teams and leagues face on a day-to-day basis. Students engage in teamwork to explore and complete sport research while examining topics including player performance measurement, in-game decision-making, and player selection/roster construction. Students explore tactics for building effective teams while emphasizing the importance of equity, diversity, and inclusion.
SRM-5503
Outdoor Pursuits
This multi-faceted course is designed to provide students with opportunities to develop and apply skills including leadership, teamwork, planning, preparation, problem solving, and many other highly sought-after transferrable skills. These skills are acquired through participation in experiential outdoor activities designed to physically, mentally, socially, and spiritually challenge students. Students discover the importance of natural resources, opportunities to use them for personal exploration and development, and develop an appreciation for their value to the environment, issues related to conservation and sustainability, use for educational purposes, and use for recreational and economic benefit.
SRM-5303
Sports Event Capstone Project I
This course is designed to integrate the concepts and skills students have obtained throughout the Sports and Recreation Management Program. As the first of two capstone courses, emphasis is placed on the planning stages for a college community-based sport league and/or a major tournament. Emphasis is placed on the working within the parameters of the target partner groups' goals, budget, and logistics. Students work their way through all the industry recognized steps for planning leagues and multiday tournaments. Upon course completion, students will have a complete tournament and/or league packaged plan that is delivery ready.
TRE-3303
Leisure & Aging
Students will develop their knowledge of various issues related to aging including the aging process, theories on aging, ageism, implications of an aging Canadian society, and the role of recreational and leisure activity in the successful aging process. Included in this will be an exploration of various physical and cognitive ailments and disease processes commonly found in the elderly. With this knowledge, students will develop a variety of recreational and leisure programs that focus on physical, cognitive, and psychosocial elements.
ESA-3003
Video & Audio Production
Video and audio production have become highly desirable skills in our modern, media driven world and especially so for aspiring professionals in the Esports industry. In this course, students explore the impact of media in our modern world, gain an appreciation for and develop production skills that demonstrate the use of flow in different mediums, and explore factors that can be manipulated to alter audio and video productions. Students are introduced to post-production techniques and will have the opportunity to develop and demonstrate their skills through the completion of a term project.
--- OR ---
TRE-1033
Foundations of Therapeutic Recreation
This course provides an in-depth study of the scope of therapeutic recreation. Students study the historical and philosophical foundations of the professions. The role of therapeutic recreation professionals in the spectrum of health care and human service settings serving clients with a variety of disabilities is explored. A review of the various definitions used by each of the professional TR organizations, a variety of service models of practice as well as the Therapeutic Recreation process is introduced. Students develop an appreciation of the needs of people with different abilities and the barriers to recreation that they face. There is also a focus on approaches to integration within the community and the issues related to this profession. Students are introduced to ethics in the profession of Therapeutic Recreation.
--- OR ---
PHR-1093
Anatomy & Physiology
This course is designed to provide pertinent information about the human body and how it functions. The study is concentrated on medical terminology, cells, tissues, organs, and systems and how the systems work together for human survival.
--- OR ---
MKT-3103
Consumer Behaviour & Trends
Consumer behaviour is one of the most exciting areas in the study of marketing. Every day, a variety of media inform, persuade, and influence our purchase decision. These media compete with other stimuli for our attention and our hard-earned money. In studying consumer behaviour, students learn how marketers identify and work with these sources of influence, how we think and how we process information. Students also learn how their relationships with others and their dreams and aspirations help shape their product choices and purchase decisions. The evolving topic of sustainable consumption is discussed as brand accountability, legislation and governance continue to set the direction for more purposeful practices.
SRM-5403
Field Study in Sport Management
This course is designed to provide students with opportunities to engage in tours of high profile sport and recreation facilities while networking with industry experts in a variety of career-related areas, including team management, corporate sales and sponsorship, facility operations, and sport organization management, while discovering employment opportunities available to them in the sport industry. Depending on the locations to be explored, students may also gain insight into cultural practices, political and economic influences related to sport, and local attractions.
SRM-2503
Sport in Society
Sports are institutional, social, and cultural practices, created and sustained by people as they interact with others to organize and make sense of their lives. Sports not only reflect aspects of society but they also play a unique role in producing, reproducing and transforming society. Historical variations in the way sports are organized and viewed by society are related to issues of power and authority at particular points in time. Using sociological theoretical frameworks offers one the opportunity to see aspects of sports that are often hidden from view when studying the place and role of sport in society. Topics explored in this course include (but are not limited to) social theories, history of sport sociology, social inequalities, violence and social deviance, politics, globalization and economics, media, bioethics, religion and socialization.
FHP-1203
Physical Literacy
This course introduces students to current concepts of physical literacy as they are being defined in Canadian sport, recreation and education. Students examine physical literacy concepts within the Provincial Physical and Health Education Curriculum, the Canadian Sport for Life model, as well as the Long Term Athletic Development model. Students create effective presentations to act as catalysts for change in the way Canadians view physical literacy. Emphasis is placed on the planning, delivery and assessment of fundamental movement skills acquisition plans based on the models reviewed in the course.
SRM-6303
Sports Event Capstone Project II
This course has been designed to enable students to deliver a college community-based sports league and or major tournament. As the second of two capstone courses, emphasis is placed on the delivery and management of a sports league and or major tournament. Students expand on their learning observations and specific feedback from related courses within the program and apply those lessons within the management of their event. A complete assessment, including recommendations for the future deliveries is completed by the students, at the end of the event. Upon course completion students will have a portfolio of work demonstrating the various strategies implemented during the running a sporting event.
PHL-1253
Ethical Leadership & Critical Decision Making
This interdisciplinary course combines insights from the field of business with social psychology and applied ethics to challenge students with an introspective look at some of today's most important ethical dilemmas. Students in PHL-1253 learn that the ethical standards employed by businesses and corporations ultimately concern the quality of human behaviours in those organizations. Human behaviour evolves from many influences: our past relationships, the ways we think and feel, how we respond to pressures in various social contexts, and how we deliberate in our daily thoughts and actions. Each of these influences is intimately involved with the quality of our ethical decision making.
--- OR ---
MKT-3353
Integrated Marketing Communications
In today's marketing world, there are more advertising contact points and specialized media competing for consumer's attention than ever before. To effectively break through the clutter, companies need to use a well-coordinated approach to selecting different promotional methods to differentiate their communication and present a consistent message to target audiences. This course introduces students to the concept of integrated marketing communications (IMC); a strategic planning process that helps companies identify the most appropriate and effective methods for communicating and building relationships with consumers. Students will learn the essential components of an IMC plan, including how to integrate advertising, sales promotions, public relations, direct marketing and digital media to maximize the impact of communications. Students will utilize this knowledge to build their own comprehensive marketing communications plan for a selected product or service.
--- OR ---
SCU-1603
Fundamentals of Entrepreneurship
FUNdamentals of Entrepreneurship is a gamified business simulation where students assume the role of an entrepreneur pursuing their passion of selling clothing online and in their retail store. The player subcribes to the guidance of a business coach and will build a successful venture in a virtual neighbourhood. The player can upgrade their store and operations by completed learning modules and testing. Through self-paced gameplay, students learn important concepts from Finance, Human Resources, Marketing, Health and Safety, Risk Management and more. In the process, they acquire the skills to effectively run a company as they upgrade their operation by completing learning modules and quizzes. Each student has a unique playing experience via ingame customizations, such as avatar creation, and store design. All content is contained within the game - no textbook is required. Students who have successfully completed MAN-1183 are not eligible to take this course.
--- OR ---
CPL-2003
Work Term (Part-Time - 12 hrs/wk)
Co-operative education provides students with the opportunity to apply classroom learning to the workplace, undertake career sampling and gain valuable work experience that may assist students in leveraging employment after graduation. For further information regarding co-op, please refer to: https://www.lambtoncollege.ca/student-supports/co- ops-placements
After Graduation
Employment Opportunities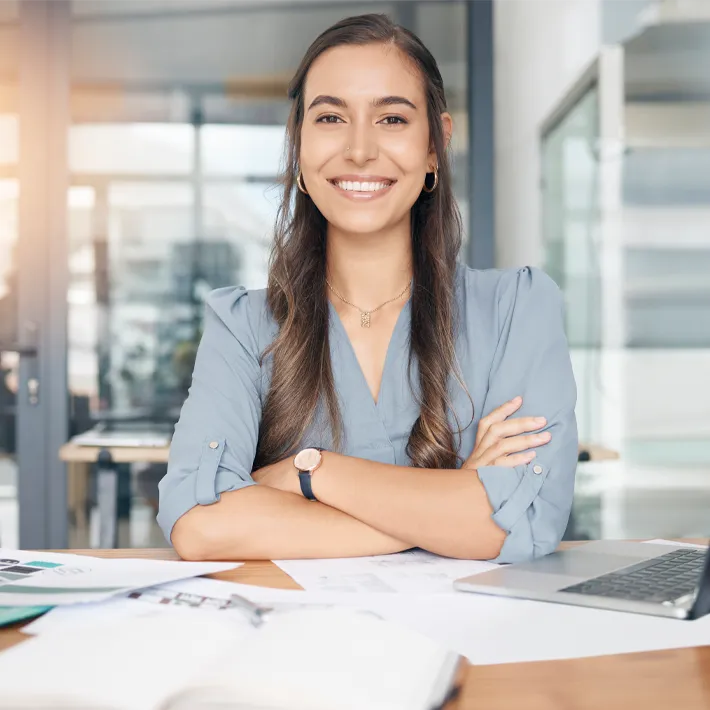 Our graduates pursue careers in the public, private, and commercial sectors of the sport and recreation industry. Some of their titles could be, facility and program managers, sports marketing and sales representatives, athletic directors, league administrators, special event managers, fitness and recreation program leaders, equipment and sporting goods representatives, health promoters, educators, and entrepreneurs.
Pathways
Transfer to Programs within Ontario
We've worked with Ontario colleges to provide the following transfer opportunities:
University of Windsor
Bachelor of Human Kinetics (Sports Management & Leadership major) - transfer into Year 3 after graduating with a minimum cumulative average of 75%
Want to see more Ontario transfers? Visit ONTransfer.ca.
Transfer to Programs outside of Ontario
Internship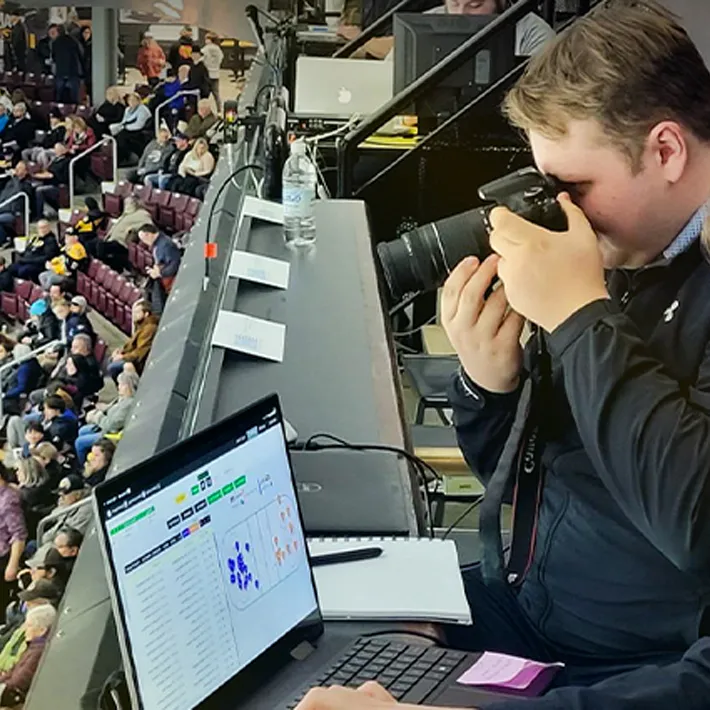 Multiple programs benefit from this partnership with the Sarnia Sting.

Sarnia Sting Partnership
Lambton College and the Sarnia Sting have formed a partnership to enhance experiential learning opportunities for students. The Sting organization offers various opportunities for students including social media content creators, statisticians, video board operator, working with trainer or equipment manager, scouting, game day operations, and assisting with business operations.

More Information
Community Connections are Important
Students in this program are always encouraged to become involved in other events and activities at Lambton College and in the Sarnia community. This increases your industry network and allows you to gain valuable experience and further develop your skills. Opportunities may include:
Planning and delivering community events and fundraisers
Volunteering at sporting events and tournaments
Participating in Lion's Mind or Enactus or any other other group or club offered at Lambton College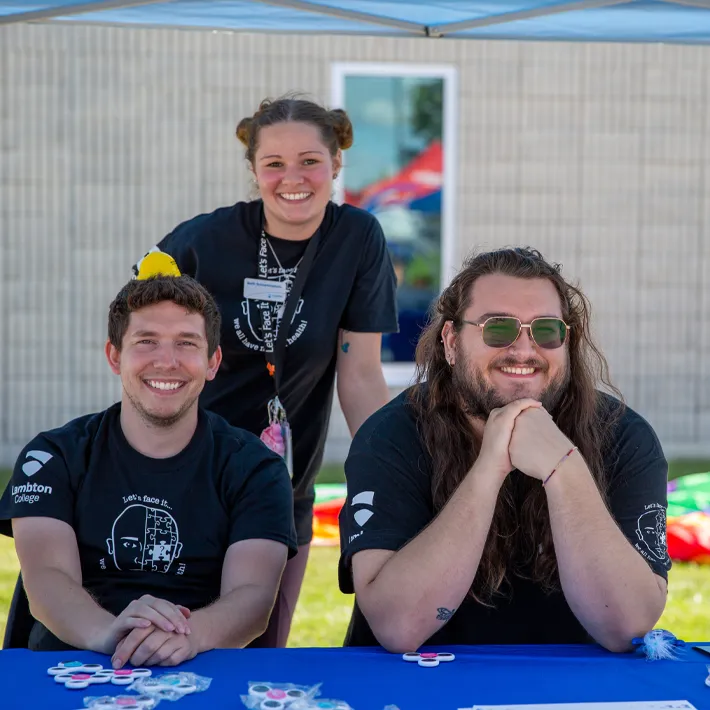 Connecting with the community.

Technology Requirements
It is recommended that students purchase a laptop with a Windows operating system.
Internet Speed Requirements
For best performance for students learning remotely, an internet connection with a minimum of 40 Mbps download and 10 Mbps upload speed is recommended in order to effectively use video conferencing and remote lecture delivery software as well as, other online resources remotely. Due to the large area over which students may be dispersed, we are unable to recommend a specific provider, so you will need to inquire around your area to find one that best suits your needs.
Minimum Laptop Requirements
In order to access the internet and virtually-delivered software and courseware, student laptops should include the following at a minimum. By meeting the following specifications, students will be equipped to access software and courseware on their laptop through the internet:
Intel i3 Processor or equivalent
4 GB of RAM or more
100 GB HDD or more
HD Graphics
Webcam with a microphone
Wireless 802.11n/ac 5ghz capable
Windows Operating System (Windows 10)
Software
To ensure students are getting the most our of their classroom experience, some software will be required.
Lambton College has made this software easily accessible online. Students can leverage our Microsoft Office 365 software packages and services. In addition, much of the software you require for your courses will be available on demand for use on any device - on or off campus.