Two-Year Co-op
Ontario College Diploma
SEP
Open
JAN
Open
MAY
Open
Overview
Discover an industry built for leaders with business savvy and an ability to create exceptional experiences that are socially responsible, sustainable, and inclusive.
Engage in a program and industry where people are the heart. Leadership, cultural intelligence, and a managerial approach to business operations are areas explored. Passion for creativity, flexibility, ability to lead others in business environments ensures graduates are prepared to advance their careers in this dynamic industry.
Trained professionals enjoy career success creating experiences for corporate and entrepreneurial tourism organizations including destination marketing organizations, world class hotels and resorts, tourism attractions, entertainment venues, gaming organizations, and all businesses that value the customer experience.
Where Collaboration Fosters Success

Paid Co-op Work Experience
Our extended co-op work term during summer tourism season allows students to earn while they learn.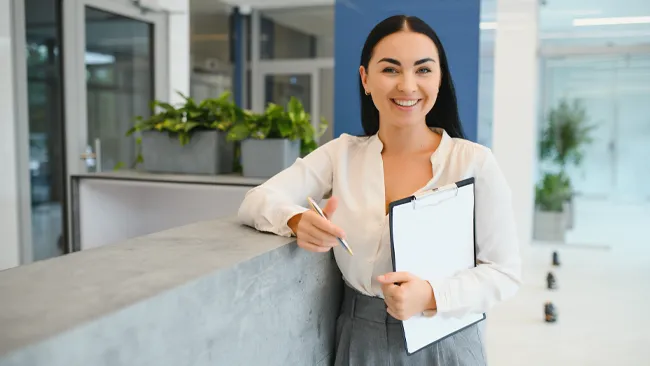 Industry Certifications
As part of the curriculum, students receive industry recognized certifications - learn more by visiting our After Graduation tab.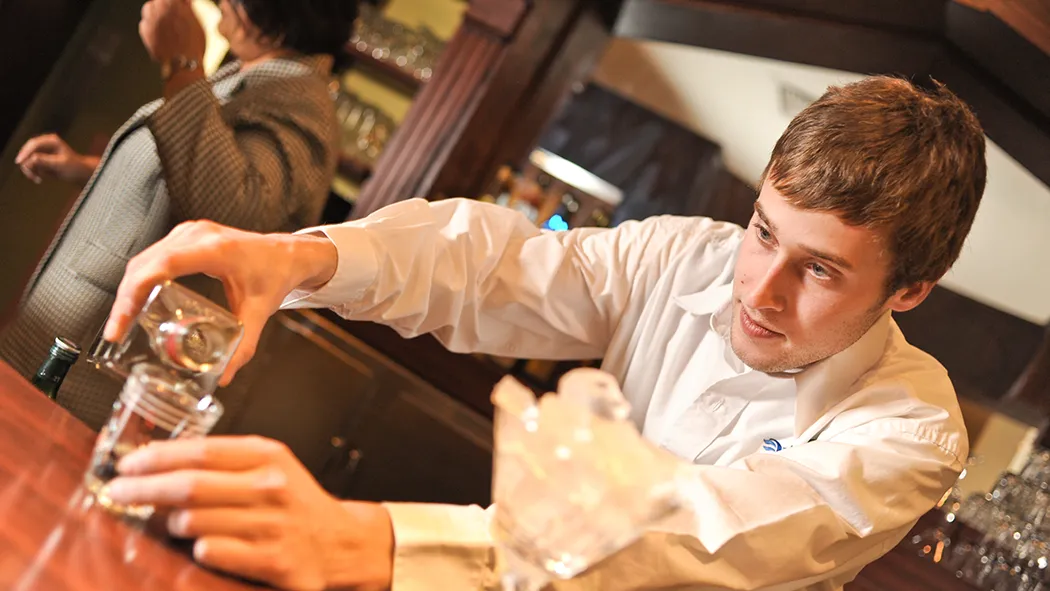 Simulated Learning
Hands-on learning is achieved through simulated hotel property management systems, entrepreneurial operations, and digital marketing communications.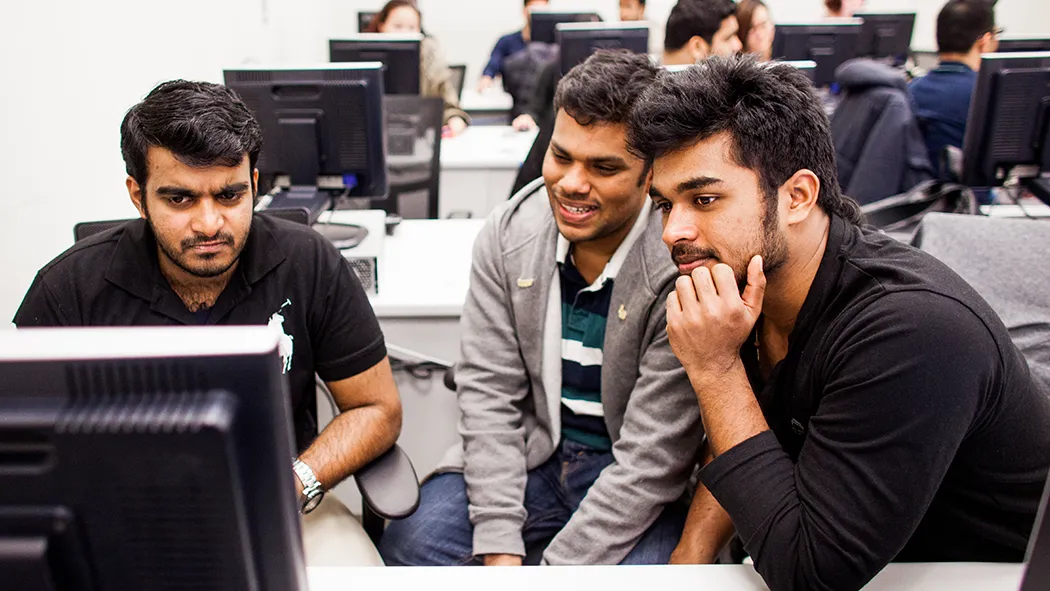 Project-Based Learning
Students develop their networking and leadership skills while working in teams. Examples include planning a four-day Canadian getaway, creating marketing plans debating tourism trends, and planning a fundraising event.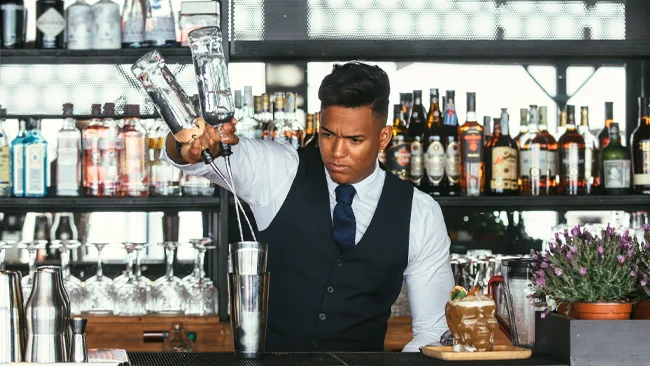 Admission Requirements
O.S.S.D. or equivalent with:
---
Mature Student Assessment for this program is available in the subject of English for the purpose of demonstrating proficiency in this required admission subject. For all other admission requirements, applicants must complete the required course(s) as listed above. For more information, please contact
counselling@lambtoncollege.ca
. Review the
Mature Student Admission process
.
Academic admission requirements can be obtained through
Academic Upgrading
and the Pre-Programs at Lambton College.
Our Approach to Tourism Management

Students in this program are exposed to real-world learning through a variety of ways during their time at Lambton College.
16 Months to Credential
A unique, continuous learning approach combines three academic terms with co-operative work term with no breaks.
Student Centred Curriculum
Active, engaging, and applied learning opportunities.
Transferable Skills Development
Acquire business skills that open doors to all areas of the tourism industry and beyond.
Leadership & Cultural Intelligence
Enhance abilities to build relationships and lead others.
Decision Making Foundation
Explore solutions that are socially responsible, environmentally sustainable, and ethical.
Hear why you'll LOVE this program
Costs
Year 1

$4,600.94

Year 2

$2,373.80
---
Please Note: These fees apply to the 2023-2024 academic year and are subject to change. Fees do not include books (unless specifically noted), supplies or living costs.
Additional Fees
Uniform

$150.00

Simulations & Access Codes

$230.00

Experiential Learning

$200.00

Textbooks - Term 1

$115.00

Textbooks - Term 4

$210.00
Technology Requirements
In order to keep pace with the requirements of each and every course in your program, Lambton College requires that each student have access to a laptop while studying at our college.
Courses
HCL-1003
Tourism Foundations
Explore the range of operations, career opportunities and the interrelationship among the sectors of the Tourism Industry. This course is designed to develop a foundation of concepts and vocabulary for use in future courses and a lens that is consistent with the United Nations' Sustainable Development Goals (SDGs).
HCL-1204
Leadership Development
Build a strategy for personal growth and development of leadership abilities through reflection of personal values, behaviours, and contributions to teams. Equity, diversity, and inclusion (EDI) discussions provide the framework for building successful hospitality workplace cultures, setting self-leadership goals, and contributing to successful teams.
HCL-1303
Tourism Technology
Learn and apply computer skills needed by the tourism professional including information management and collaboration. Microsoft application skill development includes Excel, Word, Powerpoint, OneDrive, and Teams.
HCL-1403
Food & Beverage Operations
Develop the skills, knowledge and abilities required for professional food and beverage service. Restaurant operations, service standards, dietary requirements, mixology, and cost control are explored in theoretical discussions and practical application.
HCL-1501
Industry Certifications
Earn TrainCan Inc's nationally recognized safe food handling, Smart Serve Ontario's safe beverage service, WHMIS, AODA customer service training, and OHSA worker and supervisor certifications. This course takes a modular approach to industry requirements to ensure the foundation has been set for working in industry during the co-operative work term and upon graduation.
COM-1113
Workplace Communications
This course focuses on skills required in any organization or position: writing business documents, responding to realistic scenarios, and speaking in an organized and vibrant manner. Students will practice professional and inclusive communications skills by producing, revising, and editing short business documents and engaging in verbal interactions and presentations.
JSS-1001
Job Search & Success
This course provides student with skills and knowledge to help support their career search and succeed in the workplace. Students align their personal skill set and goals to guide them on their career paths. They will learn how to effectively conduct a job search, build a professional and well-tailored resume and cover letter, and develop and practice interview techniques. Students will also develop their personal brand to help support effective career networking and aid in their job search. Teamwork and collaboration in the workplace are also discussed. Self-reflection is used to inspire insight and support their professional career journey.
HCL-2003
Financial Control
Manage and operate successful hospitality and tourism enterprises by gaining a solid understanding of financial management. Preparation and interpretation of financial statements and key performance indicators are some of the skills developed to maximize profitability of operations.
HCL-2103
Tourism Marketing
Explore the unique philosophies associated with the marketing of tourism products and experiences. Discussions include the extended marketing mix for services, target market research, e-marketing, and the application of relationship management strategies.
HCL-2303
Hotel Operations
Approach corporate and entrepreneurial lodging operations from a departmental perspective. Discussions will encompass standard operating procedures, best practices, trends and legal considerations that ensure overall guest satisfaction and revenue maximization. A cloud-based property management system is used as a means of exploring hotel organization, front office procedures, rate structures, reporting, communication and the use of technology in lodging properties.
HCL-3203
Human Resources
Gain the skills necessary to execute each stage of the employment process with a focus on attracting, developing, and retaining customer-focused tourism professionals. An exploration of Canadian employment law and the United Nations' Sustainable Development Goals (SDGs) will serve as a pathway to equity, diversity, and inclusion in the workplace.
HCL-3403
Tourism Trends
Go beyond traditional tourism to explore sustainable and responsible tourism products and their target audiences. An exploration of community and environmental impacts of various tourism types leads to discussions on how tourism operations contribute to Truth and Reconciliation and the United Nations' Sustainable Development Goals (SDGs).
GED-XXX3
General Education Electives (select 2)
CPL-1049
Co-op Work Term
Co-operative education provides students with the opportunity to apply classroom learning to the workplace, undertake career sampling and gain valuable work experience that may assist students in leveraging employment after graduation. For further information regarding co-op, please refer to: https://www.lambtoncollege.ca/co-op_and_career/
HCL-3003
Events, Meetings & Conferences
Study the diverse components and concepts of planning and coordinating Meetings, Expositions, Events, and Conventions (MEEC). Strategic planning, project, risk and financial management, marketing, and site management are examined. Learners will have opportunities to develop skills, knowledge and abilities required of an event planner.
HCL-3103
Marketing Communications
Promotion of an experienced based business is a key to success in the tourism and hospitality industry. An exploration of traditional and digital approaches to marketing communications will provide a framework for developing effective promotional strategies for a tourism enterprise. Learners will assess and develop promotional tools that contribute to an Integrated Marketing Communications (IMC) campaign.
HCL-3504
Cost Management
Consider the complexities of controlling resources within the hospitality operation to maximize profit levels. Apply the necessary principles related to the control process and operating control cycle including the application of costing tools. Learners will have the opportunity to earn professional certification from the AHLEI.
HCL-3603
Operations Management
Apply a managerial approach to problem solving in a variety of tourism operations through a modular approach to restaurant, hotel/resort, and gaming operations. Decision making considerations include balancing profits with environmental and socio-economic sustainability, and EDI (economic, diversity, and inclusion) priorities.
HCL-4103
Organizational Leadership
Today's competitive business world demands strong organizational leadership and effective supervisory skills. This course focuses on skills required to create a productive work climate through employee engagement, training, and development strategies.
HCL-4303
Entrepreneurship in Tourism
Develop an entrepreneurial spirit by running your own simulated small business. Students are challenged to use social entrepreneurship as a guide to business plan development, execution, and assessment by applying prior learning in finance, marketing, human resources, and management.
GED-XXX3
General Education Elective
Co-op Eligibility & WIL Project Fee
In order to be eligible to secure an approved full-time co-op work term (CPL-1049), students must have a GPA of 2.0 or greater and complete all the co-op eligibility requirements. Failing to do so will require students to enroll in CPL-5559 WIL Project at an additional cost.
After Graduation
Employment Opportunities
Tourism and hospitality industry professionals are in global demand. Some of the employers of our graduates include: Tourism Sarnia-Lambton, Fairmont Hotels & Resorts, Intercontinental Hotels & Resorts, Hyatt Hotels Corporation, Marriott Hotels & Resorts, Gateway Entertainment, and Spirit Ridge at Nkmip Resort. Graduates also find employment at Inns, Adventure Tourism, Food & Beverage companies, retail and entrepreneurial ventures.
Accreditations & Certifications
Nationally Recognized Certifications
Students in the Hospitality program will be given the opportunity to achieve these nationally recognized certifications:
SmartServe Ontario
TrainCan Food Safety Service
American Hotel & Lodging Educational Institute (AHLEI) - Planning and Control for Food and Beverage Operations
Workplace Hazardous Materials Information System (WHMIS 2015)
Accessibility for Ontarians with Disabilities Act (AODA) Customer Service Standard Training
Pathways
Transfer to Programs outside of Ontario
Institute of Technology Tralee - Ireland
Atlantic Technological University - Ireland
Co-op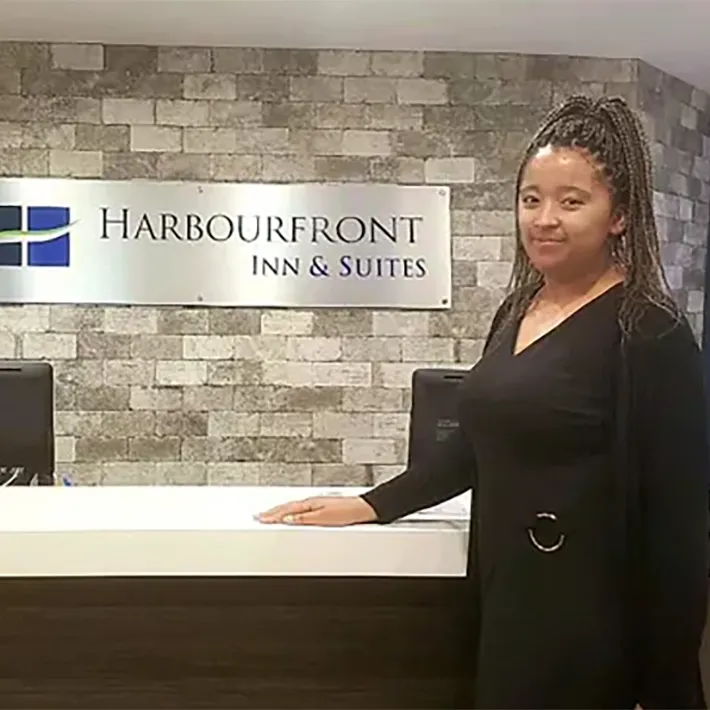 We make work experience the top priority for our students

Details
The key to successful skill development is the opportunity for real world application of learning. Students are encouraged to work part-time in industry during academic terms. Our extended co-op work term that runs from the beginning of May until the second week of September, makes our students more attractive to employers by being available through Labour Day weekend
Co-op work term employment is paid.
On campus career counselling and recruitment opportunities available.
100% of eligible students found industry specific co-operative work experiences across Canada.
In addition to delivering experiences, co-op provides opportunities for students to participate in tourism experiences and encapsulates "experiential learning."
Placement Types
Student positions during co-op could include:
Hotel placements with Guest Services, Housekeeping, Tour Desk Operator, Night Auditor
Food & Beverage opportunities at corporate, franchise, and entrepreneurial outlets
Attractions including casinos, boat tours, wineries, and more.
Students on Co-op Placements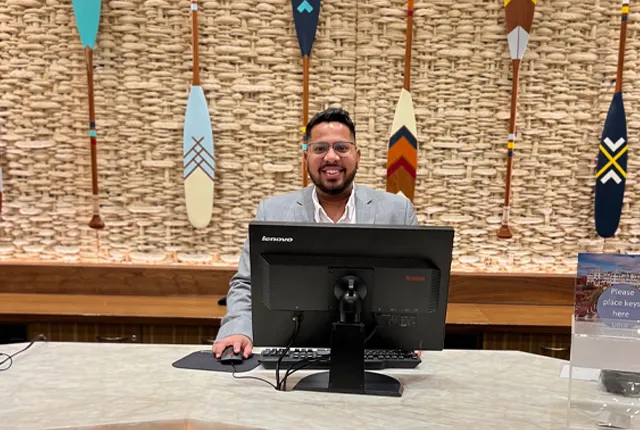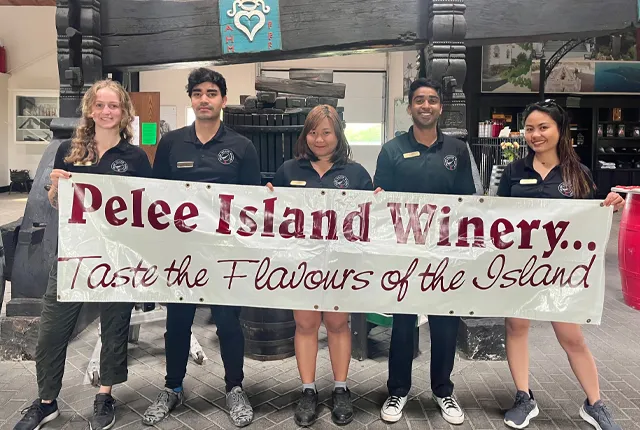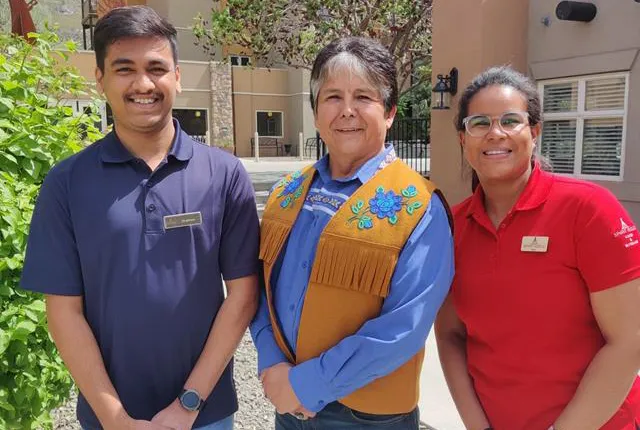 More Information
Student Responsibilities
Course and program delivery schedules are proposed and subject to change for each intake.
Students are required to bring their own laptop with wireless capability.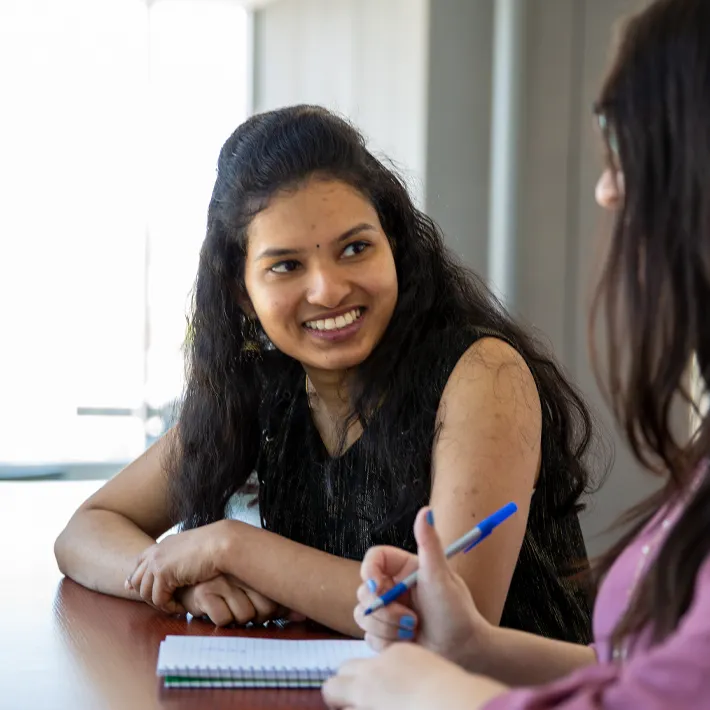 Set yourself up for success!

Laptop Requirements
It is recommended that students purchase a laptop with a Windows operating system.
Internet Speed Requirements
For best performance for students learning remotely, an internet connection with a minimum of 40 Mbps download and 10 Mbps upload speed is recommended in order to effectively use video conferencing and remote lecture deliver software as well as, other online resources remotely. Due to the large area over which students may be dispersed, we are unable to recommend a specific provider, so you will need to inquire around your area to find one that best suits your needs.
Minimum Laptop Requirements
In order to access the internet and virtually-delivered software and courseware, student laptops should include the following at a minimum. By meeting the following specifications, students will be equipped to access software and courseware on their laptop through the internet:
Intel i3 Processor or equivalent
4 GB of RAM or more
100 GB HDD or more
HD Graphics
Webcam with a microphone
Wireless 802.11n/ac 5ghz capable
Windows Operating System (Windows 10)
Software
To ensure students are getting the most out of their classroom experience, some software will be required.
Lambton College has made this software easily accessible online. Students can leverage our Microsoft Office 365 software packages and services. In addition, much of the software you require for your courses will be available on demand for use on any device – on or off campus.