One-Year
Ontario College Certificate
Jan
Closed
May
Closed
Sep
Open
Overview
Welding is the common core into all trades. Requiring precise hand skills and dedication, welding can be used for all measures of demand.
Help build the world! Welding and fabrication are used everywhere you look. The building you are in was erected by an ironworker; the piping that drains the sink water was installed by a plumber; the temperature and circulation in the room was done by a heating, ventilation, and air conditioning mechanic; the door frames installed by a carpenter.
Everywhere you look, some form of welding and fabrication was done by a tradesperson. Welding is the best common core for anyone trying out a hands-on trade. Welding can be done in residential, commercial, production, agriculture, and most forms of industry. This program gives you the best 28-week experience into the broad options that welding can amaze you with.
The skills and knowledge gained from this program will help students meet the necessary requirements to obtain placement in either union or non-union jobs.
Students perform welding and cutting on carbon steel using shielded metal arc welding (SMAW), gas metal arc welding (GMAW), flux cored arc welding (FCAW), metal cored arc welding (MCAW), gas tungsten arc welding (GTAW), oxy-fuel welding and cutting (OFW/OFC), plasma arc cutting (PAC), and carbon arc cutting with air/gouging (CAC-A). They gain knowledge of processes like brazing (B), braze welding (BW), soldering (S), and learn about stainless steel (SS) and aluminum (AI). Students work with augmented reality welding simulators, learn about rigging, hoisting, and knots. Students are also introduced into the workplace hazardous materials information system (WHMIS) and basic first aid.

Admission Requirements
O.S.S.D. or equivalent with:
---
Mature Student Assessment for this program is available in the subject of English for the purpose of demonstrating proficiency in this required admission subject. For all other admission requirements, applicants must complete the required course(s) as listed above. For more information, please contact
counselling@lambtoncollege.ca
. Review the
Mature Student Admission process
.
Academic admission requirements can be obtained through
Academic Upgrading
and the Pre-Programs at Lambton College.
Women in Technology & Trades

Female students, alumni, staff, and faculty of the technology and trades programs at Lambton College meet once a month to:
Network and support each other

Share experiences

Build a sense of community
Each year, the group attends a final retreat at Camp Ak-O-Mak. Learn more by emailing Nikki Noble or Erin Soeder.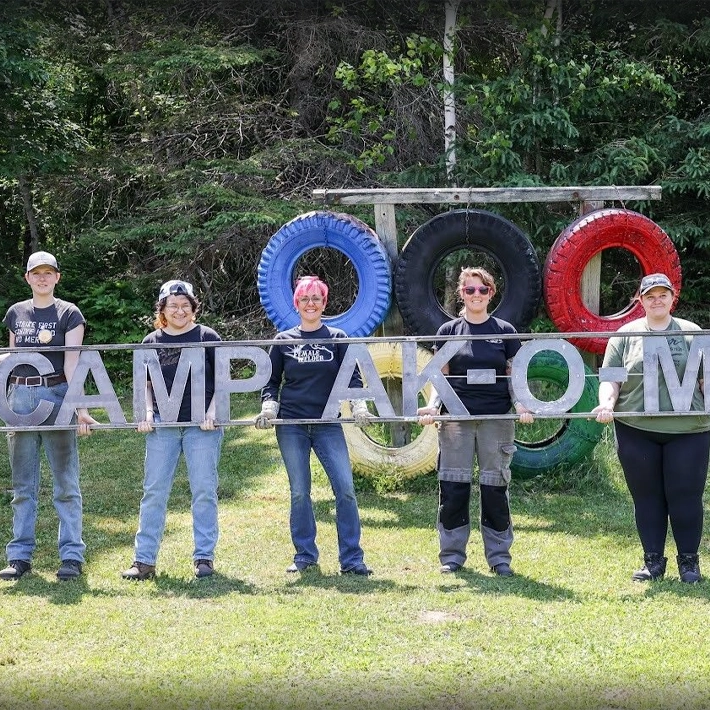 Costs
---
Please Note: These fees apply to the 2023-2024 academic year and are subject to change. Fees do not include books (unless specifically noted), supplies or living costs.
Additional Fees
Welding Kit

$400.00

Steel Toed CSA Boots

$100.00

Boot Cut Jeans

$30.00

Book for Winter Term

$175.00

Welding Tests (CWB, TSSA)

$1,004.00
*Welding Kit Includes
The campus shop sells a kit that includes the following items:
Duffel Bag
Notebook and pen
Fire Resistant Welding Jacket with Leather Sleeves
Flip up Helmet with Auto Darkening Lenses
Welding Gloves (2 pair - light and heavy)
CSA Safety Glasses
Welding Cap
Reflective Heat Pad
Extra Clear Lenses
Voucher for Discounted Safety Boots - purchased offsite
Technology Requirements
In order to keep pace with the requirements of each and every course in your program, Lambton College requires that each student have access to a laptop while studying at our college.
Labs & Equipment
Welding Shop
Students are provided with a station that has a multi-process welding machine, hand and power tools, cutting equipment, large tables, jigs, material, and a variety of specialty equipment.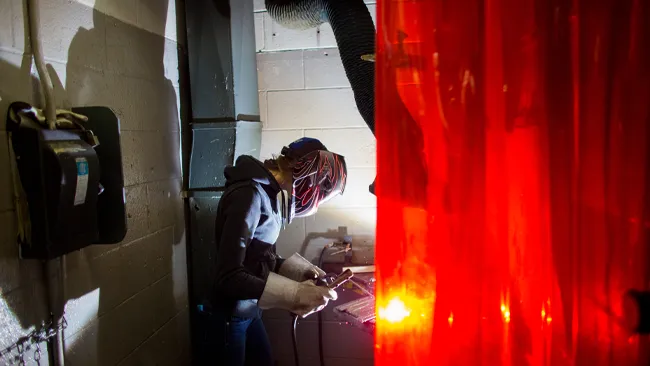 Courses
WEL-1001
Welding Theory I
In this course, students review and develop their knowledge in welding safety, basic first aid, WHMIS, shielded metal arc welding equipment/electrodes, soldering, brazing, braze welding, and oxy-fuel welding. Upon successful completion, the student will be able to describe the functions and controls of welding power sources in accordance with government safety regulations, manufacturer's recommendations and approved industry standards.
WEL-1016
Manual Welding Processes I
This course is designed to deliver the technical knowledge and techniques for the beginner in Shielded Metal Arc Welding (SMAW) process and basic Oxy-fuel Welding and Cutting (OFW/OFC) process. Shop safety will be an essential role and will focus skills towards continuing onto WEL-2027, Practical Weld Processes II. Upon successful completion of the course, the student will be able to perform fillet and groove welding with SMAW and OFW in accordance with government safety regulations, manufacturer's recommendations and approved industry standards with a focus of meeting or exceeding the testing requirements of CSA W47-1-2FG position regarding weld quality.
WEL-1024
Fitting & Layout I
In this course, students use blueprints to accurately layout and fit projects using metal. Students develop their knowledge of procedures involved in assembling projects with multiple parts and expand their skills through the use of various tools. Upon successful completion, students will be able to perform safe set-up and shut down operation and correction of common cutting faults in Oxy-fuel Cutting, Plasma Arc cutting and Carbon Arc Cutting with Air (gouging) following industry standards.
WEL-1134
Semi-Automatic Welding Processes I
In this course, students develop basic welding skills with the semi-automatic welding process including Gas Metal Arc Welding (GMAW), Flux Cored Arc Welding (FCAW), and Metal Cored Arc Welding (MCAW). Students will produce fillet welds in the 1-3 (flat, horizontal and vertical) positions. Upon successful completion, the student is able to describe the fundamentals, construction features, selection process and consumables of the semi-automatic process.
MEC-1713
Metallurgy
This course is designed to provide the student with an introduction to welding metallurgy. The areas of study will include the structure and properties of plain carbon steel including testing for mechanical properties. The student will be taught basic metallography which includes specimen preparation and examination. In addition the student will study thermal equilibrium diagrams, isothermal transformation diagrams, the iron-carbon diagram and the effect of heat input upon a weldment. This course is designed to give the student an understanding of weld metallurgy. The knowledge obtained is considered as background for further metallurgy courses at Conestoga College for those students pursing the second year of the Welding Techniques Program. For other students, the course is designed to give a basic background of welding metallurgy in preparation as a welder.
MTH-1503
Applied Mathematics
This course gives the learner the basic mathematical concepts and applications needed for subsequent technical courses. The learner uses arithmetic, algebra, geometry and trigonometry to solve technical problems.
COM-1113
Workplace Communications
This course focuses on skills required in any organization or position: writing business documents, responding to realistic scenarios, and speaking in an organized and vibrant manner. Students will practice professional and inclusive communications skills by producing, revising, and editing short business documents and engaging in verbal interactions and presentations.
WEL-2021
Welding Theory II
In this course, students will continuing reviewing more in depth of welding processes. Gaining basic knowledge in Submerged Arc Welding (SAW), and looking into destructive and non destructive measures of inspection and distortion. By the end of this course, students should have a well rounded understanding of welding as a whole to gain entry level job opportunities and will be tested on competency.
WEL-2026
Manual Welding Processes II
This course is a continuation of the WEL-1016, Welding Processes I. Students will learn the upgrade positions of Vertical and Overhead welding in fillet and groove joints. It is expected in this course that the students will apply their basic fundamental knowledge to enhance their welding skills. It is also expected that the students will be ready to qualify for their CWB tickets up to the "all position plate" depending on how they apply themselves. (Additional fees are required for testing.)
WEL-2404
Advanced Welding Processes
In this course, students review and develop their knowledge in welding safety shielded metal arc welding, semi-automatic welding, and oxy-fuel cutting preparation of material using advanced welding approaches. Students will produce welds within the 1-4G positions. Upon successful completion, the student will be able to understand to weld without backing plates (open root), basic stainless and aluminum welding, rigging, knots, and hand signals in accordance with government safety regulations, manufacturer's recommendations and approved industry standards.
WEL-2114
GTAW Processes
This course develops the student with knowledge and manipulative skills in welding common joints in the flat, horizontal and vertical position using the Gas Tungsten Arc Welding (GTAW) process. Pipe welding using the GTAW process will also be introduced.
BPR-1513
Blueprint Interpretation & Drawing
This course develops the student's ability to communicate though weld engineered drawings and sketching. Welders require the ability to sketch, read, and interpret blueprint drawings. These skills are necessary in order to comply with drawing standards and specifications while welding and fabricating. Topics in this course include sketching orthographic and isometric views, dimensioning, the title block and drawing notes. In addition, section views, detail and assembly drawings will be examined including bill of materials. Structural steels shapes, and piping will be explored with respect to project drawings. Students will explore joint design and welding symbols to help interpret blueprints. By the end of the course, students should be able to read a welding blueprint.
JSS-1001
Job Search & Success
This course provides student with skills and knowledge to help support their career search and succeed in the workplace. Students align their personal skill set and goals to guide them on their career paths. They will learn how to effectively conduct a job search, build a professional and well-tailored resume and cover letter, and develop and practice interview techniques. Students will also develop their personal brand to help support effective career networking and aid in their job search. Teamwork and collaboration in the workplace are also discussed. Self-reflection is used to inspire insight and support their professional career journey.
GED-XXX3
General Education Elective
After Graduation
Employment Opportunities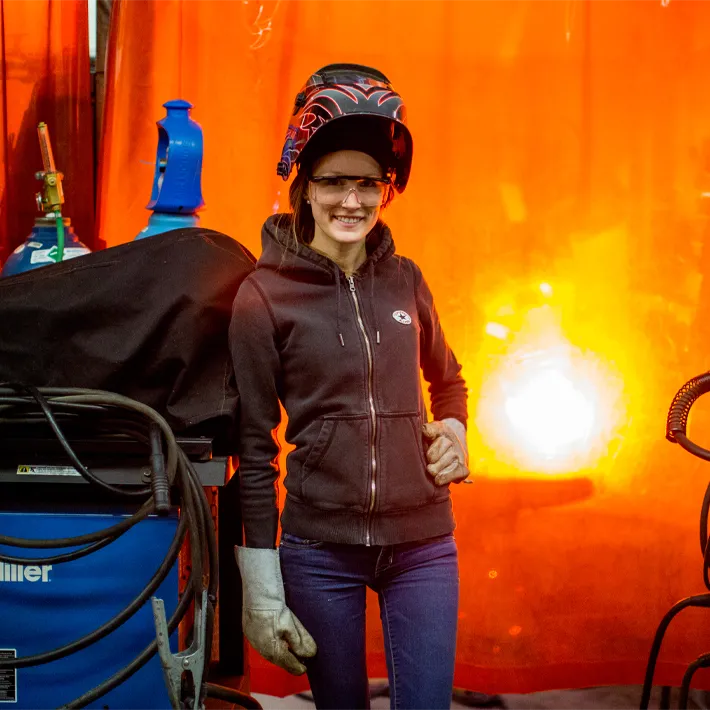 Successful students have the opportunity to branch out into many different career paths in the welding industry after completion of the program including union and non-union placements like: Welder, Welder-Fitter, Boilermaker, Pressure System Welder, Iron worker, Industrial Mechanic/Millwright, Pipe fitter, Steamfitter, Sheet Metal Worker, Fabricator, Maintenance Welder, Steel Artist, Robotic Welder Operator, Welding Inspector, Self-Employed Welder, and more. Some of these positions fall under different responsibilities within construction, service, and maintenance.
Please Note: Availability of jobs will depend upon the local economy.
Accreditations & Certifications
Canadian Welding Bureau
Students have an opportunity to challenge the Level I Welder 456A apprenticeship test on location after completion of the program (Students may also challenge Level II and III pending previous experience and credentials.) Students will be given the opportunity to challenge the Canadian Welding Bureau (CWB), Technical Standards & Safety Authority (TSSA), and in-house multiple process and position welding certification upon results. Students complete the program competent and ready for the workforce.
More Information
Skill Demands
As we want to ensure success, we strongly recommend students start the program with an updated eye exam from an optometrist. Hand skills can only be as detailed as the student can see. To ensure all the discontinuities are seen, students will need to see this as well in order to improve throughout the program.
Technology Requirements
It is recommended that students purchase a laptop with a Windows operating system.
Internet Speed Requirements
For best performance for students learning remotely, an internet connection with a minimum of 40 Mbps download and 10 Mbps upload speed is recommended in order to effectively use video conferencing and remote lecture delivery software as well as, other online resources remotely. Due to the large area over which students may be dispersed, we are unable to recommend a specific provider, so you will need to inquire around your area to find one that best suits your needs.
Minimum Laptop Requirements
In order to access the internet and virtually-delivered software and courseware, student laptops should include the following at a minimum. By meeting the following specifications, students will be equipped to access software and courseware on their laptop through the internet:
Intel i3 Processor or equivalent
4 GB of RAM or more
100 GB HDD or more
HD Graphics
Webcam with a microphone
Wireless 802.11n/ac 5ghz capable
Windows Operating System (Windows 10)
Software
To ensure students are getting the most our of their classroom experience, some software will be required.
Lambton College has made this software easily accessible online. Students can leverage our Microsoft Office 365 software packages and services. In addition, much of the software you require for your courses will be available on demand for use on any device - on or off campus.