Two-Year Co-op
Ontario College Diploma
SEP
Open
JAN
Open
MAY
Open
Overview
Occupational Health & Safety professionals work in every business and every industry creating safe work environments.
Many industries, ranging from construction and manufacturing to energy and health care are seeking specially trained workers to promote and enforce health and safety legislation and to ensure safe and healthy work environments.
Students can expect to become competent in understanding and applying health and safety skills like risk management, accident prevention and investigation, safety audits, work refusals, and safety management systems and much more.
Program curriculum guides students through scenario-based learning as well as fosters safety communication skills that are necessary in workplaces today.
Graduates will be comfortable entering the workforce and working to enhance strong safety cultures of companies and organizations across both public and private companies.
A Collaborative Approach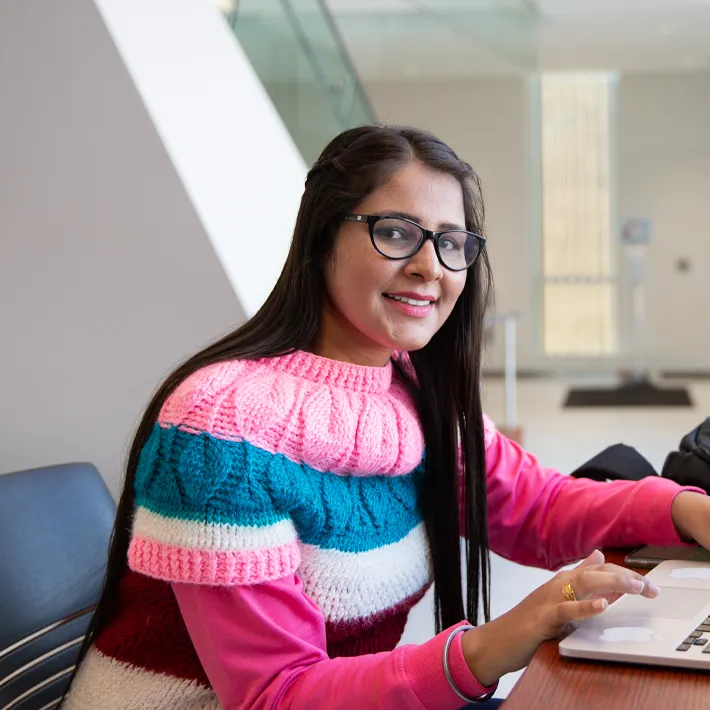 Core curriculum is shared between three colleges.

This program is delivered in partnership with Seneca and Cambrian Colleges. Students are taught by faculty from all three colleges and study alongside students from Cambrian, Seneca, and Lambton Colleges.
Core curriculum is shared by all three institutions which means a significant number of core courses will be delivered remotely through online platforms. Students are expected to have a device that is compatible with virtual classroom software and are expected to engage in live lectures.
Admission Requirements
O.S.S.D. or equivalent with:
Grade 12 English C or U
Grade 11 or 12 Biology C or U
-or-
Grade 11 or 12 Chemistry C or U
(both recommended, only one required)
---
Mature Student Assessment for this program is available in the subject of English for the purpose of demonstrating proficiency in this required admission subject. For all other admission requirements, applicants must complete the required course(s) as listed above. For more information, please contact
counselling@lambtoncollege.ca
. Review the
Mature Student Admission process
.
Academic admission requirements can be obtained through
Academic Upgrading
and the Pre-Technology & Trades (PTEC) program at Lambton College.
89.4%
of surveyed Occupations Health & Safety professionals had high levels of satisfaction with their careers.
~according to Board of Canadian Registered Safety Professionals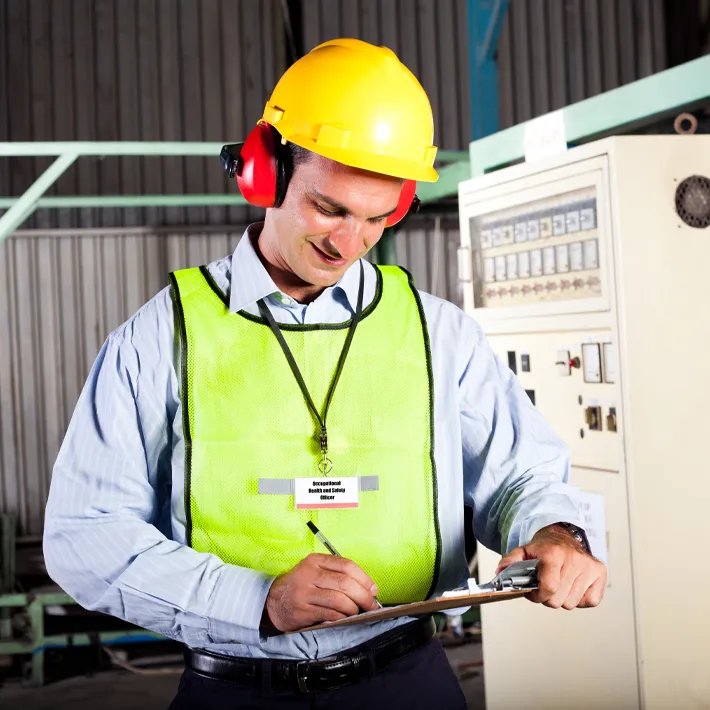 Set yourself up for success!

Costs
Year 1

$4,600.94

Year 2

$4,518.94
---
Please Note: These fees apply to the 2023-2024 academic year and are subject to change. Fees do not include books (unless specifically noted), supplies or living costs.
Additional Fees
Lab Coat

$40.00

Safety Shoes

$150.00

Safety Glasses

$10.00
Technology Requirements
In order to keep pace with the requirements of each and every course in your program, Lambton College requires that each student have access to a laptop while studying at our college.
Labs & Equipment
Chemistry Lab
Laboratory exercises complement theoretical concepts and develop good, safe, laboratory practices through hands-on activities and chemical experimentation.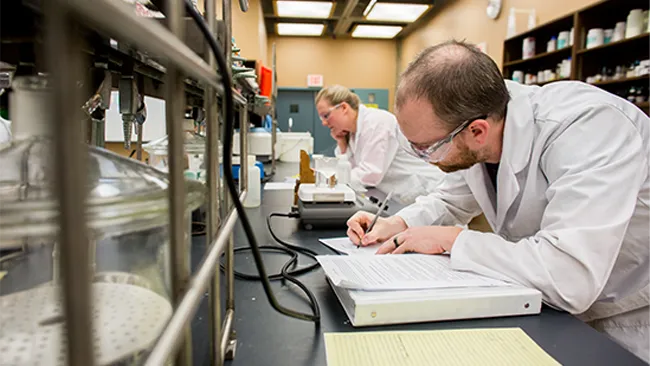 State-of-the-art Equipment
Students utilize Industrial Hygiene and Toxicology equipment aimed at teaching students how to measure noise and test for air pollutants.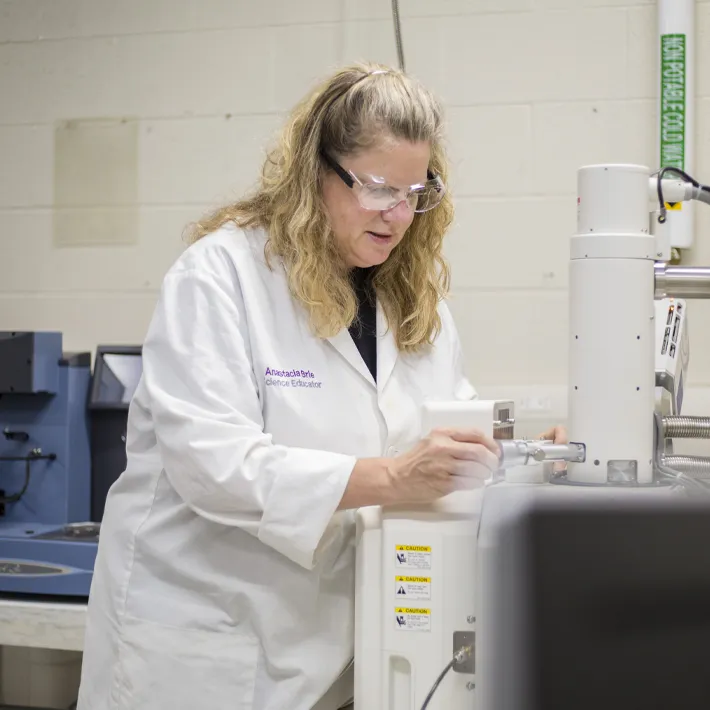 Courses
OHS-1023
Occupational Health & Safety
This course introduces participants to the broad and ever-changing field of occupational health and safety, an inherently technical subject area. The multiple dimensions of the various issues--technical, legislative, political, and personal--are a required part of the training for a professional in this field or for someone who is involved with this kind of operation. Major topic areas include the Occupational Health and Safety Act, WCB, WHMIS, transportation of dangerous goods, accident prevention and investigation, physical and biological agents, and the management of Occupational Health and Safety programs
COM-1013
Critical Thinking & Writing
In this writing course, students respond to current issues and news articles via various styles of paragraphs and essays. Students practice thinking critically and organize and hone their writing to ensure clarity and correctness in their messages. Students explore different perspectives, and through synthesis, analysis, and response, strive for clarity of message and diplomatic expression of opinion based on fact. One of the pillars of Lambton College is a commitment to sustainability and equity, diversity, and inclusion, including Indigenization of the curriculum; where appropriate, readings in this course will reflect this commitment. Critical Thinking and Writing lays the foundation for a subsequent research-writing course.
BUS-1203
Workplace Communications Applications & Analysis
In today's management and administration workplace, having strong computer skills is essential. This course provides students with resources and guidance to develop skills in Microsoft Office applications, focusing on three key areas: Word, Excel, and PowerPoint. While learning about these programs, students develop skills in time management, accountability, and their ability to follow direction.
CHM-1005
Basic Chemistry I
This course is intended to provide the student with an introduction to basic chemical principles and skills. Topics include classification of matter, physical and chemical changes, chemical nomenclature, writing balanced chemical equations, and gas laws. Students perform calculations of quantities of substances consumed and produced in chemical reactions in terms of mass, moles, and gas volumes. Laboratory exercises complement theoretical concepts and develop good, safe laboratory practices through hands on activities and chemical experimentation. This course prepares students for CHM 2004, Basic Chemistry II, in which concepts relating to organic chemistry and aqueous solutions are developed.
HRM-5003
Program Design, Development & Implementation
Students will learn to design, implement, manage and evaluate new and existing programs in the workplace. Students will learn how to review legislative requirements, processes, tools and equipment, collect and analyze data to design effective and functional programs to meet organizational needs. Students will learn methods to evaluate programs and present findings to assist in making informed decisions.
GED-XXX3
General Education Elective
OHS-2033
OHS Management Systems
Students are introduced to the basic concepts of health and safety management. It will introduce individual elements of the Occupational Health and Safety Management systems. Students will set health and safety priorities, develop management system plans, and negotiate health and safety requirements. This course follows the management system standards commonly applied in Canada.
OHS-3043
Health & Wellness
In this course students will focus on Health and Wellness promotion and prevention as integral parts of occupational health and safety. The relationship between work and the determinant of health will be presented. Students will examine workplace trends and observations as key drivers in the development of Workplace Wellness Programs. Students will be skilled in: identifying risk factors and hazards influencing the health, safety and well-being of individuals and organizations; conducting workplace health surveys; designing, promoting, implementing and evaluating wellness initiatives based on health promotion theory; and using a holistic and multidisciplinary approach in accordance with organizational policies.
BIO-1055
Introducton to Biology
This course is designed to introduce the student to basic human anatomy and physiology through the study of organ systems including the following: nervous, circulatory, respiratory, digestive and urinary. General organization of the body, cells, tissues, and organs will also be considered.
HIN-3303
Human Interaction
HIN 3303 offers the learner a practical lesson in working with others in all of life's situations, including family, friends, school and the workplace. It is imperative that we have acceptable and effective interaction skills. Students will study and exercise various workplace practices to ensure that they can be valuable contributors to their workplace environment. Teamwork and many other group dynamics will be studied and practiced.
PHL-1253
Ethical Leadership & Critical Decision Making
This interdisciplinary course combines insights from the field of business with social psychology and applied ethics to challenge students with an introspective look at some of today's most important ethical dilemmas. Students in PHL-1253 learn that the ethical standards employed by businesses and corporations ultimately concern the quality of human behaviours in those organizations. Human behaviour evolves from many influences: our past relationships, the ways we think and feel, how we respond to pressures in various social contexts, and how we deliberate in our daily thoughts and actions. Each of these influences is intimately involved with the quality of our ethical decision making.
JSS-1001
Job Search & Success
This course provides student with skills and knowledge to help support their career search and succeed in the workplace. Students align their personal skill set and goals to guide them on their career paths. They will learn how to effectively conduct a job search, build a professional and well-tailored resume and cover letter, and develop and practice interview techniques. Students will also develop their personal brand to help support effective career networking and aid in their job search. Teamwork and collaboration in the workplace are also discussed. Self-reflection is used to inspire insight and support their professional career journey.
GED-XXX3
General Education Elective
CPL-1049
Co-op Work Term
Co-operative education provides students with the opportunity to apply classroom learning to the workplace, undertake career sampling and gain valuable work experience that may assist students in leveraging employment after graduation. For further information regarding co-op, please refer to: https://www.lambtoncollege.ca/co-op_and_career/
OHS-2023
Risk Management
Students are introduced to the techniques and basic concepts of hazard management, recognition, evaluation, and control of health and safety hazards in the workplace. Risk management is an essential component of a properly functioning occupational health and safety program. Risk management principles, concepts and models. Explore critical considerations, including risk perception and tolerance as well as risk management strategies. Risk management principles, models and theories, risk management foundations; organizational risk management; risk assessment; conducting a risk survey; analyzing risk and setting priorities for action; incorporating risk management in organizational systems, policies and processes; and evaluating the success of risk mitigation strategies. Following this course, learners will be able to assess an organizations risk management program to determine if it is meeting organizational objectives and recommend strategies and techniques to plan, organize, and control activities in a way that minimizes risk and the effects of risk on the organization.
OHS-2043
Accident Prevention & Investigation
The history of accident prevention will be examined, and will concentrate on the principles of managing safety. This course examines proper accident investigation, accident reporting, audits, inspections, accident costs, safety committees, elimination of hazards and basic loss control principles. This course examines the techniques and procedures for the prevention, control, and investigation of workplace accidents, incidents and hazards (with an emphasis on the Province of Ontario).
OHS-2053
Disability Management
Exploration of key concepts leading to practices in integrated Disability Management will be learned by students. A multi-disciplinary approach to managing all forms of disability will be put forward based on sound best practice disability management techniques. The Workplace Safety and Insurance Act and how the compensation system operates, along with government legislation, Workplace Safety and Insurance Board (WSIB), Accessibility for Ontarians Disability Act and applicable regulations will be reviewed. Multiple models of disability management will be presented. The assessment, evaluation, and accommodation of various return to work processes will be undertaken, developed and implemented.
OHS-2113
Ergonomics
Ergonomics is the science that addresses human performance and well-being in relation to the tasks that are being completed, the equipment used, and the environment in which work is being completed. Students are introduced to the practice of ergonomics and the technical elements required when developing an ergonomics program to prevent occupational illness and injury by changing the design of work and workplaces. Building on a foundation of anatomy, physiology, biomechanics and information processing, the student will learn how to evaluate and apply human capabilities and limitations to the design of workplaces, work methods, and jobs positions for optimal safety, efficiency, productivity and comfort. This course will also cover ergonomic system design, task analysis, muscle use, anthropometry, workspace design, musculoskeletal disorders, shiftwork, organizational and psychosocial aspects of work.
HRM-3103
Employment Law
This scenario/case-based course will provide students with insight into the legal aspects of human resources management through the entire employment relationship. The focus of this course will be on current federal and provincial employment related legislation. Students will become familiar with specific areas of law and will apply learned concepts and terminology to address issues related to effective human resource management. Students will be introduced to content specific to workplace complaints and workplace investigations as this is an expanding area of responsibility for human resource professionals.
GED-XXX3
General Education Elective
OHS-3013
Emergency Planning & Management
Students will develop an understanding of various emergency plans/procedures, identifying roles and responsibilities in emergency plans. This course is specific to the Emergency Response field with a strong focus on fire prevention. Students will learn unique information concerning response to emergencies, how to manage them, drill preparation and preparedness.
OHS-3003
Industrial Hygiene & Toxicology
Students will be introduced to the historical background and basic concepts of occupational hygiene recognition, evaluation. Other topics include the control of health hazards in the workplace environment and to relate the role of the industrial hygienist to other professionals in the occupational health team, chemical, biological, physical and ergonomic stresses, and an in-depth examination of the American Conference of Governmental Industrial Hygienists (ACGIH) Threshold Limit Values (TLV) booklet.
OHS-3053
Operational Safety
Basic theoretical and operational knowledge of the hazards and techniques that may be encountered in the workplace are discussed. Students will identify hazards and safe operating procedures that include: Safeguard Systems, Personal Protective Equipment, Hazardous Energy, Materials Handling and Storage, Hoisting and Rigging Equipment, Powered Industrial Vehicles, Hand and Portable Power Tools, Woodworking Machinery, Welding and Cutting, Metalworking Machinery, Automated Systems or Processes, Confined Spaces, and Fall Protection.
OHS-3063
Introduction to Process Safety
Process safety refers to the prevention of unintentional releases of chemicals, energy, or other potentially dangerous materials (including steam) during the course of chemical processes that can have a serious effect to the plant and environment. Students will study how industrial processes can affect worker and environmental health and safety.
ENV-6114
Environmental Management
Leading-edge process operations are successful when the end product is produced safely and in an environmentally sound way. Modern technologists in the process industry are called on to carry out a wide range of tasks including environmental source control. This course is designed to develop a basic understanding of industrial process impact on environment, strategies of environmental protection as well as to appreciate responsibilities of process operators towards environment. The course emphasizes the importance of ecosystem concepts, societal demands, communication and environmental laws as they apply to chemical production facilities.
MAN-1163
Organizational Behaviour
This subject is an examination of the contemporary Canadian business environment including the organization, leadership and management decision process which influences the behaviour of individuals and groups. Increased global competition, technological change and the rising expectations of both employees and employers have underlined the need for improved and more effective leadership. This subject provides a better understanding of this process.
After Graduation
Employment Opportunities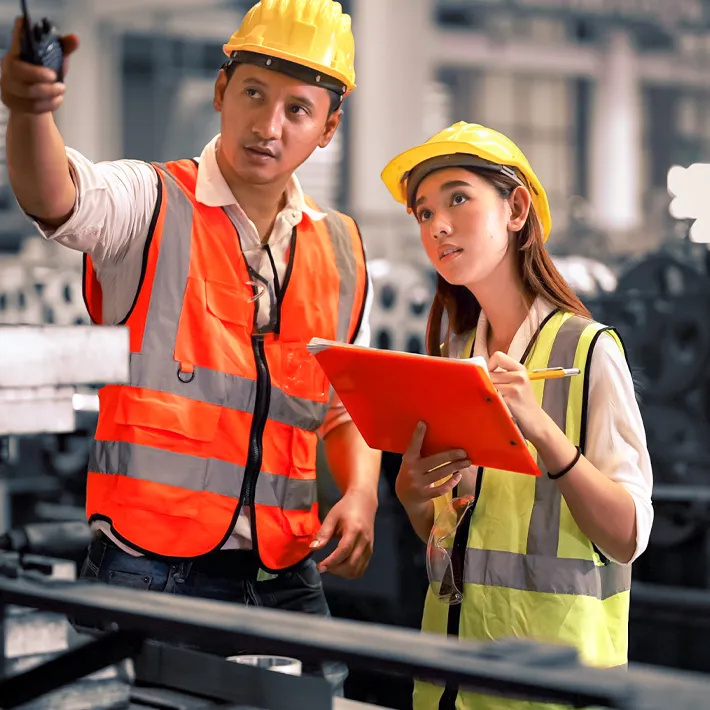 Graduates will be able to conduct risk assessments and hygiene tests to prevent hazards and harm to workers, property, the environment, and the general public. These graduates may find employment in a variety of industry sectors such as, safety inspection, auditing, risk management, emergency management, environmental management, and human resources management roles.
Pathways
Transfer to Programs within Ontario
We've worked with Ontario colleges to provide the following transfer opportunities:
Toronto Metropolitan University
Bachelor of Science in Occupational Health & Safety
Transfer Details
Graduates of the WSPP program at Lambton College must achieve a minimum cumuluative GPA of 3.0. Students receive a block credit of 18 courses and are offered advanced standing into the second year of this four-year degree program. Students will be required to complete 19 core courses and 3 liberal studies courses to complete the Bachelor of Science degree. This total of 22 courses complies with the 50% minimum residency requirement.
Want to see more Ontario transfers? Visit ONTransfer.ca.
Co-op
About Co-op
Students in this program have the opportunity to gain valuable work experience by applying classroom learning during co-op experiences.
Learn more about co-op terms and the roles and responsibilities of students and co-op advisors.
More Information
Laptop Requirements
It is recommended that students purchase a laptop with a Windows operating system.
Internet Speed Requirements
For best performance for students learning remotely, an internet connection with a minimum of 40 Mbps download and 10 Mbps upload speed is recommended in order to effectively use video conferencing and remote lecture deliver software as well as, other online resources remotely. Due to the large area over which students may be dispersed, we are unable to recommend a specific provider, so you will need to inquire around your area to find one that best suits your needs.
Minimum Laptop Requirements
In order to access the internet and virtually-delivered software and courseware, student laptops should include the following at a minimum. By meeting the following specifications, students will be equipped to access software and courseware on their laptop through the internet:
Intel i3 Processor or equivalent
4 GB of RAM or more
100 GB HDD or more
HD Graphics
Webcam with a microphone
Wireless 802.11n/ac 5ghz capable
Windows Operating System (Windows 10)
Software
To ensure students are getting the most out of their classroom experience, some software will be required.
Lambton College has made this software easily accessible online. Students can leverage our Microsoft Office 365 software packages and services. In addition, much of the software you require for your courses will be available on demand for use on any device – on or off campus.