Intakes & Application Dates
When applying to Lambton College as an international student, all applications must be submitted online using the Online Application. Applications are accepted for the following intakes:
Fall (September)

Maximum application period November 1 to April 30

Winter (January)

Maximum application period March 1 to August 31

Spring (May)

Maximum application period is July 1 to December 31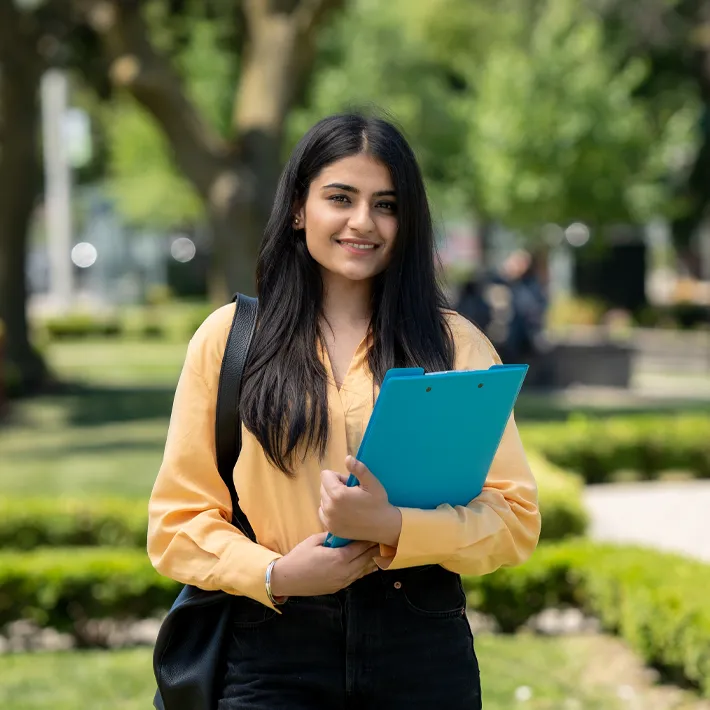 Application Reminder
Not all programs accept applications for all intakes - please review the individual program pages to see which intakes are offered. Admissions will close once the enrolment capacity is reached for each program. It is very uncommon for a program to remain open for the entire application period so we encourage prospective applicants to apply early.
The number of submitted applications regularly exceeds capacity. Admissions are highly competitive. Meeting the minimum admission requirements does not guarantee acceptance. If we cannot offer admission to a specific program, we may provide an alternate offer to a different - but closely related - program. Please take this into consideration before applying
Online Application Process
Applying on Your Own
Before beginning the online application process, please ensure you have electronic versions of:
Certified copies of high school and/or post-secondary transcripts, diplomas, and degrees
Proof of English Proficiency - IELTS or TEFL scores as per program admission requirements (Indian applicants can only submit IELTS scores)
A $150 CAD non-refundable and non-transferable application fee is payable by VISA or MasterCard. This payment is due at the time of application.
Things to Remember
When completing the online application, remember to use your name as it appears on your international passport.
All admission documents must be uploaded during the online application process. Only applications that are completed in full will be reviewed for admissions.
You will receive an email from Lambton College providing confirmation that your application has been received for assessment. Please allow at least 10 business days for an admissions response.
The admissions process is competitive and meeting the minimum academic requirements does not guarantee admission.
Application that were previously submitted through an agent of Lambton College will no be re-assessed and the application fee will not be refunded.
Applicants with an approved visa to study at a public educational institution within Ontario will be considered for admission. Lambton College does not accept transfer students from public Ontario educational institutions.
It is strongly recommended that international students make pre-payments for the approximate amount of the first year of tuition. This will help facilitate the process of obtaining a Canadian Study Permit.
Payments from Outside Canada
Lambton College has partnered with Western Union Business Solutions and Flywire to give international students and their families a fast, easy, and affordable way to pay fees in their own currency from a foreign bank.
Making a Payment
Visit the payment page and enter your information after you receive your offer letter
Select the items you wish to pay for and enter your payment amount in Canadian dollars
Select the payment option you would like to use and follow the instructions
Lambton College will post the Canadian dollar equivalent we receive to your student account. Please contact international@lambtoncollege.ca if you require further assistance.
Payments from Within Canada
Students paying from within Canada can use online bill payment options through their bank account by following these steps:
Log in to your bank account
Go to bill payments
Add Lambton College as a new Bill Payee
Use your 7-digit student number as your account number - don't include the C
Check Account Number
Your account number is required to deposit your payment to your student account. Check you've entered it correctly.
Online bill payment can take up to three business days to transfer to the College. The date the payment is received by the College is the date your payment is applied to your fees. Please allow sufficient time for payment to arrive at Lambton College.
View the Refund & Withdrawal policy.

You will require a valid visa in order to study in Canada. Before beginning the visa application process, we recommend you have a:
Lambton College offer letter
Fee receipt confirming payment for the first term

Apply Using an Agent
Lambton College works with a limited number of education agents to promote our institution and assist students with the Lambton College application process. It is the sole responsibility of each student to decide whether or not to use an education agent.
No education agent has special access to our programs or services, nor can they guarantee your admission to Lambton College.
Education agents are never permitted to collect fees on behalf of Lambton College. Fee payments should always be made directly on the Lambton College secure pay webpage.
Students will receive an email notification directly from Lambton College when their application is approved. Education agents must provide students with the original electronic copy of their letter of acceptance (LoA).
Education agents may offer additional services beyond the scope of the Lambton College application process. Students who avail these services do so at their own discretion.
Students who wish to apply directly to Lambton College without the use of an education agent may do so - see how to apply on your own.
If you have any questions or concerns about a particular education agent, or to verify if an education agent is authorized to submit applications to Lambton College, please contact international@lambtoncollege.ca.