One-Year
Ontario College Certificate
Overview
Build a better future in a hands-on and practical learning environment in Lambton College's Construction Carpentry Techniques.
This one-year certificate program utilizes current technology, modern equipment and tools and has a strong focus on eco-friendly building products and construction materials. Graduates will possess significant experience working in the 6,500 sq. ft. shop (located in the Lambton College Skilled Trades Training Centre) as well as in an 1,800 sq. ft. teaching house where students participate in renovation and residential construction scenarios relevant to residential and light commercial construction.
Students may participate in community-based learning/capstone projects for non-profit or community organizations. This hands-on learning, combined with in-class and online training, will provide students with the skills necessary to enter the residential construction and renovation sector. Framing, layout, roof construction, stairs and foundations will be taught in detail, as well as the fundamentals of quantifying materials and calculating construction and labour costs.
Jason's Story

Jason chose Lambton College as a second career after leaving the paramedic field. Hear how he came back to school and found passion in a new career.

Admission Requirements
O.S.S.D. or equivalent with:
---
Mature Student Assessment for this program is available in the subject of English for the purpose of demonstrating proficiency in this required admission subject. For all other admission requirements, applicants must complete the required course(s) as listed above. For more information, please contact
counselling@lambtoncollege.ca
. Review the
Mature Student Admission process
.
Academic admission requirements can be obtained through
Academic Upgrading
and the Pre-Programs at Lambton College.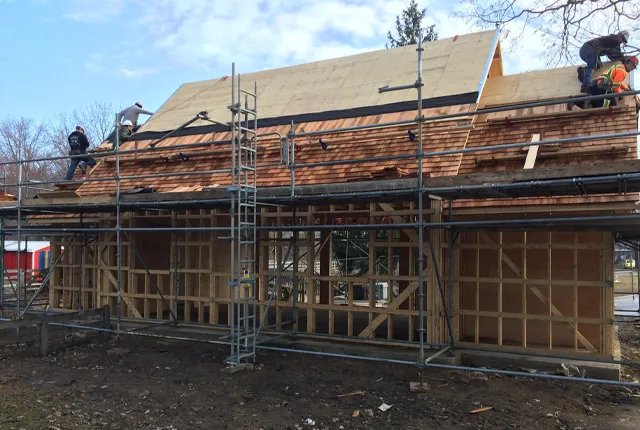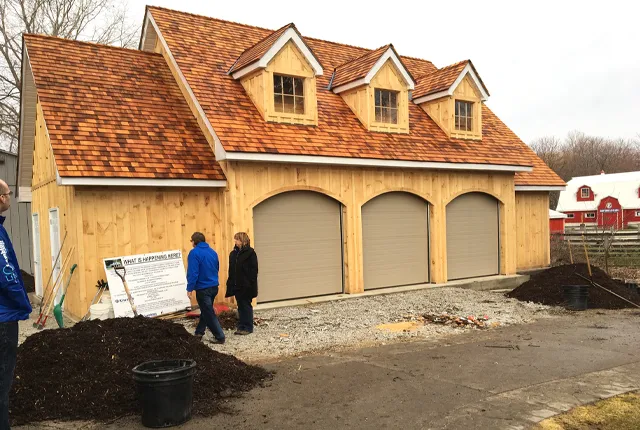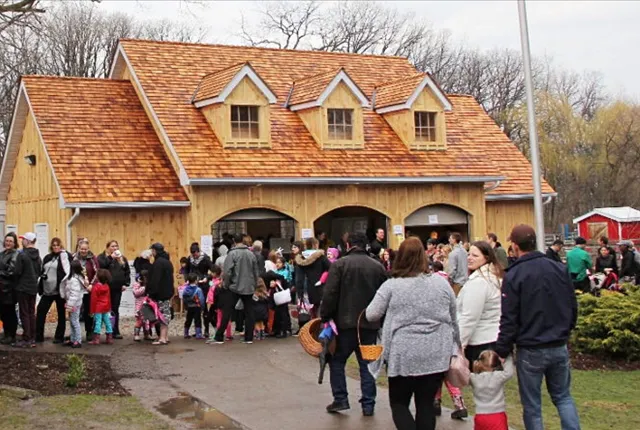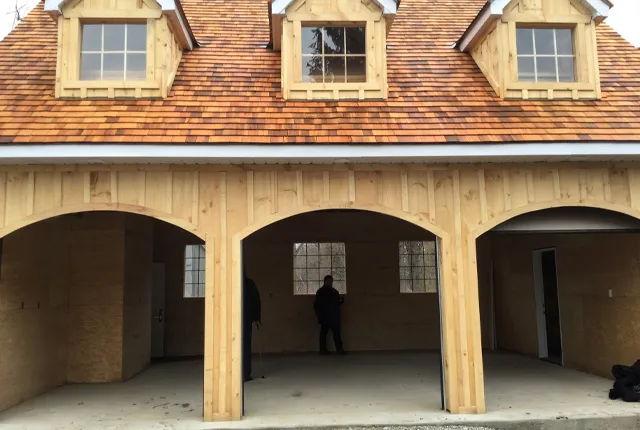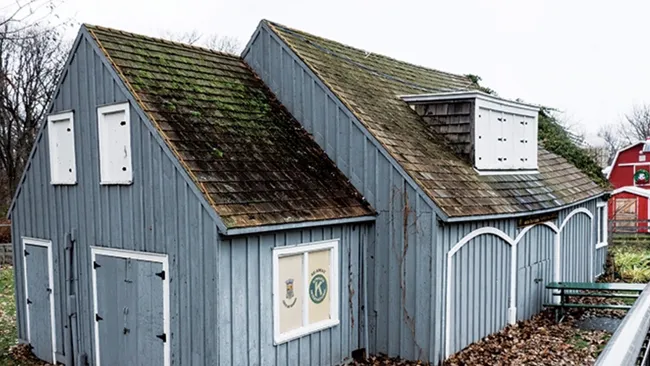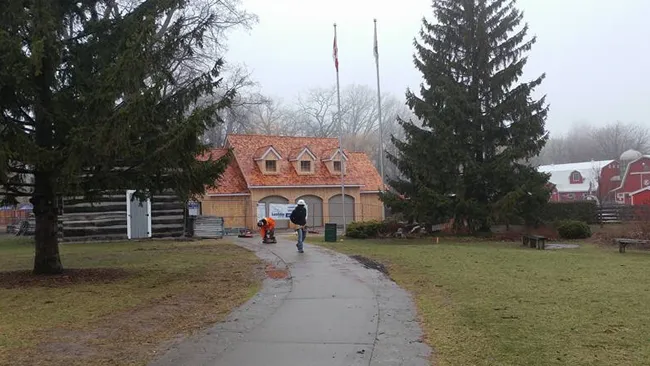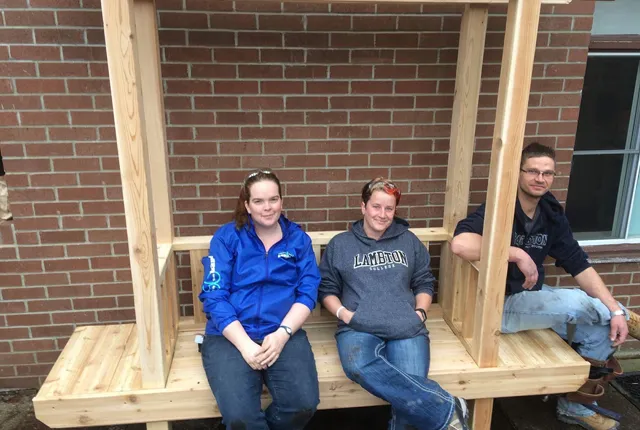 Costs
---
Please Note: These fees apply to the 2023-2024 academic year and are subject to change. Fees do not include books (unless specifically noted), supplies or living costs.
Additional Fees
Construction Hard Hat

$20.00

Nail pouch and belt

$30.00

Hammer - 20 oz

$25.00

Tape Measure - 25 ft metric/imperial

$10.00

Speed Square

$20.00

Safety Glasses

$10.00

Utility Knife

$10.00

Nail Sets

$10.00

#2 Robertson Bit Set for Cordless Drill

$15.00

Stair Square Guides (Term 2)

$10.00

CSA Approved Safety Boots - Green Stamp

$100.00
Women in Technology & Trades

Female students, alumni, staff, and faculty of the technology and trades programs at Lambton College meet once a month to:
Network and support each other

Share experiences

Build a sense of community
Each year, the group attends a final retreat at Camp Ak-O-Mak. Learn more by emailing Nikki Noble or Erin Soeder.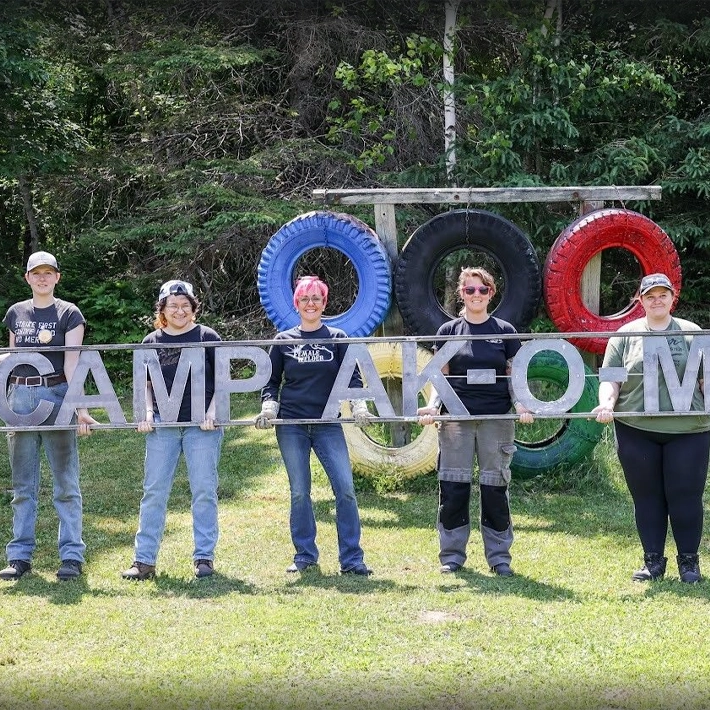 Technology Requirements
In order to keep pace with the requirements of each and every course in your program, Lambton College requires that each student have access to a laptop while studying at our college.
Labs & Equipment
Carpentry Workshop
Students learn the fundamental practices of residential construction in this workshop.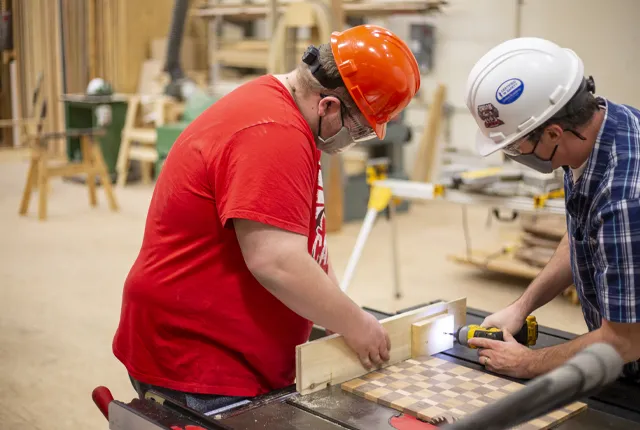 Power Tools
Students are exposed to a variety of power tools including: joiners, planers, table saws, drill presses, bandsaws, and compound mitre saws.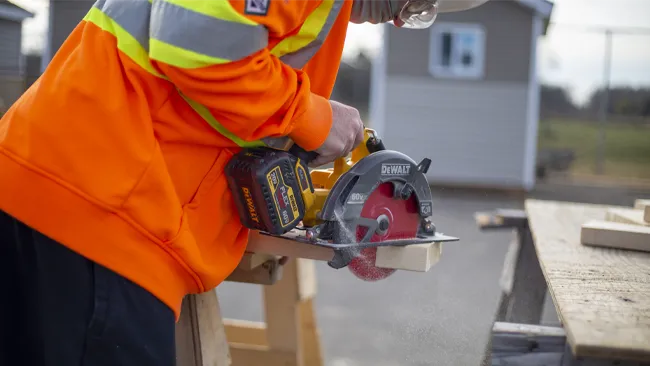 Skills Developed
Inside and outside of the workshop, students form concrete structures, build and erect wood framed walls, build wood roofs, install trusses and shingling. They also hang drywall, mud and tape, and prepare trim, doors and cabinets.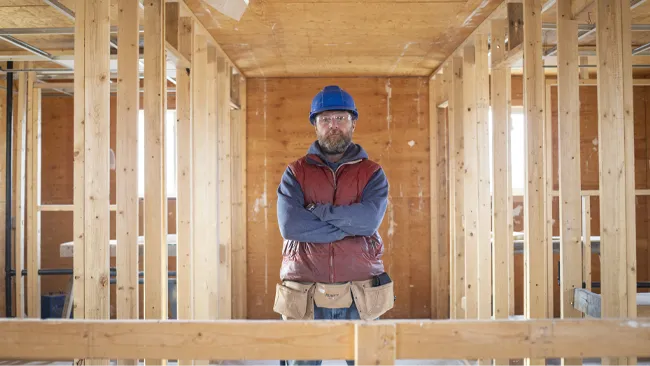 Courses
CCT-1066
Safety, Tools & Materials
The student will be presented with information for the care and safe use of hand, portable and stationary power tools including saws, jointers, planners, routers, biscuit joiners and drills. Students will study the production and physical characteristics of materials used in construction including solid wood and manufactured construction products, fasteners and adhesives. Students will utilize the information given and apply it to practical wood working projects with a keen emphasis on technique, while demonstrating tasks safely.
CCT-1012
Construction Plans, Specifications & Codes
The student will develop the knowledge regarding identification and interpretation of the different types and aspects of architectural drawings and related equipment. The student will develop the ability to read and interpret drawings and sketches from oral and written information. The student will also develop the knowledge and skill in drawing and sketching plans from oral and written information.
CCT-1124
Introduction to Surveying
This course will introduce the learners to the techniques and procedures of surveying and layout for construction projects. Surveying and layout practices and calculations will be studied in class and demonstrated in field exercises. Setting up basic surveying and layout tools and performing various building layouts will be major components of this course. Learners should be prepared to complete outdoor field exercises during this course.
JSS-1001
Job Search & Success
This course provides student with skills and knowledge to help support their career search and succeed in the workplace. Students align their personal skill set and goals to guide them on their career paths. They will learn how to effectively conduct a job search, build a professional and well-tailored resume and cover letter, and develop and practice interview techniques. Students will also develop their personal brand to help support effective career networking and aid in their job search. Teamwork and collaboration in the workplace are also discussed. Self-reflection is used to inspire insight and support their professional career journey.
MTH-1303
Estimating & Calculating I
This course will develop the student's understanding of trade calculations and the ability to apply them to carpentry related problems. A student in this course reviews basic arithmetic using whole numbers, fractions, and decimals; converts metric and imperial measurement; solves triangles using ratios and trigonometry; and defines and applies the properties of various geometric shapes.
RCT-1135
Foundations Systems
Students will develop an understanding of the numerous components and associated installation practices that combine to produce typical residential and light commercial structures. Several residential forming systems, as well as ICF will be studied in detail. Practical activities and assignments will support the delivery of this subject matter.
BUS-1003
Introduction to Business
This course introduces the student to the modern world of business. It examines the significance and composition of Canadian business, discusses current factors and trends in the business environment, explores how businesses are organized and managed, and provides a brief discussion on the topics of entrepreneurship and business etiquette.
CCT-2042
Energy Efficiencies & Sustainable Construction
This course will offer students an introduction to energy efficient building techniques, state of the art energy conserving systems and sustainable building approaches. Specific subject to be covered will include the basics of Heat Transfer, Building Envelope, Insulation Techniques, and New Technologies in electrical and heat generation.
CCT-2133
Introduction to Interior Finishing
This course introduces students to the principles, regulations, standards, systems, materials, and details of standard residential floor, wall and ceiling surface treatments, and the finishes applied to them. The focus of this course will concentrate on the areas of Drywall/Drywall Finishing Compound and Tape, Interior Doors, Stairs, Trim, and Mouldings. Students will also concentrate their efforts in quantifying and estimating materials and studying installation practices for interior finishes.
CCT-2143
Introduction to Exterior Finishing
This course introduces students to the principles, regulations, standards, systems, materials, and details of standard residential exterior finishes. This course will focus on the building envelope, exterior windows, doors, vinyl/wood siding and roofing. An emphasis will be placed on choosing materials, interpreting the building code, installation techniques and quantifying materials. Students will demonstrate these methods in the lab portion of the class.
COM-1113
Workplace Communications
This course focuses on skills required in any organization or position: writing business documents, responding to realistic scenarios, and speaking in an organized and vibrant manner. Students will practice professional and inclusive communications skills by producing, revising, and editing short business documents and engaging in verbal interactions and presentations.
RCT-1102
Construction Safety
This course will focus on the fundamental concepts of the Occupational Health and Safety Act with specific reference to federal and provincial legislation. Leaners will identify and recognize workplace responsibilities, health issues, hazard concerns, controls, and WHMIS. Learners will construct scaffold systems and demonstrate ladder safety. Hoisting and rigging will also be studied extensively.
CCT-2126
Introduction to Framing
This course will introduce the learner to residential framing methods and materials. It will concentrate on modern platform framing techniques, laying out of on-centre spacings, construction of floors, walls, rafters and trusses. Gable and Hip roof construction will be studied in detail. Green construction techniques related to framing will also be discussed in depth.
After Graduation
Employment Opportunities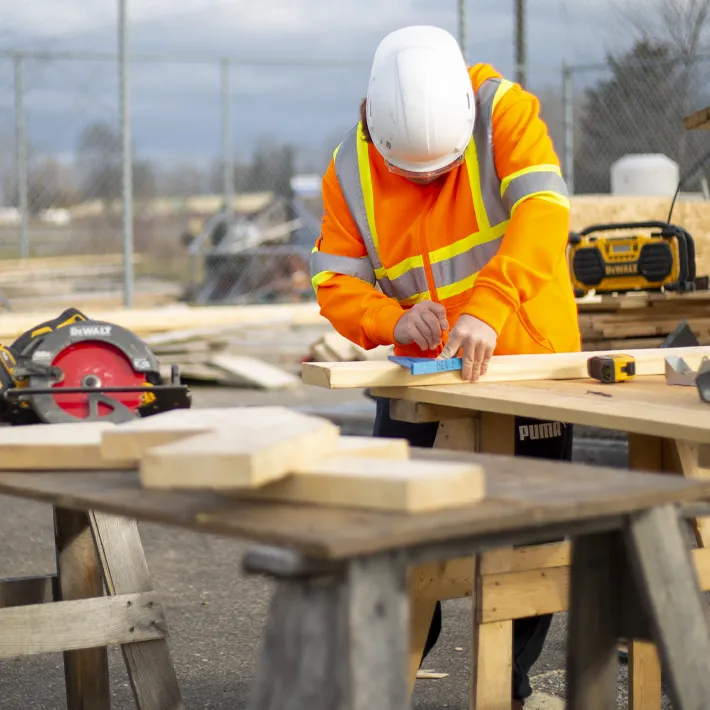 Our graduates can pursue opportunities as apprentice carpenters, and have found work in the areas of: in-home construction, renovation, commercial construction and maintenance departments.
Due to low interest rates, the construction sector shows significant demand and growth resulting in all graduates finding employment in a construction-related field where they put the skills acquired in this program to work.
Pathways between other Lambton College programs
Graduates of the Construction Carpentry Techniques program will have the opportunity to move into the second year of the Renovation Construction Technician program.
Graduates also have the chance to participate in a laddering opportunity with the General Carpenter Apprenticeship program. Upon graduating from Construction Carpentry Techniques, students will need to find their own General Carpenter Apprenticeship employer, but will be exempt from the in-school basic level of the General Carpenter Apprenticeship.
More Information
Technology Requirements
It is recommended that students purchase a laptop with a Windows operating system.
Internet Speed Requirements
For best performance for students learning remotely, an internet connection with a minimum of 40 Mbps download and 10 Mbps upload speed is recommended in order to effectively use video conferencing and remote lecture delivery software as well as, other online resources remotely. Due to the large area over which students may be dispersed, we are unable to recommend a specific provider, so you will need to inquire around your area to find one that best suits your needs.
Minimum Laptop Requirements
In order to access the internet and virtually-delivered software and courseware, student laptops should include the following at a minimum. By meeting the following specifications, students will be equipped to access software and courseware on their laptop through the internet:
Intel i3 Processor or equivalent
4 GB of RAM or more
100 GB HDD or more
HD Graphics
Webcam with a microphone
Wireless 802.11n/ac 5ghz capable
Windows Operating System (Windows 10)
Software
To ensure students are getting the most our of their classroom experience, some software will be required.
Lambton College has made this software easily accessible online. Students can leverage our Microsoft Office 365 software packages and services. In addition, much of the software you require for your courses will be available on demand for use on any device - on or off campus.