Facilities & Props
Are you interested in training with us? Explore the Fire School and see our training building and Fire School Bay.
On-Site Props
Take a closer look at what your training might look like:
Three-Tier chemical Process Unit Prop
This three-tier chemical process unit prop is meant to replicate a process unit that is commonly found in many industrial settings. This unit is fueled by propane, natural gas and liquid fuels and boasts over 20 different fuel source leaks commonly found in an elevated process unit. Fires are fueled electronically by specially trained fuel technicians who recognize and mimic the spontaneity and unpredictability of process unit fires. This electronic control makes this prop an ideal choice for companies wanting to train incident commanders and emergency operations personnel. Scenarios can be halted and reviewed and restarted at the push of a button.
Bulk Liquid Loading Rack Prop
This prop simulates a fire occurring while transferring liquids from a bulk facility to a tanker truck. Firefighters tackle the fire at the ground progressing to the elevated catwalk. Fires are extinguished using a combination of water, foam and dry chemical using multiple hose lines in tandem. This evolution provides participants with a rudimentary understanding of the theories, hardware and tasks necessary to control and extinguish a bulk liquid loading terminal emergency.
Chemical Process Compressor Pump House Area
This area has several props within a 7,500 sq ft containment area. The unit is designed to resemble a process unit and is capable of reproducing one or several burning props simultaneously. Fire simulations include flame impingement on horizontal vessels with pressure valve activation, flange fires, exchanger fires, pump seal fires, forklift fires, spill fires, process pipeline ruptures, etc. Participants learn proper attack methods, capture and control fuel sources using water patterns, associated cooling and valve isolation. The area is fueled by high pressure natural gas, liquid propane, flammable and combustible liquid (Tekflame), or any combination of the three. Fires can be extinguished by isolation or by using a variety of agents including water, foam and dry chemical.
Vertical Liquid Storage Tank Prop
The Vertical Liquid Storage Tank prop lets participants appreciate a fully involved tank fire. Measuring 2,500 sq ft this is the largest single fire on site. Emphasis is placed on protecting exposures, utilizing master streams and the deployment of water curtains for cooling and protection. Topics may include foam applications, foam types, compatibility of foams, proportioning equipment, foam nozzles, foam carts and fixed and portable foam systems.
Liquid Propane Valve Isolation Prop
This prop is extinguished exclusively by close proximity isolation. With temperatures reaching in excess of 2,000 C and a release pressure above 160 psi, this is the hottest prop on site. Participants learn vital advanced footwork and hand positioning techniques, nozzle pattern and gallonage selection, flame capture and control of the propane source prior to advancing towards isolation.
Railcar Prop
The Railcar Prop allows participants to address emergency situations that could occur while loading or unloading a general purpose or a pressurized car on a loading rack. Training scenarios can include but are not limited to the control and handling of heat induced tears, dome fires, overfills, flange and pipe separations. Awareness to detect the signs of horizontal vessel failure, Pressure Relief Valve (PRV) activation and Boiling Liquid Expanding Vapour Explosion (BLEVE) possibilities are also incorporated into the exercises. Participants learn the differences between offensive and defensive fire attack strategies, foam and foam application techniques, and fixed and portable monitor placement for safe effective cooling water applications.
Hot Fire Tower
The three-storey fire tower creates realistic smoke, fire and heat conditions and training can be compartmentalized or full scenarios. Fires are created on any of the four levels using a combination of paper and wood pallets with temperatures that can climb to 1,200 F. The structure's basement is unique as it consists of multiple rooms with purpose-built ventilation hatches that have been incorporated into the floors to enable trainers to direct smoke distribution to create various interior firefighting scenarios. The building also includes a standpipe and warehouse sprinkler system complete with a fire department connection for scenarios involving the use of a fire apparatus.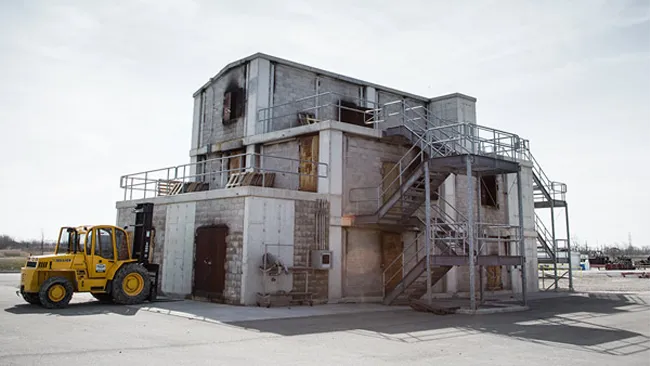 Cold Training Tower
This four-storey fire tower has been retrofitted for warehouse-type fires. Training such as search and rescue through mazes using theatrical smoke and police tactical training can also be accomplished. The tower is also equipped with engineered anchors on the roof top for high angle rescue and rappelling exercises as well as confined space rescue.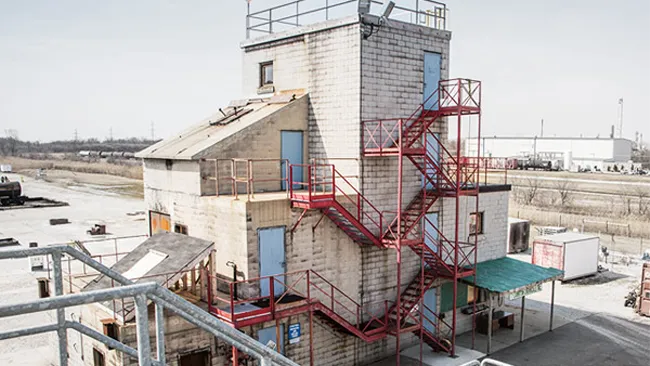 Fire Training Equipment
Lambton College offers turnkey solutions for training groups. Participants can bring their own or get fitted on site from our vast cache of certified gear including boots, helmets, coats, pants, radios and SCBA's. Trucks, extinguishers and other equipment are also available to suit the training agenda of the day.