Lambton College offers new standalone nursing degree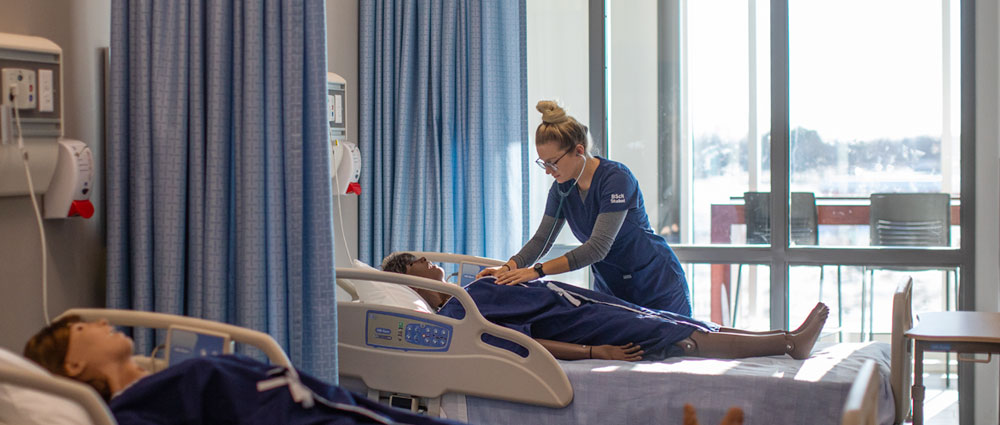 10 / 18 / 2022
SARNIA, October 18, 2022 - A new standalone nursing degree being offered by Lambton College is now accepting applications for September 2023.
The four-year Bachelor of Science – Nursing program will now be offered – in its entirety – at Lambton College. Previously, colleges required a university partner to offer degree level programming, which saw students completing their final two years outside of Sarnia-Lambton.
"It's impossible to overstate how much our community will benefit from having this entire program offered at Lambton," says Silvana Macdonald, Dean, School of Health, Community Services & Creative Design, Lambton College. "We've spent years advocating and preparing for this opportunity, and we are confident and excited in our ability to deliver the entire program."
Macdonald says the ability to offer the program locally also means significantly less cost and fewer headaches for students.
"It definitely makes our nursing degree program more attractive to students," she says. "Ultimately, it means there will be more nursing graduates to fill the demand for nurses in our area."
Mary Vaughan, Senior Vice-President, Academic & Student Success, Lambton College says the new nursing degree offering is outstanding news for Lambton College students and the Sarnia-Lambton community.
"This is a big win for local students, the post-secondary system and our region's health-care system," she says. "In communities like ours, this is clearly the solution to the demand for more nurses and I am certain our team will deliver the highest quality nursing education available."
Vaughan says Lambton is already delivering most of the curriculum in the nursing degree programs. Students also experience hands-on learning in the form of clinical placements, as well as training in the College's Nova Chemicals Health & Research Centre, which features state-of-practice simulation labs.
The new program will also meet all professional standards and actively working on securing approval from the College of Nurses of Ontario.
"This is a truly exciting breakthrough for our College," says Vaughan. "We look forward to welcoming our first group of students into the nursing degree program at Lambton next fall."
The new program will welcome its first intake in September 2023.
Students interested in learning more about the new standalone Bachelor of Science - Nursing program are encouraged to attend an upcoming Application Night, taking place on Wednesday, October 19 from 4 p.m. to 6 p.m. Guests of the event will have the opportunity to ask questions about Lambton programs, learn about student services, and receive one-on-one assistance as they complete their ontariocolleges.ca application form – with Lambton covering the cost of the $110 application fee. "
For media inquiries or more information:
Jami Kloet
Corporate Communications Coordinator
Lambton College
Phone: 519-479-1057
Mobile: 519-328-2081