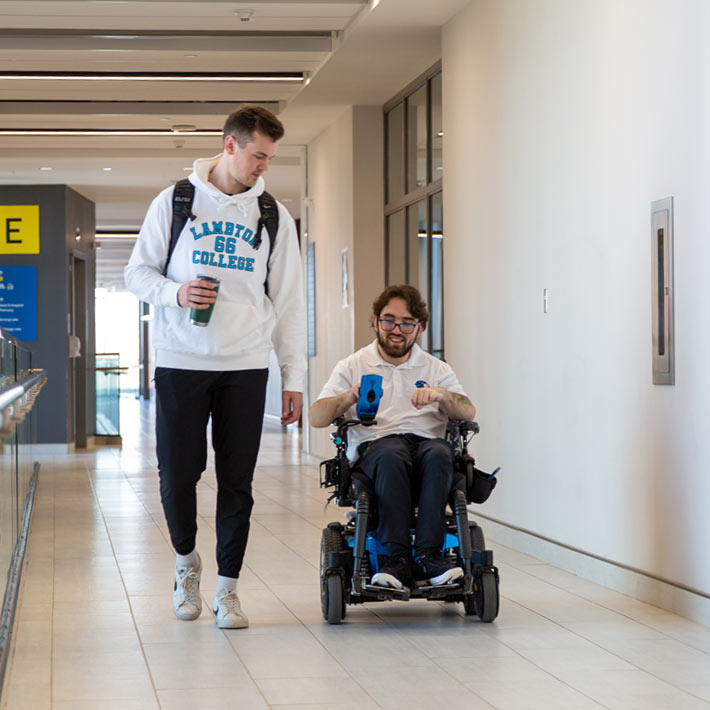 Determining Academic Accommodations
In order to determine if a student is eligible for academic accommodations, the student must:
Make an appointment with the counsellor in the Accessibility Centre
Provide documentation from a registered healthcare professional that includes a description of the student's current functional limitations.
Consultation
Academic Accommodations will be determined during a student-counsellor consultation and accommodations will be made based on documentation provided and with the intent to minimize the effects of the disability.
Procedures for Obtaining Specific Accessibility Services
Accommodations
Following the discussion, the counsellor will prepare a recommendation of accommodation plan for faculty and sign the plan.
Each year the student must renew the plan by meeting with the counsellor.
Course Load Reductions as an Accommodation
OSAP Eligible Students

For OSAP purposes only, full-time status is a 40% course load and above based on the student's term of study.

Reduced Tuition Fee Accommodation Program

Domestic students who have an approved course load reduction as an accommodation with the Accessibility Services department have the option to reduce their course load without being financially penalized. Reducing your course load will usually extend the overall time it takes to complete your program. If you have a reduced course load accommodation, you may be eligible to have tuition reduced for these additional terms. Review the Reduced Tuition Fee Accommodation program FAQs for more information.
Bursaries for Students with Disabilities
The bursary for students with disabilities is only available to students who are OSAP eligible. Students wishing to apply must:
Discuss their individual need for the bursary with the accessibility counsellor.
Discuss and assess all technical equipment requests with the Learning Strategist.
If equipment is requested, the student must obtain three quotes from three different suppliers. If the request is for a service, an estimate of cost from the provider is required.
Write a note on how the equipment and/or service will minimize the effects of the disability and contribute to academic success.
Complete the bursary form - with the assistance of the accessibility counsellor - and forward to the Office of the Registrar & Financial Aid Services.
Please Note: Current documentation of the disability is required.
Peer Note Taking
Prior to obtaining a peer note taker, students must have it indicated on their CAAP. Documentation of the disability is required.
Once the need is identified, the student and the note taker must:
Complete a Note Taker Information Sheet in the accessibility centre.
The student must sign off on the Note Taker Information Sheet to acknowledge that notes were received for the duration of the term.
This procedure is repeated every term.
Parking
The college has designated parking for individuals with either permanent or temporary disabilities. Please contact Parking for specific questions or information about using these spaces.