Orientation
Orientation Sessions
Live orientation sessions will be held from January 2 - 5.
Sessions from January 2 - 4 will take place on campus at the Lambton College Event Centre (unless otherwise stated)
Students not in Canada at the time of orientation may choose to join their Program Orientation session January 4 virtually (Hyflex) or watch the recordings on January 5.
The first day of classes is Monday, January 8.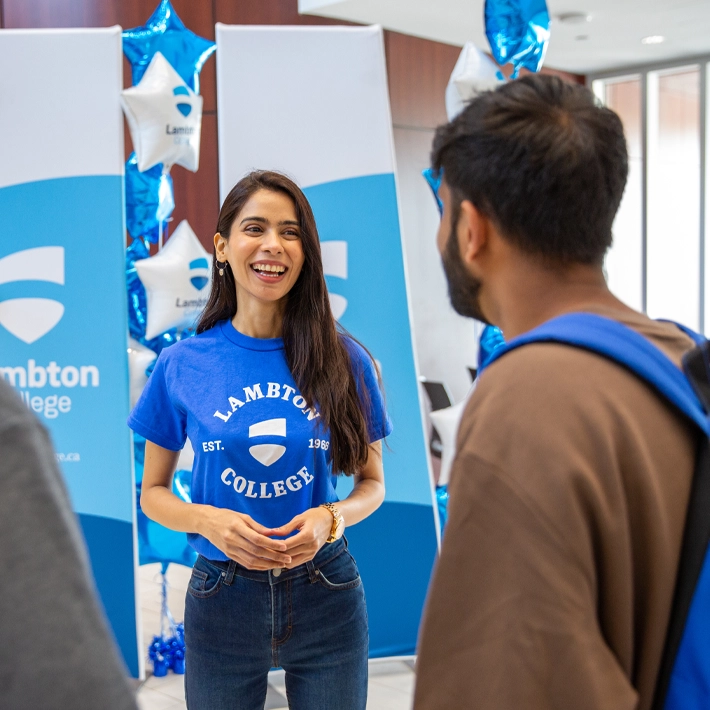 Prepare for success by attending orientation

Orientation Sessions
All times are in EST/Toronto time.
9 a.m.

Welcome Message

9:30 a.m.

Student Services

10 a.m.

Immigration Session

10:45 a.m.

Sarnia Transit

11 a.m.

Guard.me Health Insurance

12 p.m.

SAC Snack Pack

12 p.m. - 2 p.m.

Community Engagement Tables (E Hall Atrium)

12 p.m. - 4 p.m.

Service Canada SIN Clinic (Room B1-206)

1:30 p.m.

Campus Tours (Meet in Upper Cafeteria)
9 a.m.

Study Skills & Time Management

9:30 a.m.

Academic Integrity

10 a.m.

Health & Wellness

10:15 a.m.

Housing & Accommodation

11 a.m.

Navigating Lambton Online

12 p.m.

SAC Snack Pack

12 p.m. - 2 p.m.

Community Engagement Tables (E Hall Atrium)
Student ID Card Pick-up (E1-207)
9 a.m.

Co-op & Career Services

9:30 a.m.

Student Panel

10 a.m.

Keeping our Students Safe

11 a.m.

Student Success Navigators

11:15 a.m.

Canadian Culture & Student Engagement

12:15 p.m. - 12:45 p.m.

LUNCH (Lion's Den)

1 p.m. - 2:30 p.m.

Program Orientation

2:30 p.m. - 3:30 p.m.

Welcom Box Giveaway (D1-204)
Program Orientation Locations
Business Management (BMAN) - Event Centre
Business Management - International Business (BMIB) - Event Centre
Biomaterials & Chemical Laboratory Analysis - Applied Science (BCAS) - B2-141
Food Safety & Quality Assurance Mangement (FSQS) - B2-155
Pharmacy Technician (PHRM) - B2-159
Microsoft Teams links will be emailed to your mylambton email for the above program sessions if you are unable to attend in-person.
12 p.m. - 1 p.m.

Student ID Card Pick-up (E1-207)

1:30 p.m.

Bus & Bites Tour presented by Lambton SAC
Tickets will be sold at Orientation Week
Session Recordings

Students will be able to access recordings of the Orientation Sessions on this page on January 4.
Microsoft Teams
The Microsoft Teams platform is used to attend classes virtually and to meet with faculty remotely. This platform will also be used on Thursday, January 4 to attend the online orientation sessions.
If you are a first-year student, we recommend you download Microsoft Teams on the device you will be using for classwork. This will allow you to attend the orientation sessions while also setting you up to begin attending classes remotely.
Helpful Links
Contact Us
Centre for Global Engagement
LAMBTON COLLEGE SARNIA
1457 London Road
Sarnia ON, N7S 6K4
Connect through WhatsApp
Check your personal email for an invitation to join our Official WhatsApp Groups - organized by program area. If you haven't received the link or need assistance with registration, please email orientation@lambtoncollege.ca.
Please be aware that these WhatsApp groups are supported by student ambassadors who only answer questions related to the online orientation and registration process.
Additional Contacts