One-Year
Ontario College Certificate
Overview
Take on a role in the electrical field where there is plenty or job security and room to grow.
Working in the electrical career field requires a combination of technical knowledge, problem solving skills, and physical dexterity. The Lambton College Electrical Techniques program prepares students for this field and prepares students to begin their journey into apprenticeship.
Working both in the classroom and in various lab and shop settings, students gain practical, hands-on experience along with strong theoretical training in electrical fundamentals. The basics of Programmable Logic Controllers (PLCs) are taught and electrical safety is also covered through theory and hands-on labs.

Students learn how electricity and electrical devices work, how to use various electrical tools, how to wire residential, commercial, and industrial circuits, how to interpret electrical codes, and how electronics and instrumentation devices are used in today's high tech world.
Women in Technology & Trades

Female students, alumni, staff, and faculty of the technology and trades programs at Lambton College meet once a month to:
Network and support each other

Share experiences

Build a sense of community
Each year, the group attends a final retreat at Camp Ak-O-Mak. Learn more by emailing Nikki Noble or Erin Soeder.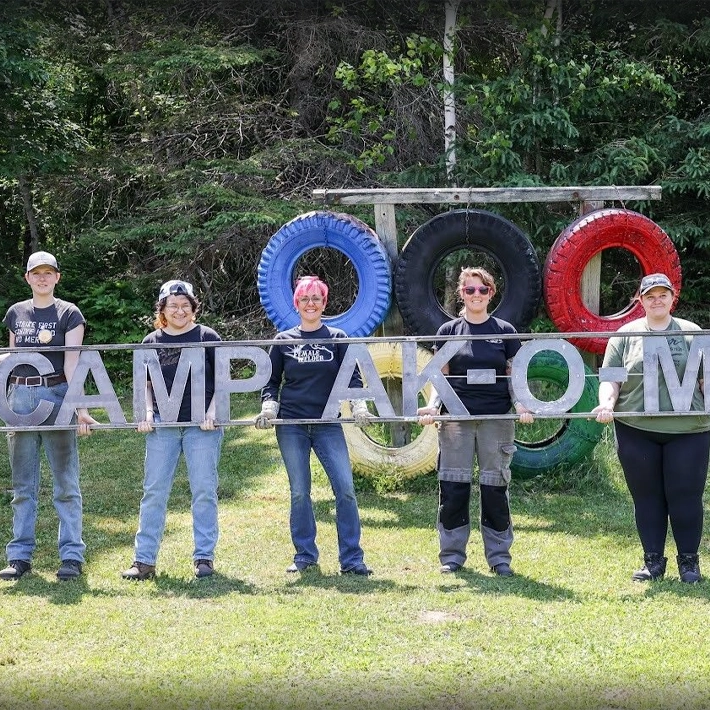 Admission Requirements
O.S.S.D. or equivalent with:
Grade 12 English C or U
Grade 12 Mathematics C or U
Grade 11 or 12 Physics C or U (recommended)
Grade 12 Mathematics Requirement

Grade 12 Mathematics for College Technology or any grade 12U mathematics is recommended; Grade 12 Foundations for College Mathematics (MAP4C) minimum final grade is 60%. If the program is highly competitive, students with Grade 12 Mathematics for College Technology or any Grade 12U mathematics will be given preference.
---
Mature Student Assessment for this program is available in the subject of English for the purpose of demonstrating proficiency in this required admission subject. For all other admission requirements, applicants must complete the required course(s) as listed above. For more information, please contact
counselling@lambtoncollege.ca
. Review the
Mature Student Admission process
.
Academic admission requirements can be obtained through
Academic Upgrading
and the Pre-Programs at Lambton College.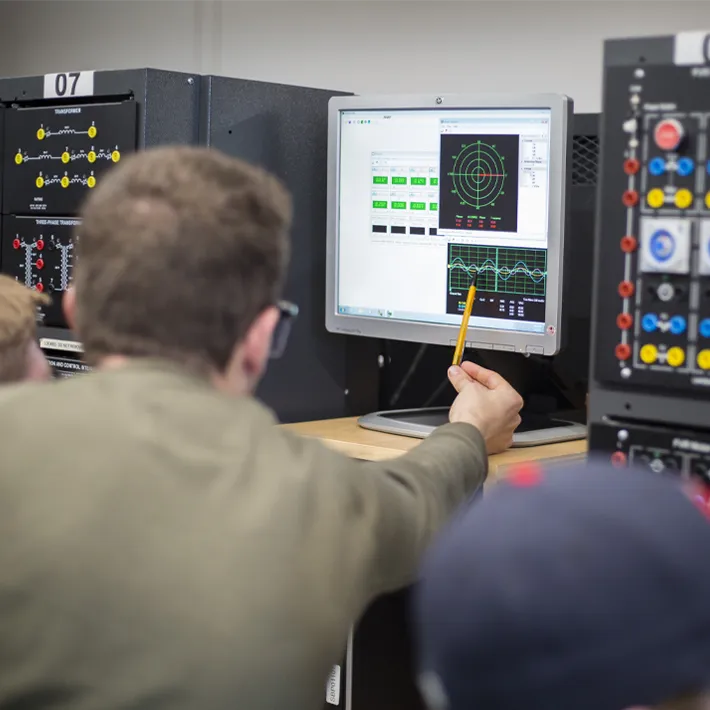 Build on your certificate and gain more credentials.

Pathways to Apprenticeship & Diplomas
Upon completing this program, students who gain an apprenticeship are eligible for an exemption fro the Basic Level of the in-school portion of the Construction Maintenance Electrician apprenticeship program.
Students can also continue on into the second year of the Electrical Power Distribution & Control Technician (PDCT) program which shares a common first year with ELTC. Students in Electrical Techniques must take MTH-1904 if they wish to continue on into the PDCT program.

Costs
---
Please Note: These fees apply to the 2023-2024 academic year and are subject to change. Fees do not include books (unless specifically noted), supplies or living costs.
Additional Fees
Safety Shoes

$250.00

Safety Glasses

$20.00

Calculator

$25.00

Tagout Lock

$20.00

Tool Kit*

$325.00
*Tool Kit Includes
Linesmen Pliers - High leverage 9" side cutting pliers
Side Cutters
Needle Nose Pliers
Tongue and Groove Pliers
Slot Screwdriver
Terminating Slot Screwdriver - 2.5 mm - 3 mm width
Philips Screwdriver - #2
Two Robertson Screwdrivers - sizes red and green
Measuring Tape
Wire Strippers
Knife - no utility knives allowed
Torpedo Level - short 9" or so
Claw Hammer
Safety Lock
Technology Requirements
In order to keep pace with the requirements of each and every course in your program, Lambton College requires that each student have access to a laptop while studying at our college.
Labs & Equipment
Electrical Shop
In this lab, students and apprentices learn how to safely and properly wire a wide variety of residential, commercial and industrial circuits according to the Canadian Electrical Code. Important skills are learned such as proper tool usage, safety principles such as lockout/tagout and wiring principles. Students learn about many types of circuits such as start/stop circuits, 3 way lighting and various receptacles as well as the operation of many devices such as relays, transformers, programmable logic controllers, variable frequency drives and motor control centres.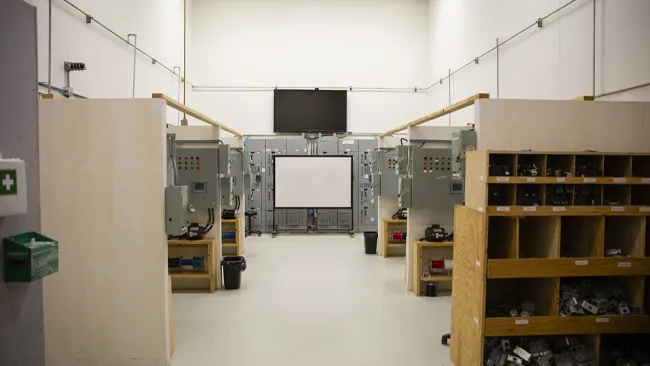 Motor Control Lab
Electrical fundamentals and electrical protection is taught in this lab. The basics of AC and DC electrical theory are proven using resistors, inductors, capacitors, shunts, data acquisition software, etc. Electrical generation, transmission, and load applications are studied. Advanced power electronic control is learned using current gate bipolar transistors, thyristors, rectifiers, filters etc.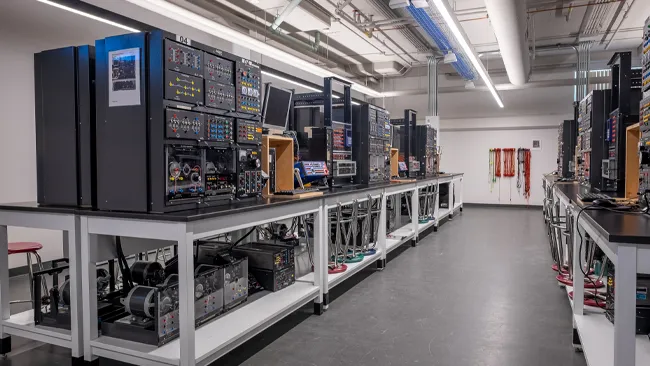 Electronics Lab
This lab contains 15 stations where students are able to practice the safe and proper wiring of any number of electrical and electronic circuits. In this lab, students can learn about the theory of DC and AC circuits, basic wiring principles and the operation of many different devices such as power supplies, oscilloscopes, multimeters, resistors, potentiometers, capacitors, diodes, transistors, SCR's, digital devices, breadboards and many more.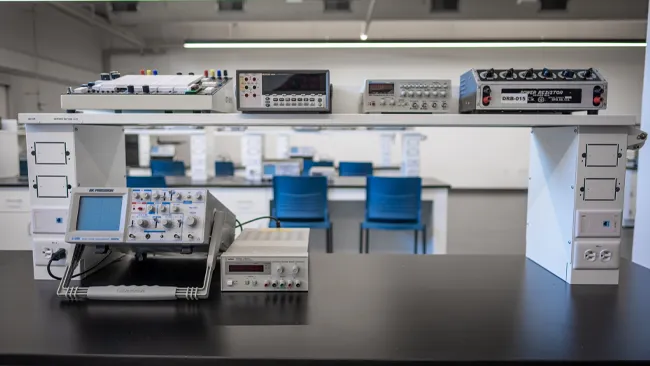 Courses
ELC-1274
Basic Electrical Installations I
The student will develop a general knowledge of the operation of common hand and power tools; install common switching devices, outlets and enclosures, GFCI and AFCI circuits, as well as three and four way lighting circuits. All installations well be performed to the CEC and the student will correctly terminate conductors and demonstrate the application of non-metallic sheathed and armoured cable. The student will demonstrate the skills required to install a complete residential consumer's service. They will properly bend and install both EMT and Rigid conduit.
ELC-1726
Electrical Theory
This course covers the explanation of the fundamentals of electrical theory, from the molecular structure of matter to the laws that govern the calculation of current, voltage and power in DC circuits. Topics will include the relationships between voltage, current, resistance and power including Ohm's and Kirchhoff's laws. Calculations will be made on series, parallel and combination circuits and current flow and power consumption in 2 and 3 wire systems. Circuits will be wired safely and measurements taken using digital multi-meters. As well, the course will include an introduction to alternating current AC.
ELC-1732
Safety & Electrical Code I
This course will focus on the Canadian Electrical Code regulations and the application of those regulations as they pertain to electrical installations in residential dwellings as well as commercial units. The student will learn to navigate through the Canadian Electrical Code and interpret sections including Wiring Methods, Conductors, Installation of Electrical Equipment and Protection and Control.
COM-1113
Workplace Communications
This course focuses on skills required in any organization or position: writing business documents, responding to realistic scenarios, and speaking in an organized and vibrant manner. Students will practice professional and inclusive communications skills by producing, revising, and editing short business documents and engaging in verbal interactions and presentations.
ICS-1302
Fundamentals of Instrumentation I
This is an introductory course in process instrumentation and safety. Topics will include WHIMS and an introduction to industrial hazards, Job Safety Analysis, and Work Permits. Basic instrumentation and control loop concepts, instrument signalling, wiring, and calibration techniques will be studied. Pressure measurement will be covered in greater detail. The reading and interpretation of Process and Instrumentation Diagrams will be addressed. The laboratory component will expose the student to the correct use and operation of calibration devices, pressure sensors and measuring instruments.
MTH-1084
Mathematices for Electrical Circuits
This course reviews and develops topics in basic computation, measurement, algebra, geometry, trigonometry, and linear functions, emphasizing their electrical applications.
--- OR ---
MTH-1904
Mathematics I *
This course reviews and develops concepts in algebra, trigonometry, complex numbers, and vectors with technical applications.
ELC-2155
Electrical Systems Applications
This course is designed to extend the student's knowledge and experience into the areas of single-phase AC as well as DC systems. Resistive-reactive DC and AC circuits, power factor correction, DC motors and generators and single phase AC transformers are studied. Emphasis throughout the course is on problem solving. These concepts are supported and reinforced in the laboratory portion of the course.
ELE-1122
AutoCAD for Electrical Techniques
This is an introductory course on the use of AutoCAD Computer Assisted Design and Drafting software. Students learn to access AutoCAD commands for preferences, modifying drawings, dimensioning, applying text and plotting in order to produce 2-D drawings. The use of Computer Assisted Design is a drafting and design tool that is used extensively in many industries locally and throughout the world. An individual who learns, understands and can apply this program has little difficulty transferring those skills to other CAD programs. AutoCAD is introduced as a valuable tool that could be used by anyone, with a focus on electrical, process control and instrumentation.
ELC-2505
Electronic Devices & Applications
This course covers an explanation of the fundamentals of electronics from digital logic to the operation of basic semiconductor devices in DC and AC circuits. Topics will include logic gates, Boolean algebra, flip-flops, P-N junction diodes, LEDs, transistors, thyristors, opto-couplers and operational amplifiers. The student will apply his/her knowledge of these devices in practical circuits such as dimmers, variable frequency drives and programmable logic controllers.
ICS-2303
Fundamentals of Instrumentation II
This course consists of an introduction to some of the fundamentals of process variables such as temperature, pressure, and level measuring instruments. Topics include primary sensing devices, terminology and symbols, and test equipment usage including calibration procedures. The laboratory portion of the course allows the student to become familiar with various types of test equipment, connection of instruments to sense process variation, apply calibration standards, and learn troubleshooting skills.
ELC-2764
Industrial Installation Practices
In this course the student will gain the ability to read, interpret, and create electrical schematics related to motor control. The installation and operation of common controls used in industry including Stop-Start, Jog, Forward/Reverse, and speed control via variable frequency drives will become part of the student's skill set. An introduction to the wiring and programming of Programmable Logic Controllers will complete the student's industrial control knowledge. In addition students will gain the ability to interpret drawings and install conventional fire alarm system class A and class B circuits. Students will become familiar with different fire alarm devices along with their uses and operation.
GED-XXX3
General Education Elective
*MTH-1904
MTH-1904 should be taken by students considering taking the following programs after completing the Electrical Techniques certificate:
Instrumentation & Control Engineering Technician
Electrical Power Distribution & Control Technician
After Graduation
Employment Opportunities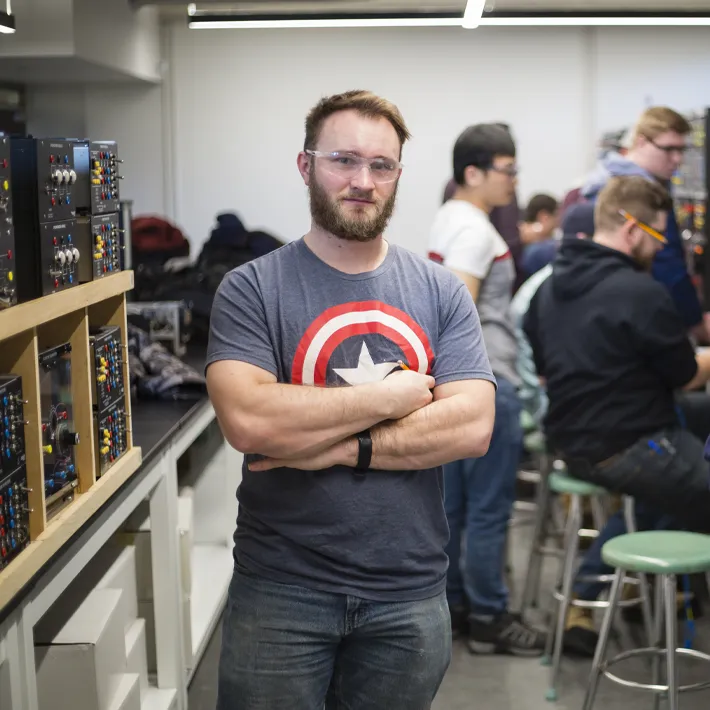 Our graduates have the skills to work in a variety of residential construction settings including renovation projects. They will also have the required skills to work in a warehouse or wholesale business in the electrical field. Job titles include: general labourer, construction and maintenance electrician apprentice, industrial electrician apprentice, trade contractor assistant, electrical technician, network cabling, fire alarm technician, related mechanical trades, independent contractor, service technician and warehouse and wholesale sales.
More Information
Technology Requirements
It is recommended that students purchase a laptop with a Windows operating system.
Internet Speed Requirements
For best performance for students learning remotely, an internet connection with a minimum of 40 Mbps download and 10 Mbps upload speed is recommended in order to effectively use video conferencing and remote lecture delivery software as well as, other online resources remotely. Due to the large area over which students may be dispersed, we are unable to recommend a specific provider, so you will need to inquire around your area to find one that best suits your needs.
Minimum Laptop Requirements
In order to access the internet and virtually-delivered software and courseware, student laptops should include the following at a minimum. By meeting the following specifications, students will be equipped to access software and courseware on their laptop through the internet:
Intel i3 Processor or equivalent
4 GB of RAM or more
100 GB HDD or more
HD Graphics
Webcam with a microphone
Wireless 802.11n/ac 5ghz capable
Windows Operating System (Windows 10)
Software
To ensure students are getting the most our of their classroom experience, some software will be required.
Lambton College has made this software easily accessible online. Students can leverage our Microsoft Office 365 software packages and services. In addition, much of the software you require for your courses will be available on demand for use on any device - on or off campus.